Lord of the Rings
Lexikon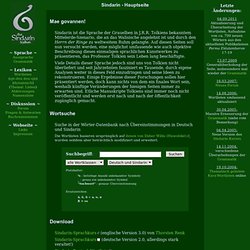 Mae govannen! Sindarin ist die Sprache der Grauelben in J.R.R. Tolkiens bekanntem Mittelerde-Szenario, die an das Walisische angelehnt ist und durch den Herrn der Ringe zu weltweitem Ruhm gelangte. Auf diesen Seiten soll nun versucht werden, eine möglichst umfassende wie auch objektive Beschreibung dieses einmaligen sprachlichen Kunstwerkes zu präsentieren, das Professor Tolkien sein Leben lang beschäftigte.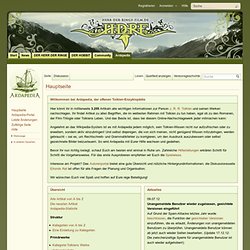 Hauptseite – Ardapedia
Hier könnt Ihr in mittlerweile 3.255 Artikeln alle wichtigen Informationen zur Person J. R. R. Tolkien und seinen Werken nachschlagen. Ihr findet Artikel zu allen Begriffen, die im weitesten Rahmen mit Tolkien zu tun haben, egal ob zu den Romanen, der Film-Trilogie oder Tolkiens Leben.
Saruman Tony Galuidi Saruman of Many Colors was a Maia, one of the angelic Ainur who served the godlike Valar in Aman. For many ages, Saruman served on the side of the Valar, who in turn served Eru, who the Elves say created all things. In the course of the events of the Third Age, Saruman's choices led to Darkness as his end, sharing the fate of Morgoth.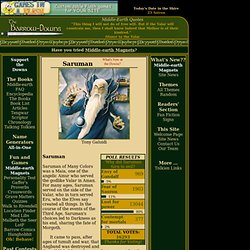 The Barrow-Downs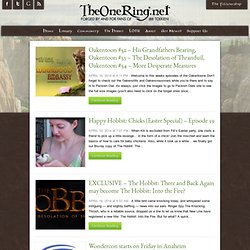 Happy Hobbit: Chicks (Easter Special) – Episode 39 April 16, 2014 at 7:07 pm - When Kili is excluded from Fili's Easter party, she visits a friend to pick up a little revenge… in the form of a chick!
Tengwar (Elbenschrift, elbische Schrift) und ihre Verwendung
Runen, Tengwar, fremde Zeichen
THE TOLKIEN FORUM
Amanye Tenceli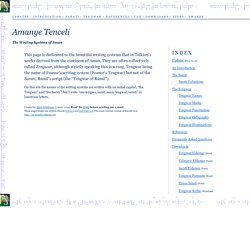 The Writing Systems of Aman This page is dedicated to the beautiful writing systems that in Tolkien's works derived from the continent of Aman. They are often collectively called Tengwar, although strictly speaking this is wrong, Tengwar being the name of Feanor's writing system (Feanor's Tengwar) but not of the Sarati, Rúmil's script (the "Tengwar of Rúmil"). On this site the names of the writing systems are written with an initial capital: "the Tengwar" and "the Sarati"; but I write "one tengwa/sarat, many tengwar/sarati" in lowercase letters. Created by Måns Björkman © 1999–2012. Read the FAQ before sending me e-mail!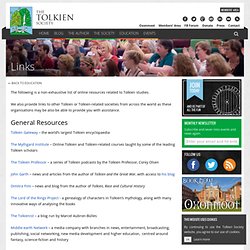 Links This list concentrates on Tolkien study resources, Tolkien clubs and societies and some original Tolkien-inspired artwork and memorabilia. It does include movie related sites, and others that have come to our attention.
Tolkien Society Links Page
Tolkien Inspired Art and Collecting - The Hobbit, The Lord of the Rings, and Tolkien - The One Ring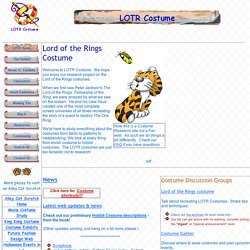 Welcome to LOTR Costume. We hope you enjoy our research project on the Lord of the Rings costumes. When we first saw Peter Jackson's The Lord of the Rings: Fellowship of the Ring, we were amazed by what we saw on the screen.