Tutos
Kinect tutorial series — Kinect hacks. Kinect and SL/Opensim Animations: An Update. Following the previous article outlining my experiments with using the Kinect for creating animation files for Second Life and Opensim, I thought an update might be in order to summarise some of the lessons learnt, both by myself and other experimenters.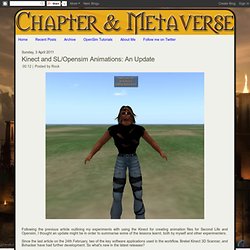 Since the last article on the 24th February, two of the key software applications used in the workflow, Brekel Kinect 3D Scanner, and Bvhacker have had further development. So what's new in the latest releases? Brekel Kinect 3D Scanner Two further releases have been issued since the last article: Nicolas Burrus Homepage - Kinect Calibration. Calibrating the depth and color camera Here is a preliminary semi-automatic way to calibrate the Kinect depth sensor and the rgb output to enable a mapping between them.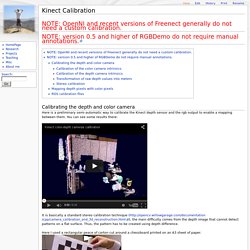 You can see some results there: It is basically a standard stereo calibration technique ( the main difficulty comes from the depth image that cannot detect patterns on a flat surface. Thus, the pattern has to be created using depth difference. Here I used a rectangular peace of carton cut around a chessboard printed on an A3 sheet of paper. Kinect Tutorial - Hacking 101. Microsoft's Kinect has been out for a few months now and has become a fairly popular accessory for the Xbox 360.
Let's face it though, using the Kinect for what it was intended didn't end up being the most exciting part of this new toy. What has become far more interesting is seeing the various hacks developed that makes the device so much more than simply an input mechanism for games. Now it's your turn to do something amazing, and this tutorial will get you started. Utiliser le Kinect sur son pc, tuto ! « Reservoir Blogs. Voilà quelques temps maintenant que le premier pilote pour utiliser le Kinect sur PC est disponible.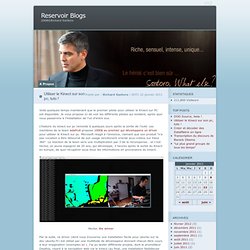 Je vous propose ici de voir les différents pilotes qui existent, après quoi nous passerons à l'installation de l'un d'entre eux. L'histoire du kinect sur pc remonte à quelques jours après la sortie de l'outil. Install OpenKinect for Windows 7 and XP. The good folks at ZigFu have created a great way for people to set up the things they need in order to start using their Kinect right away.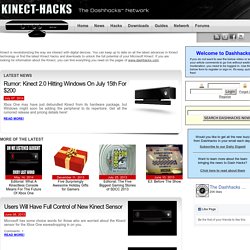 The package will install OpenNI, NITE and Sensor Kinect with just the click of a button. This will definitely come in handy if you're new to the game of have to configure multiple workstations in a short amount of time.
---