Fransk
Learning French as a foreign language. The department of French as a foreign language DEFLE was set up 34 years ago and plays an important role in welcoming foreign students who arrive in Bordeaux.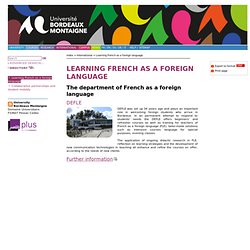 In an permanent attempt to respond to students' needs the DEFLE offers beginners' and refresher courses as well as training for teachers of French as a foreign language (FLE), tailor-made solutions such as intensive courses language for special purposes, evening classes. The application of ongoing didactic research in FLE, reflection on learning strategies and the development of new communication technologies in teaching all enhance and refine the courses on offer, according to the needs of new clients. Forum for fransk. Jérôme Rambert – formateur de formateur, Professeur et coordinateur pédagogique, Centre culturel français de Milan Google propose une série d'outils en ligne, accessibles partout et tout le temps.
Ils offrent de multiples possibilités et évoluent en permanence. The Franco-American WebSite ; intercultural ; tips for americans about France and Paris ; France and the French.
---