DOT PHA
Just a week ago, we walked into our local cafe, and our barista handed us our latte in a mug that looked just like a lens. She even topped it off with camera-shaped latte art and creamer in a film canister.
Angelize2011's Amplify | Amplify.com
Gifts for the Photographer
Canon EF 70-200mm f/2.8L IS USM II Zoom 2751B002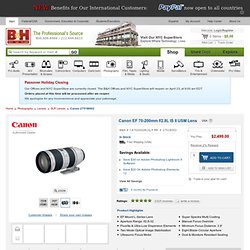 The Canon EF 70-200mm f/2.8L IS II USM Telephoto Zoom Lens improves upon its predecessor, one of the most acclaimed lenses in the Canon EF line, with superior performance, increased speed and optical quality. This lens is constructed of 23 elements in 19 groups (including 1 Fluorite and 5 UD elements) which help deliver the sharpness and reduced aberration which professional photographers rely upon from Canon.