Learning Theories
Crash course in learning theory. « If pets could design user experiences... | Main | Crash Course in Learning Summary » Crash course in learning theory One formula (of many) for a successful blog is to create a "learning blog".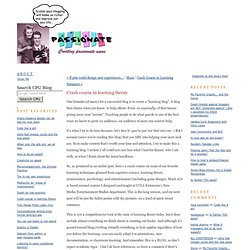 A blog that shares what you know, to help others. Even--or especially--if that means giving away your "secrets". Taxonomy of Learning Theories. Academia is teeming with learning theories.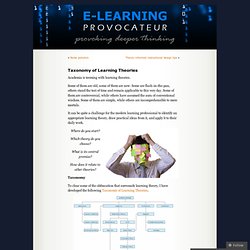 Some of them are old, some of them are new. Some are flash-in-the-pan, others stand the test of time and remain applicable to this very day. Some of them are controversial, while others have assumed the aura of conventional wisdom. Some of them are simple, while others are incomprehensible to mere mortals. It can be quite a challenge for the modern learning professional to identify an appropriate learning theory, draw practical ideas from it, and apply it to their daily work. Learning theory. This article or section is incomplete and its contents need further attention.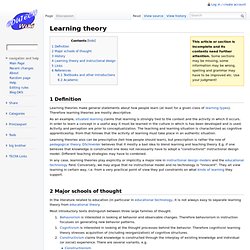 Some sections may be missing, some information may be wrong, spelling and grammar may have to be improved etc. Use your judgment! 1 Definition Learning theories make general statements about how people learn (at least for a given class of learning types). Therefore learning theories are mostly descriptive.
---