Cinema/AV Hardware
diag353
Foreword: -- This paper describes the recent imaging advances by Elphel, supplier of open source (hardware and software) cameras to customers that include Google (for select Street View and book scanning projects). It should interest imaging engineers, fans of open source, and those curious about open source hardware. The paper was written by Dr.
Elphel camera under the hood: from Verilog to PHP
NC393 development progress – the initial software by Andrey Filippov The software used in the previous Elphel cameras was based on the GNU/Linux distribution supported By Axis Communications for their ETRAX processors. Of course it was heavily modified, we developed new code and ported many applications to run in the camera.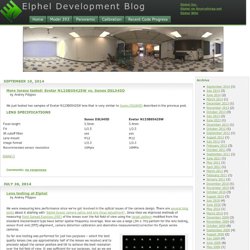 Elphel Development Blog
Elphel Development Blog
Elphel model 353 with internal HDD Elphel, Inc. designs and manufactures open hardware[1] and free software[2] cameras primarily for scientific applications, though these products can easily be customised for many different uses. Elphel Inc. was founded in 2001 by Russian physicist Andrey Filippov who emigrated to the United States of America in 1995.[3] The current model is named "Elphel 353". On the 6th December, 2010[4] Elphel launched their first panoramic camera solution (that is publicly available) called "Elphel Eyesis". Eyesis can be seen as the successor (designed for low parallax[5]) of the camera rig Elphel Inc. developed for Google Street View[6]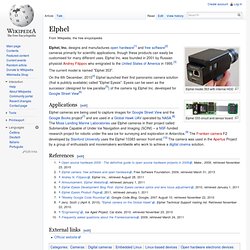 Elphel
Imaging Solutions with Free Software and Open Hardware Elphel, Inc. was started in 2001 to provide high performance cameras based on free software and hardware designs. Freedom of the users of Elphel products is our top priority - we value and protect it with the GNU General Public License that covers all the Elphel software and hardware designs. In 2011 CERN Open Hardware License became available for hardware products and since then Elphel cameras are distributed under CERN OHLv1.1 or newer. This freedom extends from the convenience of the out-of-the-box usage of the cameras with the intuitive GUI to the possibility to modify any parts of them. It protects user right to create and distribute derivative products based on our designs, products that may be suitable for the applications we had never thought about ourselves.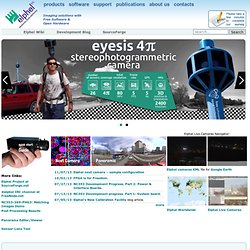 Elphel, Inc. | Imaging solutions with Free software and open hardware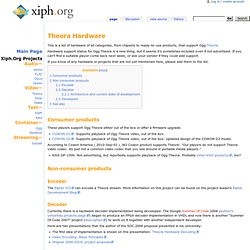 From XiphWiki This is a list of hardware of all categories, from chipsets to ready-to-use products, that support Ogg Theora. Hardware support status for Ogg Theora is a new thing, but it seems it's sometimes included even if not advertised.
Theora Hardware - XiphWiki
Free Hardware Implementation of Theora Videoencoder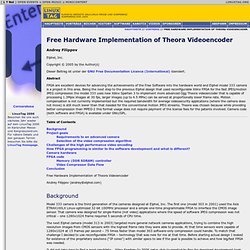 Andrey Filippov Elphel, Inc. Copyright © 2005 by the Author(s) Abstract FPGA are excellent devices for advancing the achievements of the Free Software into the hardware world and Elphel model 333 camera is a project in this area. Being the next step to the previous Elphel design that used reconfigurable Xilinx FPGA for the fast JPEG/motion JPEG compression the model 333 uses new Xilinx Spartan 3 to implement more advanced Ogg Theora videoencoder that is capable of processing 1.3Mpix images at 30 fps, larger images (up to 4.5 MPix) can be served at proportionally lower frame rate.
Apertus - open source cinema Project/Software/Hardware Introduction
Let me start by saying we are very sorry in case we managed to scare you for a second (or maybe a bit longer) :) I hope we did not do any permanent damage to your opinion of us. We did not sell the company and we have no plans to do so. We were actually pretty sure our proposals were considered extreme enough that nobody would take them seriously. So let's summarize what we pulled off this year at the one time of the year when there are no rules (April 1st). On April 1st we posted the following... » Read more