Cinema/AV Hardware
diag353
Foreword: -- This paper describes the recent imaging advances by Elphel, supplier of open source (hardware and software) cameras to customers that include Google (for select Street View and book scanning projects). It should interest imaging engineers, fans of open source, and those curious about open source hardware. The paper was written by Dr.
Elphel camera under the hood: from Verilog to PHP
Elphel Development Blog
Elphel Development Blog
Elphel model 353 with internal HDD Elphel, Inc. designs and manufactures open hardware[1] and free software[2] cameras primarily for scientific applications, though these products can easily be customised for many different uses.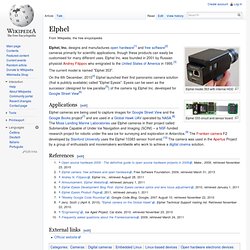 Elphel
Elphel, Inc. | Imaging solutions with Free software and open hardware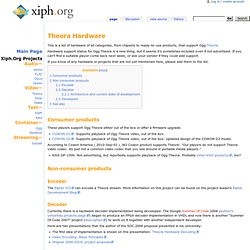 From XiphWiki This is a list of hardware of all categories, from chipsets to ready-to-use products, that support Ogg Theora. Hardware support status for Ogg Theora is a new thing, but it seems it's sometimes included even if not advertised.
Theora Hardware - XiphWiki
Free Hardware Implementation of Theora Videoencoder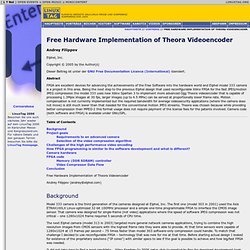 Andrey Filippov Elphel, Inc. Copyright © 2005 by the Author(s) Abstract FPGA are excellent devices for advancing the achievements of the Free Software into the hardware world and Elphel model 333 camera is a project in this area. Being the next step to the previous Elphel design that used reconfigurable Xilinx FPGA for the fast JPEG/motion JPEG compression the model 333 uses new Xilinx Spartan 3 to implement more advanced Ogg Theora videoencoder that is capable of processing 1.3Mpix images at 30 fps, larger images (up to 4.5 MPix) can be served at proportionally lower frame rate.
Apertus - open source cinema Project/Software/Hardware Introduction