Empresas Alemanas
Noticia. Arquitectos Leipzig. Directorio - Estudios de arquitectura - Europa - Alemania - Wilk-Salinas Arquitectos. Directorio - Estudios de arquitectura - Europa - Alemania - Nieto Sobejano Arquitectos S.L.P. Google Map Nieto Sobejano Arquitectos S.L.P.Talavera 4 L-5,28016MadridEspañaEmail: EmailEsta dirección electrónica esta protegida contra spam bots.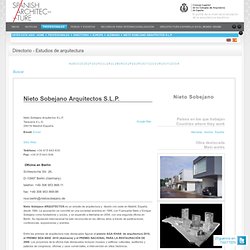 Necesita activar JavaScript para visualizarla Sitio WebTeléfono: +34 915 643 830Fax: +34 915 643 836 Oficina en Berlin Schlesische Str. 26, Ntact | Ellis Williams Architects. Kontakt. Sauerbruch hutton. News: 4th april 2014, 7.30pm exhibition opening <Ola Kolehmainen.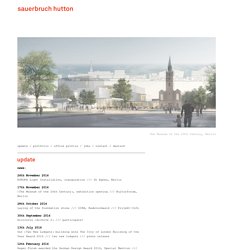 Geometric Light> /// Haus am Waldsee 11th to 14th march 2014 Sauerbruch Hutton is part of the German Pavilion at MIPIM in Cannes, booth number R33.03/12 /// 15th january 2014 Sauerbruch Hutton wins <Holzbaupreis NRW 2013>-Award for the in Cologne /// 5th november 2013 Sauerbruch Hutton wins competition for Experimenta, Heilbronn /// Hausbau-Erfahrungen Berlin | Hausbau Berlin | Hausbaufirmen Berlin. Empresas españolas en Alemania » Currantes sin fronteras. Si estás interesado en contactar con empresas españolas en Alemania o presentar tu candidatura ponte en contacto con nosotros en info@currantessinfronteras.es Disponemos de contactos de muchas de ellas y estamos trabajando en estrechar lazos con ella, para buscarte las mejores oportunidades.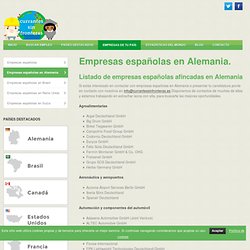 Agroalimentarias Argal Deutschland GmbHBig Drum GmbHBirkel Teigwaren GmbH Campofrío Food Group GmbHCodorniu Deutschland GmbH Euryza GmbHFélix Solis Deutschland GmbH Fermín Montaner GmbH & Co. OHGFreixenet GmbHGrupo SOS Deutschland GmbH Herba Germany GmbH Aeronáutica y aeropuertos Acciona Airport Services Berlin GmbHIberia Büro DeutschlandSpanair Deutschland. S ddeutsche Geothermie-Projekte Gesellschaft.
---