Blog
Anthropologie. Making a Capelet from an Old Sweater Video. How to Make a Capelet from an Old Sweater I'm Claire.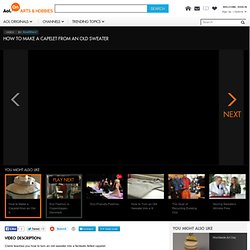 I have an Etsy Store called Small Stars and I sell vintage Capelets made from felted sweaters. DIY Découpage Floral Bag. When H&M asked us to DIY a boho-inspired item for their summer issue, découpage was the first thing that came to mind.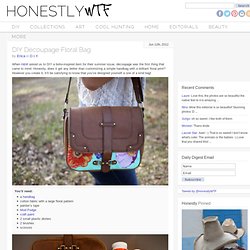 Honestly, does it get any better than customizing a simple handbag with a brilliant floral print? However you create it, it'll be satisfying to know that you've designed yourself a one of a kind bag! Perfect Summer Bangle. Here's a fun tutorial on how to make a message bangle that's one-of-a-kind, done in the sun, waterproof and weatherproof.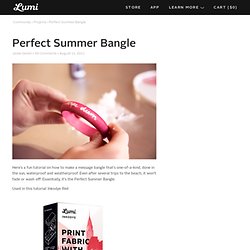 Even after several trips to the beach, it won't fade or wash off! Essentially, it's the Perfect Summer Bangle. Vinyl Record Purse| DIY Fashion and Craft TutorialsStars for Streetlights. Whenever I go to thrift shops, I always browse through all of the old records they have for sale.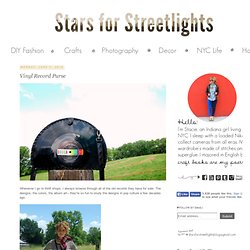 The designs, the colors, the album art-- they're so fun to study the designs in pop culture a few decades ago. There are many ways to use old records, but one of my favorites has always been a purse. Whenever I see a vinyl record purse in a boutique or online, they're always SO expensive. Tutorials for Recycling T-Shirts. So way way back, in June, I wrote this Studio Organization post, about starting the process of organizing my studio by cleaning out the closet full of junk.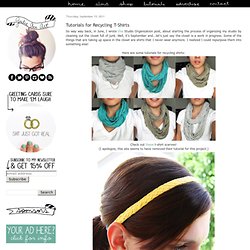 Well, it's September and...let's just say the closet is a work in progress. Some of the things that are taking up space in the closet are shirts that I never wear anymore. I realized I could repurpose them into something else! Here are some tutorials for recycling shirts: Check out these t-shirt scarves! DIY Braided Clay Bracelet. Yes I am obsessed with polymer clay.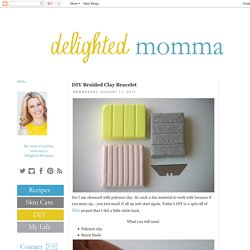 Its such a fun material to work with because if you mess up... you just mash it all up and start again. Today's DIY is a spin off of this project that I did a little while back. Two Inspiring ReStyles by Tick Tock Vintage. Our newest entries into Project ReStyle come all the way from philadelphia!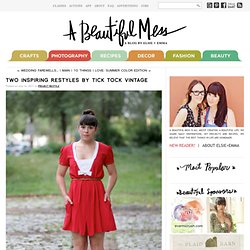 This super cute oversized vintage dress to cute mini dress had me itching for a good thrift/sewing session. Inspiring, no? This Suede skirt to a purse ReStyle is so amazing! DIY Projects « Fossil Blog. DIY rope bracelet from a J.Crew shopping bag! « sideoats + scribbles. I must confess, I love jcrew so much.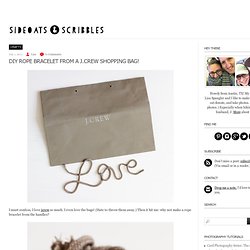 I even love the bags! (Hate to throw them away.) Then it hit me: why not make a rope bracelet from the handles? Here's how I did it in just a few steps. Do It Yasself. The Color Wheel: How to Combine Colors in your Wardrobe. Ever wonder how some of your favorite fashionistas put colors together to create eye-catching and fabulously colorful outfits?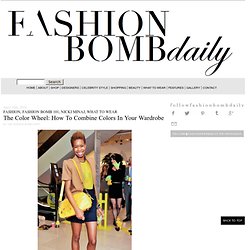 Well so does Fashion Bombshell Kendra who wrote in asking, "As a recessionista engineer, I cannot afford to buy a new wardrobe for the spring/summer. I have great pieces in my wardrobe already so I want to know how to make the most of my wardrobe by playing around with different color combinations. My mom gave me a color wheel as a gift. Unfortunately, I can't seem to get it right…" "…Can you please provide tips on how to combine colors for clothes?
Blog. May 27th, 2012 Lace inserts are a popular denim DIY this summer.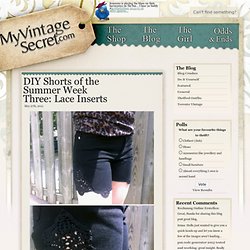 Usually done with white lace and light denim I wanted to mix it up and try it with black! Sources: (Top Left – Right) 1. Weekend designer. A Pair and a Spare | DIY Fashion | Tutorials | Style. Style Scrapbook. P.S.- I made this... Charlotte Tang | Ramblings of a Designer.
---