Culture
Shop by Color - StumbleUpon. What girls need to realize... - Polyvore - StumbleUpon. We guys don't care if you talk to other guys.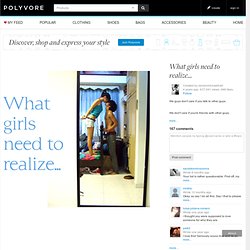 We don't care if you're friends with other guys. But when you're sitting next to us, and some random guy walks into the room and you jump up and tackle him, without even introducing us, yeah, it pisses us off ...... It doesn't help if you sit there and talk to him for ten minutes without even acknowledging the fact that we're still thereWe don't care if a guy calls or texts youbut at 2 in the morning we do get a ... little ... ... concerned. Indie, Retro, Vintage Clothing & Cute Dresses | ModCloth.
Kimagination - bodi kim's imagination & other thought fragments. S LadyData | The Female Perspective | Question 69251. PANK Magazine. @Baekdal - The Magazine About the Great Experience. Jon Defreest's Illustration & Graphic Design Portfolio. We Made This Ltd. Sokoblovsky Farms - Russia's Finest Purveyors of Miniature Lap Giraffes. Videojug - Get Good At Life. The world's best how to videos plus free expert advice and tutorials. Inspiring images and videos recently added to we heart it / visual bookmark. The Morning News.
---