Web performance
Test Result - Stockholm : www...DaysForecast.do... - 10/13/11 10:28:40. Web performance test gartner. Steve Souders - High Performance Web Sites. C Web Performance Working Group. The mission of the Web Performance Working Group, part of the Rich Web Client Activity, is to provide methods to measure aspects of application performance of user agent features and APIs.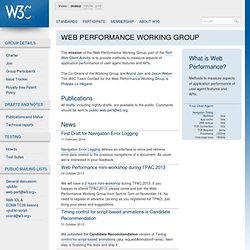 The Co-Chairs of the Working Group are Arvind Jain and Jason Weber. The W3C Team Contact for the Web Performance Working Group is Philippe Le Hégaret. The Web Standards Project. Load Test : Performance Testing : Stress Testing Tool. Speed metrics in Google Analytics. By Satish Kambala, Staff Software Engineer At Google we believe that speed matters and a faster web is better for everyone.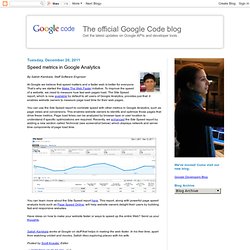 That's why we started the Make The Web Faster initiative. To improve the speed of a website, we need to measure how fast web pages load. Apicasystem. Systems – The Mobile and Internet Performance Authority. Keynote Systems – The Mobile and Internet Performance Authority. Velocity Europe - O'Reilly Conferences, November 08 - 09, 2011, Berlin, Germany. Thank you for helping make the first Velocity Europe event a big success.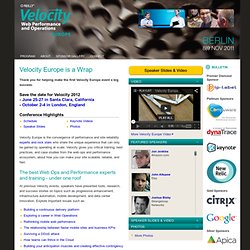 Save the date for Velocity 2012 - June 25-27 in Santa Clara, California - October 2-4 in London, England Velocity Europe is the convergence of performance and site reliability experts and rock stars who share the unique experience that can only be gained by operating at scale. Velocity gives you critical training, best practices, and case studies from the web ops and performance ecosystem, about how you can make your site scalable, reliable, and fast. At previous Velocity events, speakers have presented tools, research, and success stories on topics such as progressive enhancement, infrastructure automation, mobile development, and data center innovation.
Explore important issues such as: High Scalability - High Scalability. Cloud Computing Management Platform by RightScale. Instant Test Pro.
---