Character/Plot
You've got some basic ideas of what your character is like: gender, age, vocation, manner. As described in Finding and Creating Characters , you've given your character a problem, a need. Now you're ready to flesh the character out.
The Index Card Method and Structure Grid
All right, now you should have had enough time to watch at least one movie and note the sequences . Do you start to see how that works? By all means, keep watching movies to identify the sequence breakdown (and I will TRY to get to THE MATRIX this week) but at the same time, let's move on to This is the number one structuring tool of most screenwriters I know. I have no idea how I would write without it.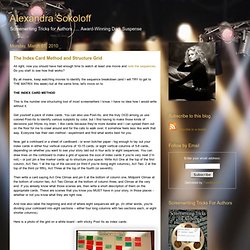 Plotting Made Easy - The Complications Worksheet
Want to create a plot you'll itch to write?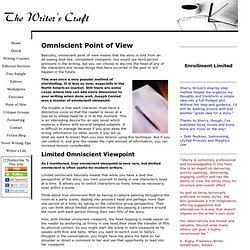 Basically, omniscient point of view means that the story is told from an all-seeing God-like, omnipotent viewpoint. You would use third person pronouns in the writing, but you can choose to dip into the head of any of the characters and reveal things that have occurred in the past or will happen in the future.
In order to fully understand point of view in literature, we need to explore the different perspectives from which a story may be told. Bear in mind that the Perspective is the scene as viewed through the eyes/mind of the chosen character.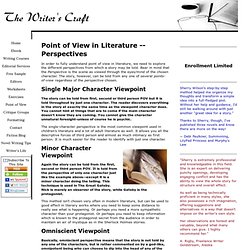 Enrollment Limited Sherry Wilson's step-by-step method helped me organize my thoughts and transform a simple idea into a full-fledged plot.
Third Person Point of View — The Writer's Craft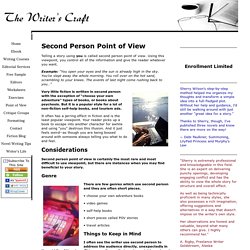 Second Person Point of View — The Writer's Craft
Enrollment Limited
When you tell a story through a viewpoint character using I or we, you are using first person point of view. Example: The banging on my door reverberated within my skull like a giant church bell in an empty hall. I groaned and rolled onto my stomach, pulling the pillow over my head.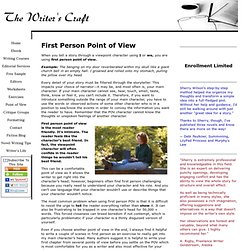 Book Manuscript Format – The Writer's Craft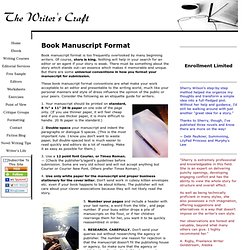 Book manuscript format is too frequently overlooked by many beginning writers. Of course, story is king. Nothing will help in your search for an editor or an agent if your story is weak.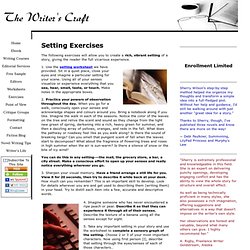 Setting of a story — The Writer's Craft
The following exercises will allow you to create a rich, vibrant setting of a story, giving the reader the full vicarious experience.
Getting to Know your Characters Create a character or get to know him better with these creative writing exercises.
If you're a fiction writer -- whether you're working on a novel, short story, screenplay, television series, play, web series, webserial, or blog-based fiction -- your characters should come alive for your reader or audience.
by Holly Lisle All Rights Reserved No matter what sort of fiction you're writing, you're going to have to populate your story with characters, and a lot of them, if not all of them, you're going to have to create from scratch.
By Maisha Foster-O'Neal You've heard the old maxim before... 'a character can make or break your story.'
When you get an idea for a short story or a novel you probably get the basic idea of the characters with it. But in order to build believable characters you need more than just a basic idea of them.
tp://thescriptlab.com/the-formula/story/development/26-story-questionnaire