Creativity II
The Art of Oaxacan Wood Carving
Few things beat a classic white tee. Throw it on with a pair of jeans, cork wedges, a long necklace, and you're good to go just about anywhere. Best of all, white tees are such a staple that you can find them at just about any corner store, grocery store, mall, or pharmacy. Seeing as we love style hackery oh-so-much, we decided to take on the classic tee, and came up with 10 new ways to restyle, rework, and totally transform it.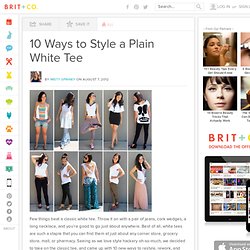 Colored Pencils Pansy by Samantha Bell Colored pencils are a fun medium for any age.
Colored Pencils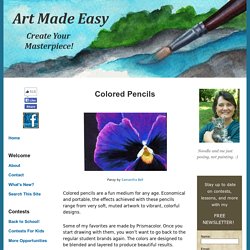 Murray_Cholowsky: Pen & Ink - Shading/Techniques/Lesson (1 of 4)
Welcome to the world of ink art!! This will be an introductory article showing you some different types of line and shading techniques that are the basics for most ink drawings. I've also included a step-by-step lesson with a line drawing you can use to follow along and practice a few techniques. These techniques can be used on their own or can be combined in a single drawing, so don't be afraid to experiment with this medium. Unlike graphite, ink is a permanent medium that is not very forgiving as far as making corrections to your work.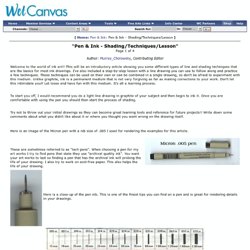 free art lessons - learn how to draw, paint and design
I Like Markers
Prismacolor Marker Review by ~Prismacolorists on deviantART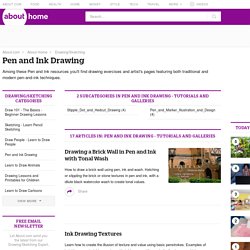 Among these Pen and Ink resources you'll find drawing exercises and artist's pages featuring both traditional and modern pen-and-ink techniques. Drawing a Brick Wall in Pen and Ink with Tonal WashHow to draw a brick wall using pen, ink and wash.
pen and ink drawing - tutorials and galleries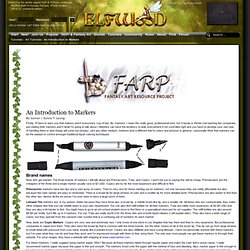 An Introduction to Markers
By Sylver / Sylvia T. Leung. Firstly, I'll have to warn you that makers aren't everyone's 'cup of tea.' By 'markers' I mean the really good, professional kind, not Crayola or Pentel (not bashing the companies, just stating their markers aren't what I'm going to talk about.)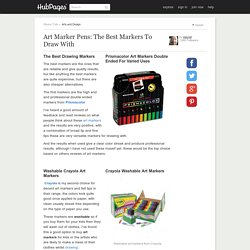 Art Marker Pens: The Best Markers To Draw With
The best markers are the ones that are reliable and give quality results, but like anything the best markers are quite expensive, but there are also cheaper alternatives. The first markers are the high end and professional double ended markers from Prismacolor I've heard a good amount of feedback and read reviews on what people think about these art markers and the results are very positive, with a combination of broad tip and fine tips these are very versatile markers for drawing with. And the results when used give a clear color streak and produce professional results, although I have not used these myself yet. these would be the top choice based on others reviews of art markers.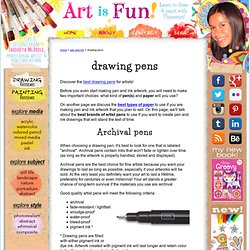 Discover the best drawing pens for artists! Before you even start making pen and ink artwork, you will need to make two important choices: what kind of pen(s) and paper will you use? On another page we discuss the best types of paper to use if you are making pen and ink artwork that you plan to sell. On this page, we'll talk about the best brands of artist pens to use if you want to create pen and ink drawings that will stand the test of time. Archival pens
The Best Drawing Pens for Artists: Pens for Creating Pen and Ink Artwork
Tinkered Art Studio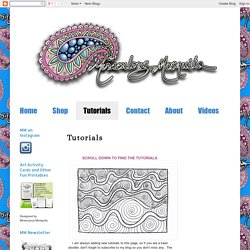 Tutorials
I am always adding new tutorials to this page, so if you are a keen doodler, don't forget to subscribe to my blog so you don't miss any. The 'Dangerous Doodles' are designed to be simple and easy to follow. You may also find here some more complicated tutorials for the more confident doodler. Feel free to comment below if you have any suggestions or requests. Share these tutorials with your friends, and use them as starting points and inspiration for your artwork. I have provided these designs free of charge for you to use in your artwork, so if you could remember to credit my blog and link back to this page, I would appreciate it :).
10 iPhone and Android Apps for Taking Self-Portraits Giveaway Tuesdays has officially ended! But don't sweat it, WonderHowTo has another World that's taken its place. Every Tuesday, Phone Snap!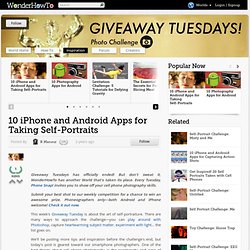 10 iPhone and Android Apps for Taking Self-Portraits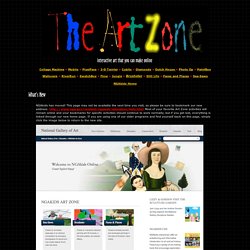 SEA-SAWS SEA-SAWS is fun for kids of all ages. Select photographs of natural and man-made objects, then arrange the pieces to create a seascape or an abstract composition. The BUILD tool helps you construct animated characters and set them in motion. (Shockwave, 7.5 MB) FACES & PLACES helps children of all ages create portraits and landscape paintings in the style of American naive artists. By combining visual elements borrowed from more than 100 works in the National Gallery's permanent collection, this two-part interactive activity offers an overview of American folk art of the 18th and 19th centuries.
Paper Mosaic Craft Activity
Letters of Medical NecessityRifton TRAM Sample LMN: Adult homecare
Color Pages for Mom - Free Printable Adult Coloring Pages
Fine Art Coloring Books
Airwalk Studios | A Designers Paradise
Would you pin this on Pinterest? Photographers these days spend so much time on the Internet learning good things about photography that they never make the time to do the things that would be really great for their photography. I've compiled a list of 21 things in this article that you can do today that would completely change your photography forever. THIS is how you learn photography! If you like these tips, I hope you'll consider learning portrait photography with me in my online portrait photography course!
Susan Seymour :: Art
My work has evolved over the years and has become increasingly abstract and geometric. My early paper mosaics where meant to mimic tile mosaics and my design considerations centered around giving these mosaics a contemporary feel while maintaining the traditional look of grout and tile mosaics. After several years, I began to experiment with paper mosaic quilts, combining the techniques of mosaic with contemporary quilt patterns.
★ Paper Sculpture Techniques & Inspiration | Video Tutorials for Beginners ★
Paper sculpture is the manipulation of paper to form a 3D image or structure.
dar-thursday-7