Twitter,
Eye-C Eye-C is a mobile application for iPhone and Android that lets you "play" Twitter hashtags on your phone, TV, PC or set-top box. The service looks for any media associated with a particular hashtag, then creates a playlist of sorts (a "taglist") which allows you to watch the videos, listen to the music or view […] Tweet Widget The Twitter based home screen Tweet Widget displays Twitter tweets based on an adjustable search criteria or a timeline (friend, public or user).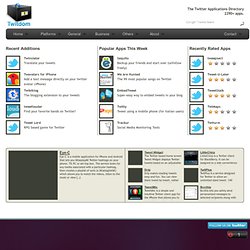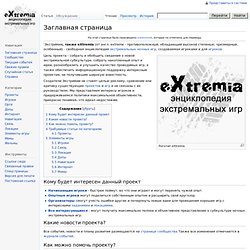 Mr. Tweet -> Your Personal Networking Assistant!
'Экстри́мия, также eXtremia (от англ. extreme - противоположный, обладающий высокой степенью, чрезмерный, особенный) - свободная энциклопедия экстремальных ночных игр, создаваемая игроками и для игроков. Логотип eXtremia Цель проекта - собрать и обобщить сведения о новой экстремальной субкультуре, собрать накопленный опыт и идеи, разнообразить и улучшить качество проводимых игр, а также обеспечить информационную поддержку интересным проектам, не получившим широкую известность.
Take your marketing dollars further by sharing your ideas, strengthening customer relationships, & increasing brand awareness with iContact. TopHatRank is one of the best SEO Consultants in Los Angeles using SEO & social media optimization to deliver highly relevant Web traffic. A list of great Wordpress plugins to drive traffic to your blog or website. Fiverr is one of the best way to make money. This article will show you some best strategies to work on Fiverr.