Education
Series Of Good Dan Pink Videos To Use With Students. I've written a lot about Daniel Pink's writings on motivation over the years.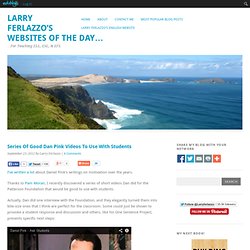 Thanks to Pam Moran, I recently discovered a series of short videos Dan did for the Patterson Foundation that would be good to use with students. Actually, Dan did one interview with the Foundation, and they elegantly turned them into bite-size ones that I think are perfect for the classroom. Some could just be shown to provoke a student response and discussion and others, like his One Sentence Project, presents specific next steps: Here's the one on The One Sentence Project, and here are also links that give more information on it: What's your sentence? The university: still dead. Delbanco's survey of the tradition of college education and its basis in Puritan faith, both its provision of a universal liberal education and its focus on building character, is a salutary reminder when today's colleges and universities brand themselves 'Comprehensive Knowledge Enterprises', distance-learning hubs or engines of social mobility.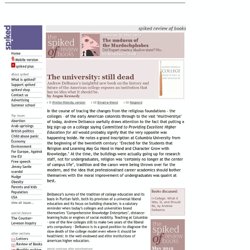 Teaching at Columbia – one of the few colleges still to make two years of the liberal arts compulsory – Delbanco is in a good position to diagnose the slow death of the college model even where it should be healthiest: in the well-endowed and elite institutions of American higher education. article continues after advertisement 'Every year the teacher gets older while the students stay the same age.' Project Based Learning. Startup Thinking In Higher Ed: a conversation with Eric Ries - The Ubiquitous Librarian. Just got off the phone with Eric Ries and I'm sure I came off as a total fan boy.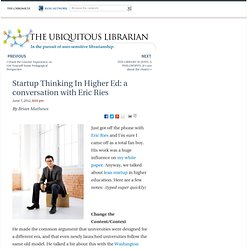 His work was a huge influence on my white paper. Anyway, we talked about lean startup in higher education. Here are a few notes: (typed super quickly) Change the Content/ContextHe made the common argument that universities were designed for a different era, and that even newly launched universities follow the same old model. What Higher Education Should Look Like. A look at the Amsterdam School of Creative Leadership.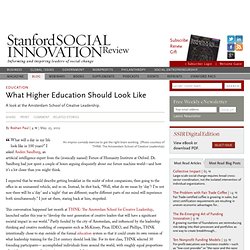 An improv comedy exercise to get the right brain working. (Photo courtesy of THNK: The Amsterdam School of Creative Leadership) "What will a day in my life look like in 100 years?" 'Higher Education Bubble' is about to burst. Generation Facebook. Social networking has penetrated just about every aspect of teenage interaction, not least dating etiquette.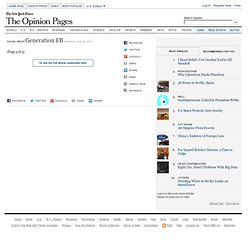 When you like a girl, explains 19-year-old Leo Laun, a teenage heartthrob who reminds me of Robert Pattinson minus the messy hair, it's much easier to send a friend request than to ask for her phone number. Then you can check out her photos, her profile information and her posts. "You know whether she is single, what she looks like in a bikini and what music she likes," he says, counting these clearly crucial points off on one hand. News and Information for Teacher Leaders. Education Week Teacher Digital Directions Industry & Innovation TopSchoolJobs.
---