Andreysmorodov
Andrey Smorodov
Asy - Surfaces 3D
Как сделать загрузочную USB флэшку с дистрибутивом Windows 7 - Блог Петра Диденко
(внимание: Microsoft выпустил простую утилиту для того, чтобы делать загрузочную флешку с Windows 7 - читайте у меня же в блоге вот тут вот, скажите друзьям ;) Вышла Windows 7 и сразу появилось много желающих поставить её на нетбук. Да, на нетбуках Windows 7 работает хорошо!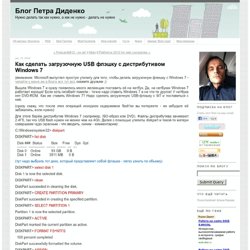 Store and use files in Assets | [ Android Newbie ]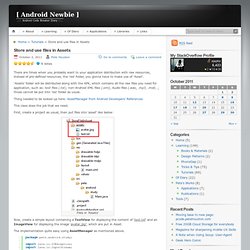 Home > Tutorials > Store and use files in Assets i 8 Votes There are times when you probably want to your application distribution with raw resources, instead of pre-defined resources, the 'res' folder, you gonna have to make use of 'Asset'.
How to Build a Robot Tutorial - Society of Robots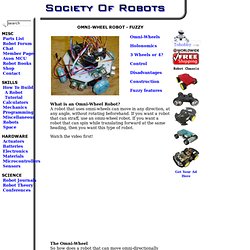 What is an Omni-Wheel Robot? A robot that uses omni-wheels can move in any direction, at any angle, without rotating beforehand. If you want a robot that can straff, use an omni-wheel robot. If you want a robot that can spin while translating forward at the same heading, then you want this type of robot.
ROBOTEE LINKAGE 2.0 – Free Software What is Linkage 2.0 ? Linkage is computer aided design software used for quick prototyping of robotic linkage mechanisms . The number of operations needed to add a link and get it connected to other links in the mechanism has been minimized to the lowest number possible making this program ideal for "throwing together" a working machine. The mechanism is edited and animated in the same window allowing for quick analysis and modification while working on a design.
ROBOTIC LINKAGE MECHANISM Simulator 81003 | ROBOTS & ROBOTICS PORTAL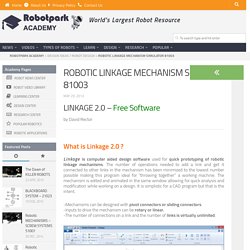 Mastering Debugging in Visual Studio 2010 - A Beginner's Guide
Table of Contents Introduction
Music and Computers
Here's a simplified view of what happens when we pluck a string: at first the string is highly energized and it vibrates like mad, creating a fairly complex (meaning rich in harmonics) sound wave whose fundamental frequency is determined by the mass and tension of the string. Gradually, thanks to friction between the air and the string, the string's energy is depleted and the wave becomes less complex, resulting in a "purer" tone with fewer harmonics. After some amount of time all of the energy from the pluck is gone, and the string stops vibrating. If you have access to a stringed instrument, particularly one with some very low notes, give one of the strings a good pluck and see if you can see and hear what's happening per the description above. How a Computer Models a Plucked String with the Karplus-Strong Algorithm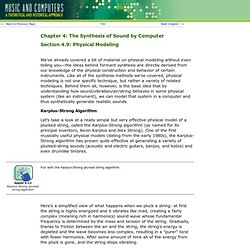 ÂÛ×ÈÑËÅÍÈÅ, íåçàâèñèìî îò òîãî, âûïîëíÿåòñÿ îíî ýëåêòðîííûìè óñòðîéñòâàìè, íà îáû÷íûõ ñ÷åòàõ èëè áèîëîãè÷åñêîé ñèñòåìîé, òàêîé, êàê ìîçã, - ýòî ôèçè÷åñêèé ïðîöåññ. Ê íåìó ïðèìåíèìû òå æå ïîíÿòèÿ, ÷òî è ê äðóãèì ôèçè÷åñêèì ïðîöåññàì. Êàêîå êîëè÷åñòâî ýíåðãèè íåîáõîäèìî, ÷òîáû âûïîëíèòü òî èëè èíîå âû÷èñëåíèå? Ñêîëüêî âðåìåíè ïîòðåáóåòñÿ íà ýòî? Êàêèõ ðàçìåðîâ äîëæíî áûòü âû÷èñëÿþùåå óñòðîéñòâî? Äðóãèìè ñëîâàìè, êàêîâû ôèçè÷åñêèå îãðàíè÷åíèÿ, íàêëàäûâàåìûå íà ïðîöåññ âû÷èñëåíèÿ?
VIVOS VOCO: Ш.Г. Бенне, Р. Ландауэр, ФИЗИЧЕСКИЕ ПРЕДЕЛЫ ВЫЧИСЛЕНИЙ
Multi-touch displays are the natural evolution of the old touch screens as they are capable of recognising multiple touches at the same time. This way of dealing with the hardware (and applications) opens up a host of new opportunities for human-computer interaction, enabling the objects on a screen to be directly manipulated by the user. For this reason these techniques are also known as natural user interfaces.
Multi-touch Table « CSP Research & Development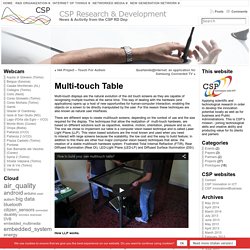 *** Check out the open positions for masters/internships here at the Dynamic Legged Systems Lab (November 2013) *** left: HyQ robot in kneeling position; right: HyQ with HyQ-blue that has been sold to the Agile & Dexterous Robotics Lab of ETH Zurich in July 2013. HyQ is a fully torque-controlled Hydraulically actuated Quadruped robot (pronounced [hai-kju:]) developed in the Department of Advanced Robotics at the IIT. HyQ is designed to move over rough terrain and perform highly dynamic tasks such as jumping and running with different gaits (up to 3-4m/s). To achieve the required high joint speeds and torques, hydraulic actuators are powering the robot's 12 active joints.
Hydraulically Actuated Quadruped - HyQ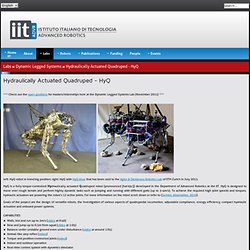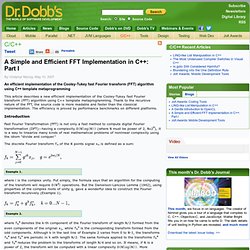 A Simple and Efficient FFT Implementation in C++:<br> Part I
By Vlodymyr Myrnyy , May 10, 2007 An efficient implementation of the Cooley-Tukey fast Fourier transform (FFT) algorithm using C++ template metaprogramming This article describes a new efficient implementation of the Cooley-Tukey fast Fourier transform (FFT) algorithm using C++ template metaprogramming.
C++ Programming HOW-TO: STL References
Next Previous Contents
Введение Библиотека QT предназначена для разработки GUI, разработанная компанией Trolltech AS. Qt была представлена в 1996 году, с тех пор, с помощью этой библиотеки было создано большое количество разнообразных приложений с графическим пользовательским интерфейсом. Qt является кроссплатформенной, есть реализации библиотеки для MS/Windows, Unix/X11 (Linux, Sun Solaris, HP-UX, Digital Unix, IBM AIX, SGI IRIX и пр.), Macintosh ( Mac OS X ) и Embedded платформ. Библиотека является объектно-ориентированной, базирующейся на компонентах и имеет богатое разнообразие различных визуальных элементов - виджетов (widgets), предоставляемых в распоряжение программиста.
Библиотека Qt — openSUSE
kylemcdonald/ofxFaceTracker
i 1 Votes
ESTADISTICA « LEER NO ES UN DELITO, ES UNA VIRTUD
Website viewed best in Firefox
A movie of the simulation is in Movie.wmv. By monitoring the objective for each iteration through the optimization process, we see that the system quickly finds local minimum. However, the local minima we're getting aren't close enough to the actual key-frame images we're trying to represent. Also, if I stretch the simulation out longer to 20 frames or more, the system almost never converges at a minimal solution. We hypothesized that the problem may lie in our wind force field. We place our forces on an evenly spaced grid.
Segmentation (image processing)