Paper 2 info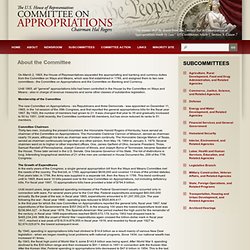 About the Committee | Committee on Appropriations, U.S. House of Representatives
On March 2, 1865, the House of Representatives separated the appropriating and banking and currency duties from the Committee on Ways and Means, which was first established in 1789, and assigned them to two new committees - the Committee on Appropriations and the Committee on Banking and Currency.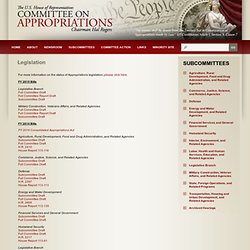 Legislation | Committee on Appropriations, U.S. House of Representatives
For more information on the status of Appropriations legislation, please click here.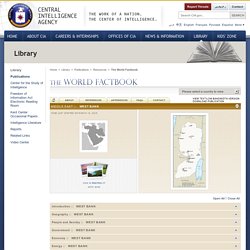 The World Factbook
From the early 16th century through 1917, the area now known as the West Bank fell under Ottoman rule. Following World War I, the Allied powers (France, UK, Russia) allocated the area to the British Mandate of Palestine. After World War II, the UN passed a resolution to establish two states within the Mandate, and designated a territory including what is now known as the West Bank as part of the proposed Arab state.
The World Factbook
Inhabited since at least the 15th century B.C., Gaza has been dominated by many different peoples and empires throughout its history; it was incorporated into the Ottoman Empire in the early 16th century.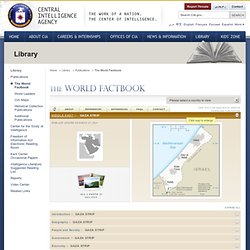 The United States Senate Committee on Appropriations
Israel approves 1,100 settler homes in Gilo, Jerusalem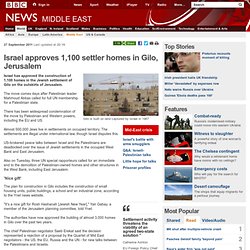 27 September 2011Last updated at 15:19 ET Gilo is built on land captured by Israel in 1967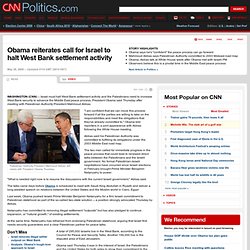 WASHINGTON (CNN) -- Israel must halt West Bank settlement activity and the Palestinians need to increase West Bank security to advance the Middle East peace process, President Obama said Thursday after meeting with Palestinian Authority President Mahmoud Abbas.
Obama reiterates call for Israel to halt West Bank settlement activity
Middle East | 'Hundreds join' settler violence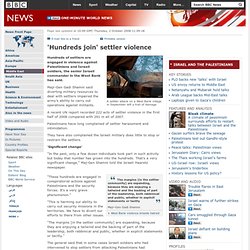 Hundreds of settlers are engaged in violence against Palestinians and Israeli soldiers, the senior Israeli commander in the West Bank has said. Majr-Gen Gadi Shamni said diverting military resources to deal with settlers impaired the army's ability to carry out operations against militants.