October
Facebook Debuts 4th Ad Placement. Christopher Heine | September 30, 2010 | 0 Comments inShare17 New ad position means a new $1.6 billion revenue estimate for 2010 may be low.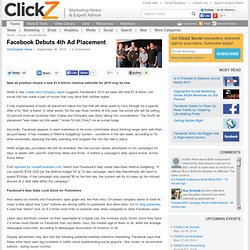 While a new Cowan and Company report suggests Facebook's 2010 ad sales will total $1.6 billion, the social site has made a pair of moves that may drive that number higher. Video and Social Drive Online Display Advertising's Growth in U.K. Jack Marshall | October 5, 2010 | 0 Comments inShare4 Video and social media advertising helped the U.K.'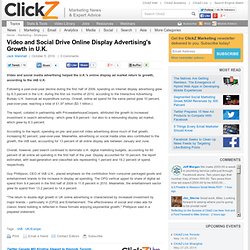 S online display ad market return to growth, according to the IAB U.K. Following a year-over-year decline during the first half of 2009, spending on Internet display advertising grew by 6.3 percent in the U.K. during the first six months of 2010, according to the Interactive Advertising Bureau U.K. biannual ad expenditure survey. Overall, online ad spend for the same period grew 10 percent, year-over-year, reaching a total of £1.97 billion ($3.1 billion.)
Bing Deal Could Extend Reach for Businesses on Facebook. Christopher Heine | October 13, 2010 | 0 Comments inShare11 The Instant Personalization-based deal could reward big brands with millions of 'likers,' while encouraging small businesses to plug into Facebook Places.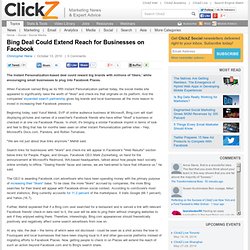 When Facebook named Bing as its fifth Instant Personalization partner today, the social media site appeared to significantly raise the worth of "likes" and check-ins that originate on its platform. And the companies' expanded search partnership gives big brands and local businesses all the more reason to invest in increasing their Facebook presence.
GE Tie-In With YouTube Celebs Scores 2 Million Views in First Week. Douglas Quenqua | October 13, 2010 | 0 Comments inShare19 Latest extension of Ecomagination effort is well on track to meet goal of 10 million views within three months.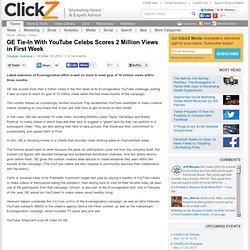 GE has scored more than 2 million views in the first week of its Ecomagination YouTube challenge, putting it well on track to reach its goal of 10 million views within the first three-months of the campaign. The contest follows an increasingly familiar structure: Pay established YouTube celebrities to make creative videos centering on your brand that in turn ask their fans to get involved on their behalf. E-mail Marketing Tool Changes Ads Based on Location, Time. Anna Maria Virzi | October 18, 2010 | 10 Comments inShare23 Ad creative is compiled dynamically based on where and when a subscriber opens the message.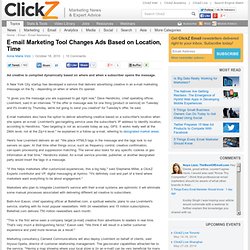 IKEA: 3D Chalk Art On Sydney Harbour  This is a great little experiential campaign from IKEA in Sydney.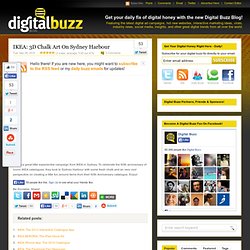 To celebrate the 60th anniversary of iconic IKEA catalogues, they took to Sydney Harbour with some fresh chalk and an very cool perspective on creating a little fun around items from their 60th Anniversary catalogue. Enjoy! Be Sociable, Share! Ikea, Ikea Campaigns, IKEA Catalogues Australia, IKEA Catalogues Sydney, IKEA Experiential, IKEA Experiential Campaigns, IKEA Marketing. Most Viral Brands Online 2010  If you've ever wondered who the most viral brands online in 2010 are, then this infographic will just about sum that up for you!
Created by the Viral Ad Network, this infographic summarises the most viewed, shared and viral brands online in 2010 so far, revealing a few very interesting results like the Shakira Waka Waka viral beating Nikes Write The Future campaign and the old Spice Questions featuring multiple positions back (I wonder if those numbers are wrong?). However, in terms of frequency, 2010 was Old Spice's year, beating Google, Apple & Nike for dominance in the Viral Video Charts. While Nike easily dominated in the social war, winning the most shares on Facebook and Twitter. Sorry about the image quality, I had to up-scale the largest version I could find! Rise Of Social Media Ad Spending  Here is a new infographic from Flowtown, this time it's on the growth of Social Media Ad Spending.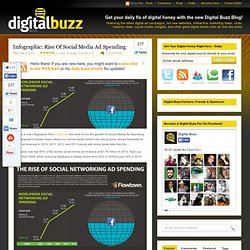 The infographic breaks down where our social media dollars are being spent, shows forecasts for social ad revenue in 2010, 2011, 2012 and 2013 along with some great stats like this… Facebook now has 50% of the words social media ad revenue at $1.76 billion in 2010, that's up 165% from 2009, while reducing MySpace's market share from 32% in 2009 to just 19% in 2010. Be Sociable, Share! Infographics, Social Media Ad Revenue Stats, Social Media Ad Spend, Social Media Ad Spending 2011, Social Media Infographics, Social Media Statistics. iPad Controlled Autonomous Taxi's  It seems autonomous cars are popular all of a sudden, last week we had the Google Car cause a bit of a stir and now these guys out of the University of Berlin are showcasing their own autonomous taxi that is part controlled by an iPad… The taxi has a GPS, multiple radars, scanners and other directional systems to help it stay on track.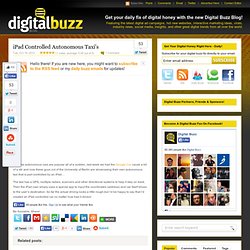 Then the iPad user simply uses a special app to input the coordinates (address) and car itself drives to the user's destination. So far the actual driving looks a little rough,but I'd be happy to say that I'd created an iPad controlled car no matter how bad it drives! How Adults Use Mobile Phones  Here is the latest infographic out from Flowtown, this time on how Adults are using mobile phones, and with it, comes a few interesting stats to take notice of… Like the 90% of 18-29 year olds that sleep with their mobile phone, this is a stat that doesn't mean too much directly, but helps establish the connection between a person and their phone as a very powerful tool for marketers come day light hours!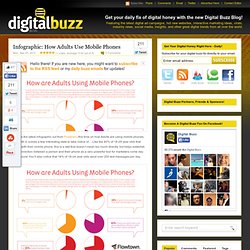 You'll also notice that 18% of 18-24 year olds send over 200 text messages per day. Be Sociable, Share! The Rise Of Facebook Mobile  YouTique: French Connection's YouTube Store  Sorry! I'm a few days late on this, but if you've not already seen it, then check out the worlds first YouTube store (I think…) called the YouTique by French Connection with agency Poke, London. It's a very clever way of taking the current trend around video based fashion tips and stylists, then working to seamlessly integrate a shopping experience around it through YouTube's annotation feature. Here you see fashion stylist Louise Roe handing out all sorts of tips and tricks in a very nicely designed brand channel, before showing you how each outfit looks on a model, along with annotations on each item that take you seamlessly to product pages on the French Connection Online Store.
Also, the videos on the channel seem to go from simple to very very weird… Expect to see a lot of this in the lead up to Christmas and particularly leading into summer 2011… Ok, I hear you, so what, it's just a video with links to an online store, who isn't doing that? McDonald's Creates Branded Farmville Farm  It was only a matter of time before we saw this from McDonald's, who've just created a branded farm on Farmville in a special one day event. Basically, McDonald's will become a "Neighbour Farm" to every player in the world for a day, this allows players to come and work on the McDonald's Farmville Farm, helping to grow things like tomatoes and mustard seeds.
Players will be rewarded with all sorts of virtual McCafe items that allow them to grow their own farms twice as fast! Plus, they also get a McDonald's hot air balloon flyover for their efforts… The exposure is seriously huge for McDonald's, who gains almost instant exposure and potential brand interaction to the near 70 million active Farmville players around the world. Google starts showing full page previews in search results. Google is today testing a major new layout to their search results – full page previews of the target site and blue backgrounds behind the search results when you hover over them.
Click the image below for a full size version. One of the fascinating things about this is that they are highlighting certain sections of the page in orange and expanding the text to provide a snippet of information. This shows that they have the technology to know exactly where a piece of text is on every single web page. The snippets highlighted are not always the same as the snippet in the search results. The size of the preview seems to be pretty much the full page although some longer pages are cropped at the bottom. Zuckerberg Signals That Facebook is Beginning to Cautiously Eye China.
Farmers Insurance Partners with Zynga's FarmVille, Protects Against Virtual Crop Withering. New Official Facebook Stats Show More Sharing Per User. Netimperative | News | Today's top stories. Scrutiny of Flash Cookies Extends Overseas. Netimperative | News | Today's top stories. Netimperative | News | Today's top stories. Guest Post: How Google Instant Can Help (And Hurt) SEO. AOL Acquires Thing Labs and Brizzly.
---