July
WHITE KITCHEN MEMO BOARD, MENU BOARD, BLACKBOARD: Amazon.co.uk: Exclusive: Google, CIA Invest in 'Future' of Web Monitoring | Danger Room. The investment arms of the CIA and Google are both backing a company that monitors the web in real time — and says it uses that information to predict the future.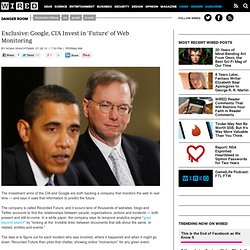 The company is called Recorded Future, and it scours tens of thousands of websites, blogs and Twitter accounts to find the relationships between people, organizations, actions and incidents — both present and still-to-come. In a white paper, the company says its temporal analytics engine "goes beyond search" by "looking at the 'invisible links' between documents that talk about the same, or related, entities and events." The idea is to figure out for each incident who was involved, where it happened and when it might go down. Seven security experts get the key to reboot the internet. Seven security experts have been entrusted with the key to reboot the internet in case of a global catastrophe.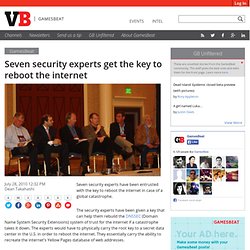 The security experts have been given a key that can help them rebuild the DNSSEC (Domain Name System Security Extensions) system of trust for the internet if a catastrophe takes it down. The experts would have to physically carry the root key to a secret data center in the U.S. in order to reboot the internet. They essentially carry the ability to recreate the internet's Yellow Pages database of web addresses. The experts include Paul Kane, head of CommunityDNS; Norm Ritchie of Canada, Jiankang Yao from China; Moussa Guebre of Burkina Faso; Bevil Wooding from Trinidad and Tobago; Ondrej Sury of the Czech Republic; and Dan Kaminsky, chief scientist at Recursion Ventures in the US.
They have been dubbed the "Seven Horsemen of the Web Apocalypse" or the "Fellowship of the Ring." Google patents search that tracks your mouse moves. High performance access to file storage Google has patented a system that displays search results and ads based on where you move your mouse.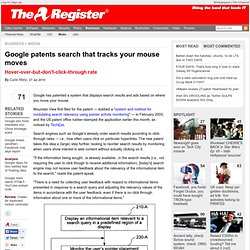 Mountain View first filed for the patent — dubbed a "system and method for modulating search relevancy using pointer activity monitoring" — in February 2005, and the US patent office rubber-stamped the application earlier this month, as noticed by TechEye. Search engines such as Google's already order search results according to click-through rates — i.e., how often users click on particular hyperlinks. The new patent takes this idea a (large) step further, looking to reorder search results by monitoring when users show interest in web content without actually clicking on it. Google launches mobile banner ads which know where you are. Google today announced on its Mobile Ads blog that it has launched location-aware display advertisements for mobile phones.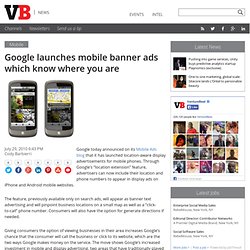 Through Google's "location extension" feature, advertisers can now include their location and phone numbers to appear in display ads on iPhone and Android mobile websites. The feature, previously available only on search ads, will appear as banner text advertising and will pinpoint business locations on a small map as well as a "click-to-call" phone number. Consumers will also have the option for generate directions if needed. Celebs on Twitter: Are they faking follower numbers? Skip to content.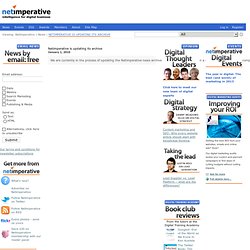 Viewing: Netimperative | News | Netimperative is updating its archive Netimperative is updating its archive. 300 million tweets reveal the afternoon at work is the unhappiest time of day. If you go by tweets, Americans are happiest in the early mornings and then gradually become more negative as the work day progresses, according to researchers at Northwestern and Harvard universities.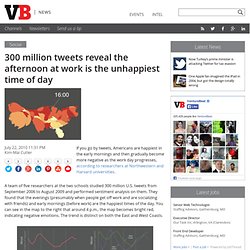 A team of five researchers at the two schools studied 300 million U.S. tweets from September 2006 to August 2009 and performed sentiment analysis on them. They found that the evenings (presumably when people get off work and are socializing with friends) and early mornings (before work) are the happiest times of the day. Twitter/FourSquare Mashup Aids Electronic Eavesdropping. What's that guy at the coffee shop typing into his computer?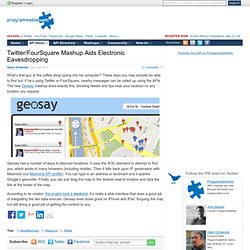 These days you may actually be able to find out. If he's using Twitter or FourSquare, nearby messages can be called up using the APIs. World's First Pirate ISP Launches In Sweden. The Swedish Pirate Party, who are at the forefront of anti-copyright lobbying in Sweden, are planning to shake up the country's ISP market.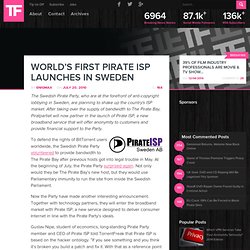 After taking over the supply of bandwidth to The Pirate Bay, Piratpartiet will now partner in the launch of Pirate ISP, a new broadband service that will offer anonymity to customers and provide financial support to the Party. To defend the rights of BitTorrent users worldwide, the Swedish Pirate Party volunteered to provide bandwidth to The Pirate Bay after previous hosts got into legal trouble in May. French Regulators: Google Abused Dominant Position in Online Ads - ClickZ. Jack Marshall | July 1, 2010 | 0 Comments inShare0 Suspension of an AdWords account is deemed unlawful.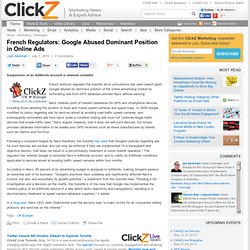 French antitrust regulator the Autorité de la concurrence has ruled search giant Google abused its dominant position of the online advertising market by terminating ads from GPS database provider Navx without warning. Navx markets point of interest databases for GPS and smartphone devices, including those detailing the location of fixed and mobile speed cameras and speed traps. In 2008 Google modified its policy regarding ads for devices aimed at avoiding road traffic speed cameras, and subsequently terminated ads from Navx under a condition stating ads must not "promote illegal traffic devices that evade traffic laws.
" Best New Mashups: World Cup, Interview Questions, and Innovative. Re-branding McDonald's « Urban Prankster. Mozilla: 2 billion Firefox add-ons downloaded. Mozilla announced today that Firefox users have downloaded more than two billion browser add-ons.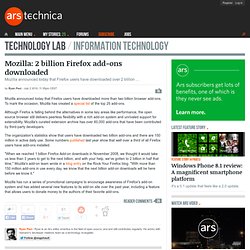 To mark the occasion, Mozilla has created a special list of the top 25 add-ons. Although Firefox is falling behind the alternatives in some key areas like performance, the open source browser still delivers peerless flexibility with a rich add-on system and unrivaled support for extensibility. Mozilla's curated extension archive has over 60,000 add-ons that have been contributed by third-party developers. The organization's statistics show that users have downloaded two billion add-ons and there are 150 million in active daily use. Some numbers published last year show that well over a third of all Firefox users have add-ons installed. World Cup occupies 'nearly an hour a day of the average European. Skip to content. Viewing: Netimperative | News | Netimperative is updating its archive Netimperative is updating its archive January 1, 2010 We are currently in the process of updating the Netimperative news archive to bring it all up to date in a single place.
Once this is complete our entire news archive will be available and searchable. Sex.com to break records with domain sale? Skip to content. Viewing: Netimperative | News | Netimperative is updating its archive Netimperative is updating its archive. Social Media In Big Business  This new infographic compiles social data from the Fortune 100 global company index across the four major social platforms in Twitter, Facebook, YouTube and Blogs. One of the most interesting statistics to come out of this chart is that 65% of the worlds top 100 companies has a twitter account, now that in its self might not be all that surprising, but in comparison to Facebook (54%), YouTube (50%) and blogs (33%) that's a serious number considering the length of time that Facebook, YouTube and Blogs have been around comparability to Twitter.
On a percentage scale across all 4 social mediums, it's interesing to not that only 20% of the worlds top 100 companies are using all four platforms to engage their followers, fans and workers. Click here to download the Hi-Res version (approx 500k). Be Sociable, Share! Fortune 100, Fortune 100 Social Media Infographic, Infographics, Social Media, Social Media In Business, Social Media Infographic. Pirate Party to Run Pirate Bay from Swedish Parliament | Torrent. After their former hosting provider received an injunction telling it to stop providing bandwidth to The Pirate Bay, the worlds most resilient BitTorrent site switched to a new ISP. That host, the Swedish Pirate Party, made a stand on principle. Now they aim to take things further by running the site from inside the Swedish Parliament. When the Swedish Pirate Party announced, back in mid-May, that they were the new ISP of The Pirate Bay, it surprised a lot of people.
With their latest announcement, that they will run The Pirate Bay from inside the Swedish Parliament, they hope they will surprise people again. The Pirate Parties around the world are best known for copyright activism and are often seen as a 'one-issue party'. Outlook Integrates Facebook. Yawma. Anne Holland's Which Test Won - A/B Test & Multivariate Testing Education for Marketing Professionals. If Cars Could Fly - Bits Blog. Google Chrome "Fastball" Mashup Game  Twitter's @EarlyBird Account To Feed Users With Shopping Deals @ French Anti-Trust Authorities Find Google "Abused Dominant Posit.
Google quietly invests more than $100M in Zynga and prepares Google Games launch (confirmed) Facebook Graphs Show Relative Frequency of World Cup Keywords in. Will "Google Me" Be A Worthy Facebook Challenger Or Will It Be D. YouTube Ads Are Cheapest Source of Traffic | Search Engine Journ. IAB advertiser survey: Search still not part of the marketing mi. French Anti-Trust Authorities Find Google "Abused Dominant Posit. Project Canvas gets green light from BBC Trust — Today's Top Sto. Facebook's India Office Coming Soon, Will Hire Up to 500 People. Former Facebook Executive Adam D'Angelo Confirms New Google Soci. Twitter users 'more likely to be shortlisted for jobs' — Today's.
Right to reply: BBC Canvas is great news for the digital sector. IAB Europe urges Greece to scrap internet Tax — Today's Top Stor. Blog » 100 Million Plugin Downloads and Counting. RAF charity creates Battle of Britain social media drama — Today. HBO debuts website for UK fans. UK web audience increased by 1.9m during 2009 — Today's Top Stor. Facebook bars crawls from all but select few. Yahoo! girds Google's bastard grid child. Google buys airfare comparison firm used by Bing, others. BitTorrent Only TV-Show Becomes Huge Success. EU launches net neutrality inquiry; joins US, UK, and Canada.
Interactive Chart: Where UK Newspaper Websites Get Their Traffic.
---