SEO Software
The Beginners Guide to Creating Landing Page Content that Sticks
Google keeps on changing the ways we produce and consume ads. We already know that people tend to watch more videos rather than read articles - is there any chance for online marketers to grab the attention of Internet surfers and turn them into leads and customers? Google seems to know the answer, focusing more on its main video asset - YouTube and integrating it with AdWords. First announced in September 2011, AdWords for video is now publicly available to everyone. Let's see what the popular video platform brings to AdWords advertisers, what kind of features are available now and how we can measure the effectiveness of video ads. What's AdWords for video?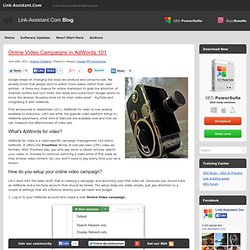 Online Video Campaigns in AdWords 101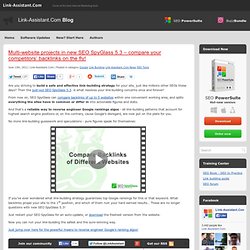 June 13th, 2012 | Link-Assistant.Com | Posted in category Google Link Building Link-Assistant.Com News SEO Tools Are you striving to build a safe and effective link-building strategy for your site, just like millions other SEOs these days? Then the just-out SEO SpyGlass 5.3. is what resolves your link-building concerns once and forever! From now on, SEO SpyGlass can compare backlinks of up to 5 websites within one convenient working area, and splits everything the sites have in common or differ in into actionable figures and stats. And that's a reliable way to reverse engineer Google rankings algos - all link-building patterns that account for highest search engine positions or, on the contrary, cause Google's disregard, are now put on the plate for you.
Multi-website projects in new SEO SpyGlass 5.3 – compare your competitors' backlinks on the fly!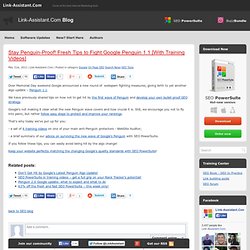 May 31st, 2012 | Link-Assistant.Com | Posted in category Google On Page SEO Search News SEO Tools Over Memorial Day weekend Google announced a new round of webspam fighting measures, giving birth to yet another algo update – Penguin 1.1. We have previously shared tips on how not to get hit by the first wave of Penguin and develop your own bullet-proof SEO strategy. Google's not making it clear what the new Penguin wave covers and how crucial it is.
Stay Penguin-Proof! Fresh Tips to Fight Google Penguin 1.1 [With Training Videos]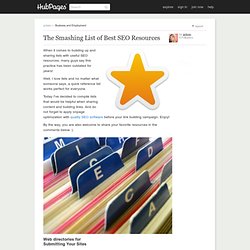 The Smashing List of Best SEO Resources
Audio podcasts usually take less time to be produced compared to videos. Still they are more appealing than common text. You can launch a series of podcasts on your blog and also distribute across a variety of Web resources:
7 Shortcuts to Take While Doing Keyword Research
Confirmed by over 12,000 website owners and SEO professionals: LinkAssistant not only speeds up each link building task.
LinkAssistant SEO tool - the most effective SEO software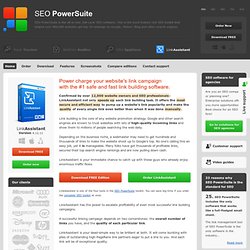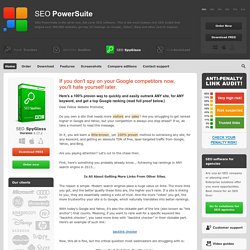 Here's a 100% proven way to quickly and easily outrank ANY site, for ANY keyword, and get a top Google ranking (read full proof below.)
SEO SpyGlass Backlink Checker Software: X-Ray Your Competition
Here's how you can create 100% Google-friendly webpages that hit top rankings with a marksman's accuracy.
Onpage optimization software: make Google-friendly Web pages with WebSite Auditor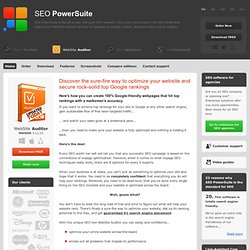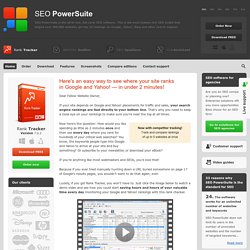 Dear Fellow Website Owner, If your site depends on Google and Yahoo! placements for traffic and sales, your search engine rankings are tied directly to your bottom line.