GH-Plugins
Force Density Relaxation. Nudibranch. Millipede. Loop. Loop | Antonio Turiello. Loop. CERVER.org | Architecture - Design - Computation. Sonic 4 GH | Studio Nu. Sonic is a Grasshopper plugin suite that currently contains the following components: UPDATE : New Refraction component!!!!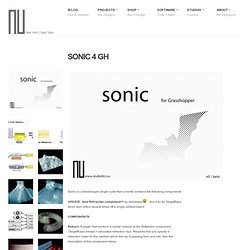 As requested and a fix for TargetRays when rays reflect several times off a single surface/object. GH Paneling Tools. LunchBox. E-Galapagos. Downloads - Geometry Gym. If you want to discuss contents of this page - this is the easiest way to do it.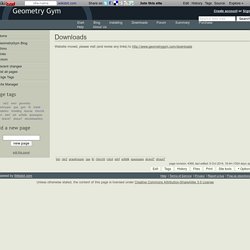 Click here to edit contents of this page. Click here to toggle editing of individual sections of the page (if possible). Watch headings for an "edit" link when available. Append content without editing the whole page source. Firefly - Firefly Labs Home.
E-Rabbit
GH-Rhino Nest. Add-ons. E-Diva. E-Millepede. E-gHowl. Karamba. E-Kangaroo.
---