GH-Plugins
loop
loop | Antonio Turiello
loop
Sonic 4 GH | Studio Nu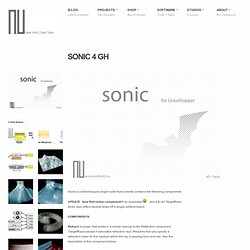 Sonic is a Grasshopper plugin suite that currently contains the following components: UPDATE : New Refraction component !!!! as requested and a fix for TargetRays when rays reflect several times off a single surface/object. Refract: A plugin that works in a similar mannar to the Reflection component (TargetRays) except it calculates refraction rays. Requires that you specify a refraction index for the medium which the ray is passing from and into.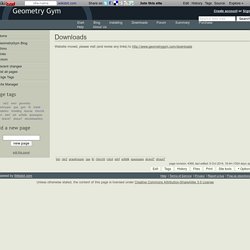 If you want to discuss contents of this page - this is the easiest way to do it. Click here to edit contents of this page. Click here to toggle editing of individual sections of the page (if possible). Watch headings for an "edit" link when available. Append content without editing the whole page source.
Downloads - Geometry Gym
Plugin for importing, generating and extracting BIM (Building Information Modelling) data to/from Rhino and Grasshopper with other BIM software such as Revit, Archicad, Digital Project etc. IFC (Industry Foundation Class) is a neutral BIM specification supported by all popular BIM software including Revit, Microstation, Digital Project, Archicad, VectorWorks, Tekla (etc etc) and many free viewers. The Rhino/Grasshopper plugin by Geometry Gym provides functionality to assign intelligent attributes to native geometry to utilize within external modelling and planning software.
BIM GeomGym IFC | Food4Rhino
modeLab