Dudes of yesteryear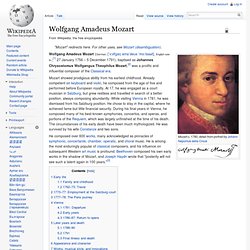 Wolfgang Amadeus Mozart ( German: [ˈvɔlfɡaŋ amaˈdeus ˈmoːtsaʁt] , English see fn. ), [ 1 ] baptised as Johannes Chrysostomus Wolfgangus Theophilus Mozart [ 2 ] (27 January 1756 – 5 December 1791), was a prolific and influential composer of the Classical era . Mozart showed prodigious ability from his earliest childhood.
Wilhelm Richard Wagner ( pron.: / ˈ v ɑː ɡ n ər / ; German: [ˈʁiçaʁt ˈvaːɡnɐ] ; 22 May 1813 – 13 February 1883) was a German composer, theatre director, polemicist , and conductor primarily known for his operas (or, as some of his later works were later known, "music dramas"). His compositions, particularly those of his later period, are notable for their complex textures , rich harmonies and orchestration , and the elaborate use of leitmotifs —musical phrases associated with individual characters, places, ideas or plot elements. His advances in musical language, such as extreme chromaticism and quickly shifting tonal centres , greatly influenced the development of classical music ; his Tristan und Isolde is sometimes described as marking the start of modern music.
Richard Wagner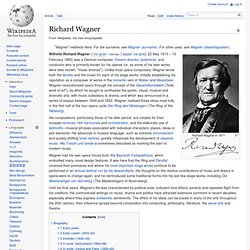 Richard Dawkins: "Estoy ofendido!"
La Metafora del Cuarto de Baño - Isaac Asimov