Dudes of yesteryear
Wolfgang Amadeus Mozart. He composed over 600 works, many acknowledged as pinnacles of symphonic, concertante, chamber, operatic, and choral music.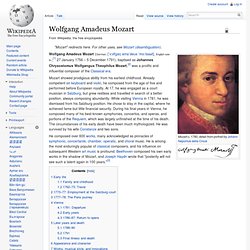 He is among the most enduringly popular of classical composers, and his influence on subsequent Western art music is profound; Beethoven composed his own early works in the shadow of Mozart, and Joseph Haydn wrote that "posterity will not see such a talent again in 100 years. "[3] Early life Family and childhood. Richard Wagner. Wilhelm Richard Wagner (/ˈvɑːɡnər/; German: [ˈʁiçaʁt ˈvaːɡnɐ]; 22 May 1813 – 13 February 1883) was a German composer, theatre director, polemicist, and conductor who is primarily known for his operas (or, as some of his later works were later known, "music dramas").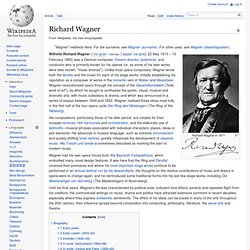 Unlike most opera composers, Wagner wrote both the libretto and the music for each of his stage works. Initially establishing his reputation as a composer of works in the romantic vein of Weber and Meyerbeer, Wagner revolutionised opera through his concept of the Gesamtkunstwerk ("total work of art"), by which he sought to synthesise the poetic, visual, musical and dramatic arts, with music subsidiary to drama, and which was announced in a series of essays between 1849 and 1852. Richard Dawkins: "Estoy ofendido!" La Metafora del Cuarto de Baño - Isaac Asimov.
---