Wayne Rooney
wayne rooney
Rooney la Manchester City! Conspiratie, adevar sau speculatie?
Manchester City este gata sa faca o oferta atacantului echipei Manchester United , Wayne Rooney, daca acesta nu va incheia un armistitiu cu managerul Sir Alex Ferguson . Roberto Mancini , tehnicianul "cetatenilor", a cerut patronului gruparii, seicul Mansour, sa scoata din buzunar suma de 60 de milioane de lire pentru a-l aduce pe internationalul englez pe Etihad Stadium, informeaza cotidianul Mirror Footbal. Manchester United a dezmintit printr-un comunicat pe site-ul oficial al clubului intentia lui Rooney de a parasi echipa si a asigurat atacantul si antrenorul Ferguson au o relatie de respect unul fata de celalat si ambii doresc sa lucreze impreuna.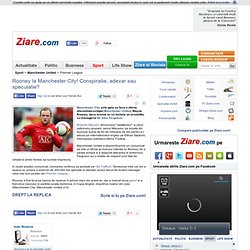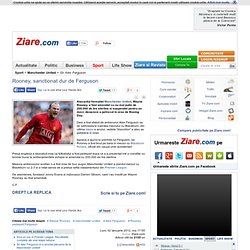 Atacantul formatiei Manchester United , Wayne Rooney, a fost amendat cu nu mai putin de 200.000 de lire sterline si suspendat pentru un meci, deoarece a petrecut in oras de Boxing Day. Desi a fost sfatuit de antrenorul Alex Ferguson sa se odihneasca inaintea meciului cu Blackburn, din ultima etapa a anului, vedeta "diavolilor" a ales sa petreaca in oras. Isprava a ajuns la urechile lui Ferguson, iar Rooney a fost tinut pe bara in meciul cu Blackburn Rovers , oficial din cauza unei accidentari.
Rooney, sanctionat dur de Ferguson
Wayne Rooney
Rooney despe gestul lui Pepe care l-a calcat pe mana pe Messi: "Pepe, un mare idiot" - Fotbal - HotNews.ro
Wayne Rooney, atacantul celor de la Manchester United, a comentat pe contul sau de Twitter gestul facut de madrilenul Pepe care l-a calcat intentionat pe mana pe jucatorul Barcelonei, Lionel Messi in meciul castigat de catalani chiar pe terenul rivalilor cu 2-1.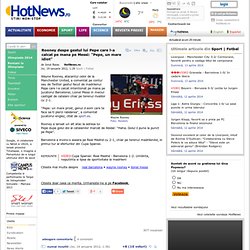 Cum se cearta bogatii: Rooney isi bate joc de 'Manchini'! Antrenorul lui City vine cu raspunsul: "Si Rooney a facut la fel"
17 ianuarie 2012 15:18 | 0 voturi | 1 comentarii Mancini s-a luat de Rooney saptamana trecuta, cand a semnalat arbitrului o incalcare a regulamentului in meciul din Cupa Angliei.
Wayne Rooney hits out at Sir Alex Ferguson after fine
By Sportsmail Reporter UPDATED: 10:06 GMT, 12 January 2012
Wayne Rooney Bio, Stats, News - Football / Soccer -
BBC Sport - Wayne Rooney banned for three England Euro 2012 matches
Wayne Rooney will miss England's 2012 European Championship group matches after being banned for three matches for his red card against Montenegro. Uefa's disciplinary panel, which described the incident as an "assault", decided on the punishment at a meeting on Thursday.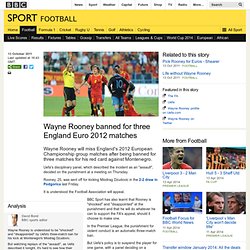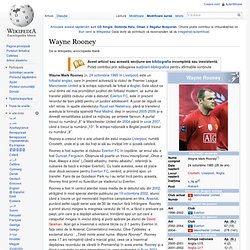 Wayne Rooney
Wayne Mark Rooney (n. 24 octombrie 1985 în Liverpool ) este un fotbalist englez , care în prezent activează la clubul de Premier League Manchester United și la echipa națională de fotbal a Angliei .
FIFA 12 | Wayne Rooney vs Robin Van Persie | The Ultimate Battle!