Green the Gap
RECYCLING GOT FABULOUS
100 Amazing Upcycling Ideas Anyone Can Do - Top Online Engineering Degree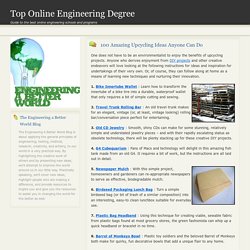 One does not have to be an environmentalist to enjoy the benefits of upcycling projects. Anyone who derives enjoyment from DIY projects and other creative endeavors will love looking at the following instructions for ideas and inspiration for undertakings of their very own. Or, of course, they can follow along at home as a means of learning new techniques and nurturing their innovation. 1. Bike Innertube Wallet : Learn how to transform the innertube of a bike tire into a durable, waterproof wallet that only requires a bit of simple cutting and sewing.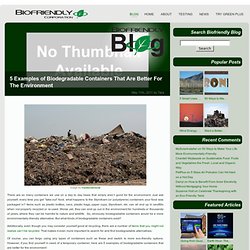 5 Examples of Biodegradable Containers That Are Better For The Environment | Biofriendly Blog
Image by mackenzienicole There are so many containers we use on a day to day basis that simply aren't good for the environment. Just ask yourself, every time you get "take-out" food, what happens to the Styrofoam (or polystyrene) containers your food was packaged in? Items such as plastic bottles, cans, plastic bags, paper cups, Styrofoam, etc. can all end up in landfills when not properly recycled or re-used. Worse yet, they can end up out in the environment for hundreds or thousands of years, where they can be harmful to nature and wildlife. So, obviously biodegradable containers would be a more environmentally-friendly alternative.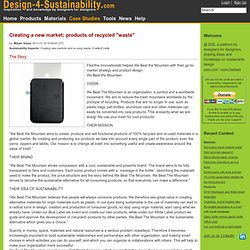 Creating a new market; products of recycled "waste" | Design-4-Sustainability
by: Mirjam Visser , 2011-01-19 10:09:43 UTC Sustainability Aspects: Creating new markets and re-using waste. Cradle2Cradle The Story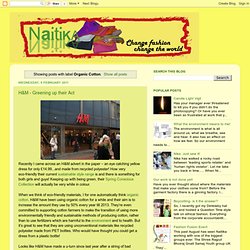 Organic Cotton
When I'm looking for ethical clothes online, I tend to find a lot of shops selling organic cotton. But why is organic cotton more ethical? I found that non-organic cotton uses a quarter of the world's pesticides while organic cotton only uses 16%.
Reduce, Reuse, Recycle - Ways2GoGreen.com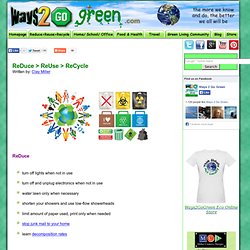 ReDuce turn off lights when not in use turn off and unplug electronics when not in use water lawn only when necessary shorten your showers and use low-flow showerheads limit amount of paper used, print only when needed stop junk mail to your home learn decomposition rates ReUse
Conserve New Delhi
The Upcycled Wallet: Original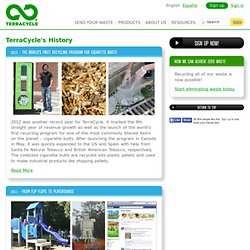 In 2011, TerraCycle launched operations in Norway, Spain, Germany, Ireland, Switzerland, Denmark, Israel, Belgium, Argentina and the Netherlands. Launched over 30 new waste collection programs and grew in total staff to above 100 employees globally. TerraCycle also donated over $3 million to charities in 2011 for collected waste. (Read More) A few highlights in 2011 include: For Earth Day 2011, TerraCycle partnered with Old Navy and Office Depot to collect used flip flops and used pens, respectively, at in-store locations – the first retail collections for those waste streams!
s History | TerraCycle
Upcycled Products - housewares, furniture, office, garden | Hipcycle
Google Image Result for
Green Thing Blog
Our friends at Holstee , the brilliant upcycled clothing company (all their garments are made from a combination of post waste like plastic bottles, and other recycled materials, and post-industrial waste like polyester scraps from factories - plus, I might add, they lend 10% of all sales as microloans to entrepreneurs in developing natiion via Kiva ) have just launched an anti-waste campaign of their own: Stop Yellow Waste . In their own words: " We are sick and tied of seeing phone books printed, packaged and shipped - only to be put on our curb then in the landfill.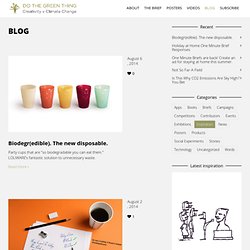 10 of the World's Most Radical Recycling Projects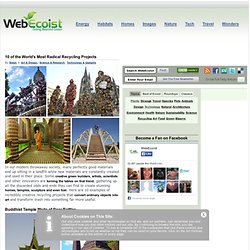 In our modern throwaway society, many perfectly good materials end up sitting in a landfill while new materials are constantly created and used in their place. Some creative green builders, artists, scientists and other innovators are turning the tables on that trend , gathering up all the discarded odds and ends they can find to create stunning homes, temples, sculpture and even fuel . Here are 10 examples of incredibly creative recycling projects that convert ordinary objects into art and transform trash into something far more useful.
Blog | Upcycling: Creating Useful Items From Recycled Materials
our team - Earthy Goods
About Us