Green the Gap
Marketing ideas
100 Amazing Upcycling Ideas Anyone Can Do - Top Online Engineering Degree. One does not have to be an environmentalist to enjoy the benefits of upcycling projects.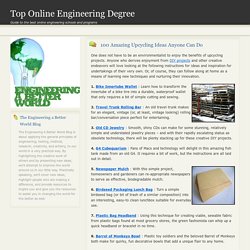 Anyone who derives enjoyment from DIY projects and other creative endeavors will love looking at the following instructions for ideas and inspiration for undertakings of their very own. Or, of course, they can follow along at home as a means of learning new techniques and nurturing their innovation. 1. Bike Innertube Wallet : Learn how to transform the innertube of a bike tire into a durable, waterproof wallet that only requires a bit of simple cutting and sewing. 5 Examples of Biodegradable Containers That Are Better For The Environment. Image by mackenzienicole There are so many containers we use on a day to day basis that simply aren't good for the environment.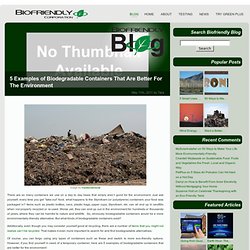 Just ask yourself, every time you get "take-out" food, what happens to the Styrofoam (or polystyrene) containers your food was packaged in? Items such as plastic bottles, cans, plastic bags, paper cups, Styrofoam, etc. can all end up in landfills when not properly recycled or re-used. Worse yet, they can end up out in the environment for hundreds or thousands of years, where they can be harmful to nature and wildlife. So, obviously biodegradable containers would be a more environmentally-friendly alternative. Creating a new market; products of recycled "waste" | Design-4-Sustainability. By: Mirjam Visser, 2011-01-19 10:09:43 UTC Sustainability Aspects: Creating new markets and re-using waste.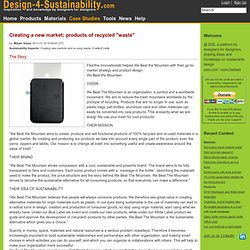 Cradle2Cradle The Story. Organic Cotton. When I'm looking for ethical clothes online, I tend to find a lot of shops selling organic cotton.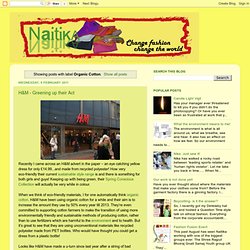 But why is organic cotton more ethical? I found that non-organic cotton uses a quarter of the world's pesticides while organic cotton only uses 16%. Reduce, Reuse, Recycle - Ways2GoGreen.com. ReDuce turn off lights when not in use turn off and unplug electronics when not in use water lawn only when necessary shorten your showers and use low-flow showerheads limit amount of paper used, print only when needed stop junk mail to your home learn decomposition rates ReUse.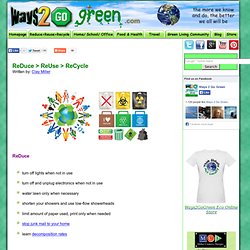 Conserve New Delhi. The Upcycled Wallet: Original. S History. Tom reassured his team, recognizing the impending suit as an opportunity.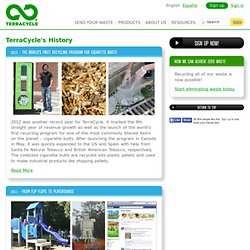 So, instead of settling out of court or admitting fault, TerraCycle launched a counter offensive, centered on a blog called suedbyscotts.com. Armed with only a press release and a blog, TerraCycle was got national media attention with articles in the Wall Street Journal, the New York Times, BusinessWeek and the Associated Press to name just a few! After a strong offensive from both sides, the case was settled on amicable terms. Meanwhile, the extra publicity garnered from the suit helped TerraCycle's Bottle Brigade hit 5,000 participants (more than anyone ever imagined) in a matter of months, Tom saw this as a sign that the sky was the limit. Upcycled Products - housewares, furniture, office, garden | Hipcycle. Google Image Result for. Green Thing Blog. 10 of the World's Most Radical Recycling Projects. In our modern throwaway society, many perfectly good materials end up sitting in a landfill while new materials are constantly created and used in their place.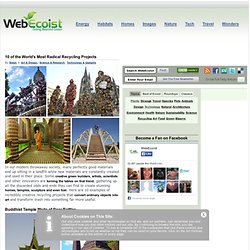 Some creative green builders, artists, scientists and other innovators are turning the tables on that trend, gathering up all the discarded odds and ends they can find to create stunning homes, temples, sculpture and even fuel. Here are 10 examples of incredibly creative recycling projects that convert ordinary objects into art and transform trash into something far more useful. Blog | Upcycling: Creating Useful Items From Recycled Materials.
The term upcycling was coined by William McDonough and Michael Braungart, authors of Cradle to Cradle: Remaking the Way We Make Things.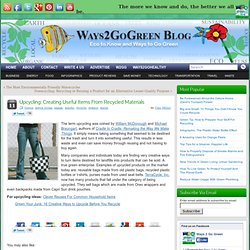 It simply means taking something that seemed to be destined for the trash and turn it into something useful. This results in less waste and even can save money through reusing and not having to buy again. Many companies and individuals today are finding very creative ways to turn items destined for landfills into products that can be sold. A true green enterprise. About Us.
---