Articles
Get flash to fully experience Pearltrees
By Susan McPherson, Senior Vice President, FENTON What role do women play in corporate social responsibility – as a consumer, as a board member, as an employee?
Harsh conditions in childhood have long-term effects Kids from Romanian orphanage also had lower volumes of gray matter By Laura Sanders Web edition: February 18, 2012 Print edition: March 10, 2012; Vol.181 #5 (p. 9) The material you are trying to access is available to subscribers only. Subscribers must be logged in AND have entered their Subscriber/Customer Number in their Account Profile for the site to recognize your status as a subscriber, which will enable you access to subscriber only content.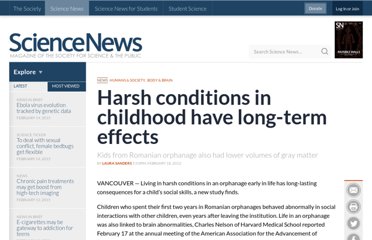 The other night, I had a conversation with a young woman who had a number of decisions ahead of her, one of which was whether she should go to grad school or travel the world. I told her to travel.
Multă vreme am crezut că nu sunt stăpân pe corpul meu. Acum îmi dau seama că această credinţă era greşită.
Amelia stă pe scaun cu picioarele desfăcute, ca băieții de cartier.
Postat de Daniela in Lumea din jur pe data de 20 Iulie 2011 | 10 comentarii | 2279 afisari Gina este eleva in clasa a X-a la Liceul Teoretic "Emil Racoviţă" – Vaslui. Ea a castigat locul intai din 52 de participanti la Concursul de eseuri "ROMÂNIA MEA".