Articles
Even though Red Burns was one of the most influential figures in the tech industry over the past 30 years — most famous for co-founding the groundbreaking Interactive Telecommunications Program (ITP) at NYU, and in a sense, the beginnings of interaction design — it's not uncommon for technophiles to have never heard her name. Two weeks ago, she passed away. But much more needs to be said about one of the smartest, gutsiest women I ever knew, and about what she thought about education, technology, design … and life. Red wasn't particularly interested in IPOs or the latest tech fetish, even though she was always exceptionally proud of her students and their accomplishments. She knew that technology was a means to an end — and that the end was people. In that simple reframing from technology to empowerment of people, I believe there's something everyone one of us — whether designer, programmer, entrepreneur, investor, teacher, student, parent, or child — can learn from Red.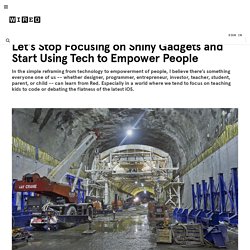 Let's Stop Focusing on Shiny Gadgets and Start Using Tech to Empower People | Wired Opinion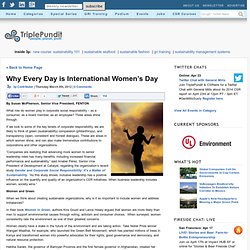 For Women Who Work in Corporate Responsibility, Every Day is International Women's Day
By Susan McPherson, Senior Vice President, FENTON What role do women play in corporate social responsibility – as a consumer, as a board member, as an employee?
Harsh Conditions In Childhood Have Long-term Effects
TEDxSanAntonio - Benny Lewis - Fluent in Three Months - Rapid Language Hacking
Just Lin, Baby! 10 Lessons Jeremy Lin Can Teach Us Before We Go To Work Monday Morning
Sa-ti fie obiectivele clare in 2012 | Andy Szekely
Cum m-a schimbat alergarea?
Multă vreme am crezut că nu sunt stăpân pe corpul meu. Acum îmi dau seama că această credinţă era greşită.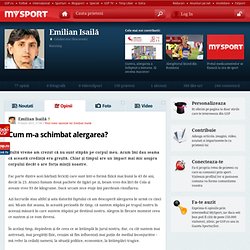 » O seară cu suedeza pirată Amelia, europarlamentară la 24 de ani » Tânăru' jurnalist rătăcitor
Amelia stă pe scaun cu picioarele desfăcute, ca băieții de cartier.
Postat de Daniela in Lumea din jur pe data de 20 Iulie 2011 | 10 comentarii | 2834 afisari Gina este eleva in clasa a X-a la Liceul Teoretic "Emil Racoviţă" – Vaslui. Ea a castigat locul intai din 52 de participanti la Concursul de eseuri "ROMÂNIA MEA".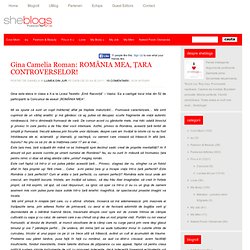 Gina Camelia Roman: ROMÂNIA MEA, ŢARA CONTROVERSELOR! - Sheblogs