Gringos interessantes
PAST EDITION « TEDxTransmedia 2013
Today we are releasing the first part of the Miso project, a set of Open Source tools designed to make it faster and easier to create high quality interactive and data visualization content. This project has been made possible by support from our Global Development desk, who are funded by the Bill & Melinda Gates foundation & in collaboration with Bocoup. The first part of Miso to be made public is a JavaScript library called Dataset, the website is here and the code is on Github, you can follow along development via Twitter @TheMisoProject One of the most common patterns we've found while building JavaScript-based interactive content is the need to handle a variety of data sources such as JSON files, CSVs, remote APIs and Google Spreadsheets. Dataset simplifies this part of the process by providing a set of powerful tools to import those sources and work with the data.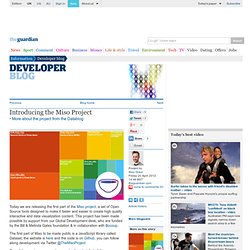 Announcing the Miso Project | Info
How To Bring Live Tweets To Readers Not On Twitter - 10,000 Words
Featuring live tweets on news websites is a great way of bringing readers who may not use Twitter into the conversations that are happening there. Large news sites often use custom code to accomplish the task. Smaller sites tend to use Twitter's own widget, which I find slow and inadequate for the task.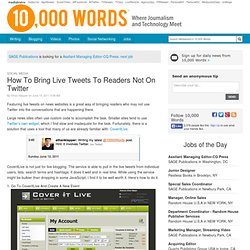 ONA welcomes BBC's Steve Herrmann, new International Board appointee ONA is delighted to announce the appointment of Steve Herrmann, Editor of BBC News Online, who joined the Board in January as our international member. Steve replaces Mario Tedeschini-Lalli, whose two-year term as our first overseas director ended in December, and who worked tirelessly to build up our partnerships and community as Chair of our International Committee. Since January 2006, Steve has had overall responsibility for the digital output of BBC News on desktop website, tablet and mobile, in the UK and internationally. He leads a team of online journalists and also oversees content from a wide range of others across BBC News who contribute to the BBC's online, on demand and multimedia output.
Online News Association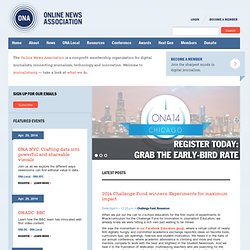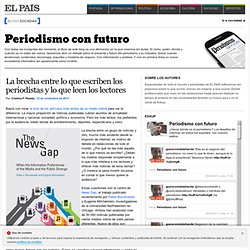 Periodismo con Futuro
Más tarde replicarán que cualquier crisis es más compleja de lo que se percibe desde el otro lado del charco. Puede ser. Pero lo cierto es que hoy sufren decenas para que otros —muy pocos: los que debieran desvanecerse aunque sólo fuese por elegancia, dignidad y confesa impotencia—, puedan mantener corona y aleguen que es por la supervivencia de los cientos restantes. He aquí una paradoja: hubo lucros, al parecer, pero, cuando llega el iceberg, culpan de la debilidad del casco a los que desde siempre sudaron a la luz de las calderas. Les llaman viejos, caducos. Algunos lo son, sí; también fueron en su momento reticentes al cambio, conservadores, ciegos a un entorno que les superó cuando se dejaron seducir por el ludismo, tan caro en esta profesión.
A screen grab of Brian Stelter's Instagram photo page. He used the photo sharing app to report on the aftermath of the tornadoes in Joplin, Missouri. I am adding "What I Learned in Joplin," a personal blog post by New York Times reporter Brian Stelter, to the reading list for my fall Online Journalism course.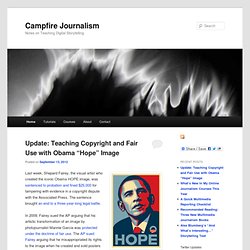 Campfire Journalism
A vueltas con el aula sin muros por @jlori el 15 Jan 2014, a las 11:40 en academia, redes sociales Me entrevistó Iván Fombella de El Mundo sobre profesores universitarios y redes sociales para su artículo "Profesores 2.0: la comunidad docente sale al encuentro de la sociedad en el entorno digital" (PDF). Esto es lo que le conté: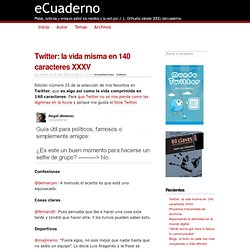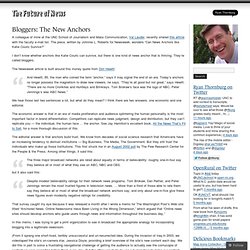 The Future of News
A colleague of mine at the UNC School of Journalism and Mass Communication, Val Lauder, recently shared this article with the faculty e-mail list. The piece, written by Johnnie L. Roberts for Newsweek, wonders "Can News Anchors like Katie Couric Survive?" I don't know whether anchors like Katie Couric can survive, but there is one kind of news anchor that is thriving. They're called bloggers. The Newsweek article is built around this money quote from Don Hewitt: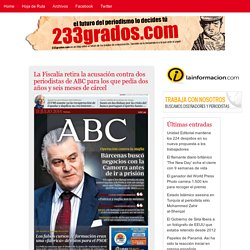 La fotógrafa del Toledo Blade, Jetta Fraser (i) y el reportero Tyrel Linkhorn (d) 'Toledo Blade', un diario regional del estado de Ohio, en Estados Unidos, ha presentado una denuncia contra varios funcionarios del Gobierno de ese país, incluido el secretario de defensa, Chuck Hagel, alegando que la detención de dos de sus periodistas la semana pasada en una planta de fabricación de tanques fue ilegal. Según ha informado el propio medio, el reportero Tyrel Linkhorn y la fotógrafa Jetta Fraser fueron detenidos por varios agentes de la policía militar cuando se encontraban sacando fotografías en el exterior de las instalaciones conocidas como Joint Systems Manufacturing Center, situadas en la localidad de Lima (Ohio). Según la denuncia, los agentes retuvieron a los periodistas durante aproximadamente 90 minutos. Después, les soltaron, aunque no sin antes confiscarles todo el material, incluyendo dos cámaras fotográficas, tarjetas de memoria y un bloc de notas.