Infografías
The Gen Y Hipster, An Infographic. 7inShareinShare I'll preface this by saying that there were probably a great many social media infographics I could have chosen and that you may have learned more from, but this one struck a chord.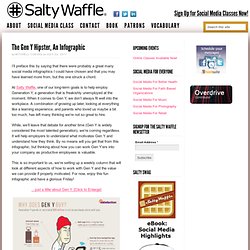 At Salty Waffle, one of our long-term goals is to help employ Generation Y, a generation that is freakishly unemployed at the moment. When it comes to Gen Y, we don't always fit well into the workplace. A combination of growing up later, looking at everything like a learning experience, and parents who loved us maybe a bit too much, has left many thinking we're not so great to hire. Why-does-gen-y-buy. Social Media Statistics. Cómo se comportan hombres y mujeres en Twitter #infografia #infographic #socialmedia « TICs y Formación.
Infografía Generaciones. Infographic: The anatomy of an agency « Big Orange Slide. Ideavelopmentreation Outside the agency environment, I was introduced to Agile development: [...]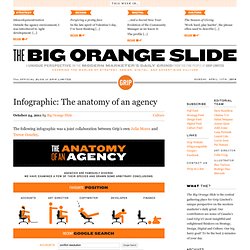 Forgiving a pretty face In the late spirit of Valentine's day, I've been thinking [...] StumbleUpon-Social-Media-Infographic. Mashable_infographic_graphics-tumblr1. Contenido-fresco-de-google1. The-Humanizing-of-Technology-FINAL3-500x23151. 60 Seconds on the internet. Social Marketing Science: Timing Maximizes Engagement On Twitter And Facebook [INFOGRAPHIC] The perks of working at Google, Tw, Fb...
---