Finalização
HEMP CAN (will) SAVE THE WORLD! - Politicians Criminalizing Solutions serving NWO Corporatism
Marcelo D2 "Pupila Dilatada" Ep. 2 NYC
Lollapalooza Brasil - conheça o line-up de 2013!
The Ting Tings - We Walk
Yonas - Pumped Up Kicks (Official Video) Facebook.com/YonasMusic
White Stripes Coke Commercial
Richard Hammond presents Bloody Omaha (The Graphics)
Summary We have helped launch one of the most hotly anticipated computer games of 2012 with this dark, gritty and dramatic new promo for EA Games'/ Bioware's Mass Effect 3. Created by Draft FCB San Francisco and directed by Caviar's Reynald Gresset, the spot welcomes the Reapers back to Earth for one final epic outing in the games trilogy's series.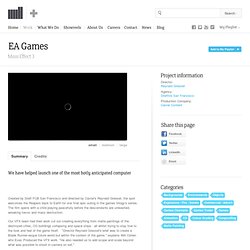 Mass Effect 3
Announcing Your Film Festival
Cypress x Rusko - "Roll It, Light It"
The new 911: Development of Porsche Identity
INTRODUCING THE NIKE+ FUELBAND
Propaganda da Intel deixa o espectador de queixo caido