Writing Resources
Writing Classes/Tutorials
TLA - About TLA. The Fine Line Shop. The Elements of Style. TheElements of Style by William Strunk, Jr.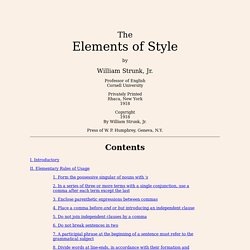 Professor of English Cornell University Privately Printed Ithaca, New York 1918 Copyright 1918 By William Strunk, Jr. The Canada Council for the Arts - Canada Council for the Arts - Conseil des Arts du Canada. PWAC: Home - Canada's Freelance Writers. Serving Writers Since 1921 - Canadian Authors Association. Online guide to canadian writing. News, events, contests and small pressings The Peter F Yacht Club #7 Edited & compiled & typeset & paid for by rob mclennan April 2007 (spring writers festival special) John Barton George Bowering Stephen Brockwell Amanda Earl Jesse Ferguson Laurie Fuhr Phil Hall Nicholas Lea Clare Latremouille Marcus McCann rob mclennan Max Middle Wanda O'Connor Roland Prevost Sandra Ridley Wes Smiderle The Peter F.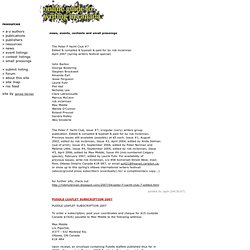 Yacht Club, issue #7; irregular (very) writers group publication. BC's Literary World Online: Key Links. The Tyee's rough guide to digital resources for writers (and readers).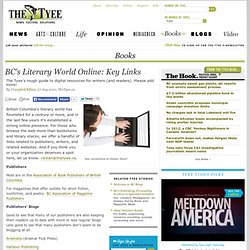 Please add more! Your connections to literary fame? British Columbia's literary world has flourished for a century or more, and in the last few years it's established a strong online presence. For those who browse the web more than bookstores and library stacks, we offer a handful of links related to publishers, writers, and related websites. And if you think you or your organization deserves a spot here, let us know: ckilian@thetyee.ca.
---