Tech Tools
Featured Tackks. Recite. The Complete Guide To Twitter Hashtags For Education. What is a hashtag?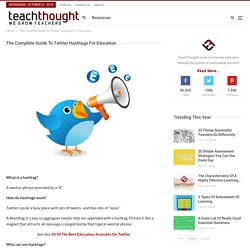 A word or phrase preceded by a "#." How do hashtags work? Twitter can be a busy place with lots of tweets–and thus lots of "noise." Www.peopleforeducation.ca/wp-content/uploads/2014/03/digital-learning-2014-WEB.pdf. How The Post-it Note Could Become The Latest Innovation Technology. In 1978, F.W.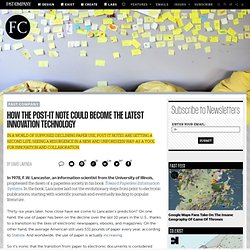 Lancaster, an information scientist from the University of Illinois, prophesied the dawn of a paperless society in his book Toward Paperless Information Systems. In the book, Lancaster laid out the evolutionary steps from print to electronic publications, starting with scientific journals and eventually leading to popular literature. Thirty-six years later, how close have we come to Lancaster's prediction? Interesting Ways. The Interesting Ways series continues to be a great example of crowdsourcing good quality classroom ideas and it has been a privilege connecting with all of the people who have taken time to add an idea.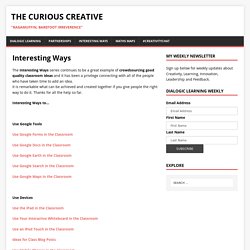 It is remarkable what can be achieved and created together if you give people the right way to do it. Thanks for all the help so far. Interesting Ways to… Create lessons with digital content in 5 minutes. Kaizena · Give Great Feedback. Coggle. Pi-Bot Teaches Students About Robotics and C Programming. 11 February '14, 09:33pm Follow Engineering education startup STEM Center USA has created a Kickstarter campaign for Pi-Bot, an affordable Arduino-based robot that you can use to teach students how to build their own robots and program in C.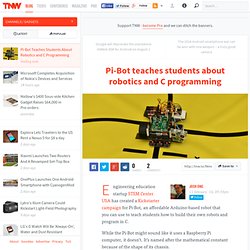 How What Why of Flipping your Classroom with Ponder. What everyone reads.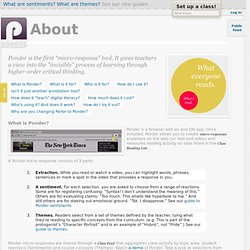 What I read. What is Ponder? Ponder is a browser add-on and iOS app. Once installed, Ponder allows you to create micro-responses anywhere on the web (on text and video) and measures reading activity on sites listed in the Class Reading List.. Blabberize.com - Got a picture? Blabberize it! Kano: A computer anyone can make by Kano. 1 MILLION!!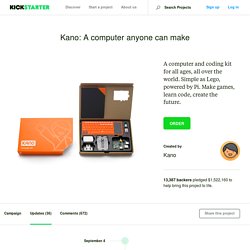 THANK YOU!!! We're humbled, amazed, and committed to getting you your kits. Love,KanoFacebook | Twitter | Blog | Newsletter | Press | Say hi! (Want to help? These two clicks.) How one teacher is using Google Glass to change her classroom. By Carmel DeAmicis On December 13, 2013 Margaret Powers was intrigued when Google Glass came out.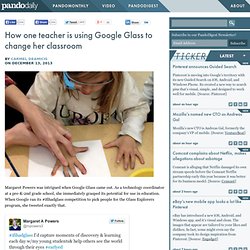 As a technology coordinator at a pre-K-2nd grade school, she immediately grasped its potential for use in education. When Google ran its #ifihadglass competition to pick people for the Glass Explorers program, she tweeted exactly that. To Powers' shock, she won. Only2Clicks. Twitter Magnets. Optical Character Recognition (OCR) in Google Docs Tutorial. Ruben R. Puentedura's Weblog. April 8, 2014 March 26, 2014 From Curiosity to Creation: Learning in a Participatory Culture My slides for the 2014 Danmarks Læringsfestival are now online: From Curiosity to Creation: Learning in a Participatory Culture.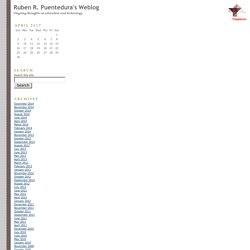 Www.hippasus.com/rrpweblog/archives/2013/10/25/SAMR_MethodsForTransformingTheClassroom.pdf. Www.hippasus.com/rrpweblog/archives/2013/10/25/SAMRAContextualizedIntroduction.pdf. EDpuzzle. Scrawlar - Cloud based Word Processing for edu! A safe space to write, collab & share without email. Create a map | BatchGeo. MIT App Inventor. How to use a phone. Teacher vs Student: How Each Actually Uses Social Media.
At some point in my life, a few years back, Facebook became much less….interesting to me.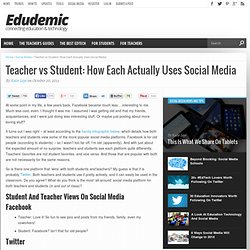 Much less cool, even. I thought it was me. I assumed I was getting old and that my friends, acquaintances, and I were just doing less interesting stuff. Or maybe just posting about more boring stuff? Ten crucial steps for implementing new technology in your classroom. So, you want to use that new app, site, web tool, gizmo, or doo-dad in the classroom?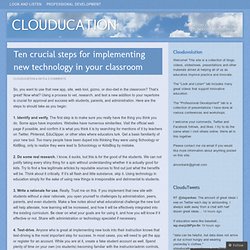 That's great! Now what? Ontario ConnectEd Leaders Consortium - Education and Social Media — The View from Ontario. Earlier this week I read Chris Kennedy's blog post "Education and Social Media in British Columbia". Chris takes stock of where edublogging is at in BC and includes the provocative claim that BC is numero uno across Canada when it comes to the use of social media in education. As much as I like to remind myself that I am not competitive, it just isn't true Chris' claim got to me. Educational chats on Twitter by David Wees. Advice for Teachers: Reflect, Curate, Connect, Create - with Alec Couros. I Created A Class Twitter Account, Now What? Each morning as we start our day together, I draw attention to things that my students may have missed or mentions from our Twitter feed. This short time together each morning discussing our Twitter feed has resulted in rich discussions that prompt thinking, cause us to wonder and lead us to seek out further information.
There are many opportunities during the school day to incorporate the use of twitter. A good place to start is to read the tweets from the other classes you follow, ask questions or provide comments as a whole class. The following examples will give you some ideas on how to involve Twitter in literacy, math and science. All of the Twitter activities explained can be done as a whole group, small group or by individual students. Positive Action for Student Success: DIGITAL CITIZENSHIP. Your teacher will assign specific lessons to you. Please follow instructions for each lesson and let your teacher know when you are finished. --------------------------------------------------------------------------------Lesson 1 - Do You Really Have Privacy Online? Watch the video below, then click the link below the video and answer give your feedback to complete the lesson.
Complete the lesson by clicking the link below to give your feedback on the video.Click HERE: Video Feedback Form --------------------------------------------------------------------------------Lesson 2 - Abbas's StoryWatch the video below, then click the link below the video and answer give your feedback to complete the lesson. SAMR-model.jpg 800×600 pixels. 5 Tips for Helping Teachers Adopt Technology | The VHS Collaborative. Principals - Get ready for fall with 5 tips to help your teachers integrate technology, social networking and online strategies into their classrooms. 1. Demonstrate its Uses: Consider Practicality over Novelty Illustrate for your teachers how technology can benefit their classroom lessons in practical ways.
Mind-Mapping And The Digitization Of Learning. Mind-Mapping And The Digitization Of Learning by Olin Reams, General Manager, ConceptDraw.com Digitization has been a disruptive force across the board, leveraging existing technologies and taking them to new levels and unprecedented speeds. Like healthcare, finance, and other industries, higher education is evolving and is increasingly digital; today's students can download notes from the cloud and turn in assignments via email.
While new technology has in many ways made education simpler and faster, it has also institutionalized constraints and made impractical settings the standard. My thesis is that some education software can fail in its task because it does not store, organize, and communicate knowledge more effectively than non-digital means. Technology Integration Matrix. Teaching Towards the Future. Under Ten Minutes | How to use Education Technology quickly. The 30 Best Web 2.0 Tools For Teachers (2012 Edition) YouTube For Schools Strips Away Kitten and Fail Videos So Students Can Actually Learn Online. - 30 Online Multimedia Resources for PBL and Flipped Classrooms by Michael Gorman. Screenr | Instant screencasts: Just click record.
The 101 Most Useful Websites on the Internet. How Secure Is My Password? TES iBoard+ Interactive Resources for your IWB. 11 Reasons Every Educator Needs a Video Strategy. - tech tools. Pinterest in the Classroom. My Ta-da Lists. Thoughtboxes. Audio Memos - A Voice Recorder for iPad & iPhone. Presentation Software | Online Presentation Tools | Web Presentations | SlideRocket. How Do You Keep Up With All of This? Educational Hash Tags and Live Channels. 35 experts weigh-in: How we create influence on Facebook. 12 Most Must-Have Habitudes for Social Media Success. The Complete Educator's Guide to Using Google Reader. Utilize The 24/7 Classroom.
---