Science
Audri's Rube Goldberg Monster Trap
Six Rube Goldberg Machines
Below are some great YouTube channels for science. If you are a science teacher and you need some useful resources where you can search for and find educational science videos, then the list below would be of great help. Some of the channels listed below have thousands of subscribers featuring some of the best science videos online.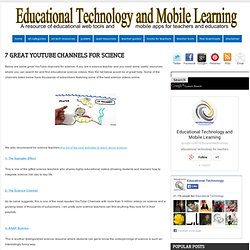 7 Great YouTube Channels for Science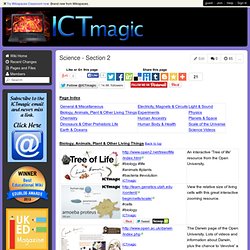 ICT Magic, Science
guest | Join | Help | Sign In Add My Button to your Site Click the Button
Interactives | The Why Files
Sylvia's Super-Awesome Demo Reel 2012
Physics Lapbook
Here are some educational Songs that fit here: Gravity Song and What is Friction? Visit BBC Science Worksheets and look to the right for a link to a printable worksheet about forces and friction. (These could be easily adapted to a minibook or to notebooking page.) Also be sure to check out Energy Kids' Page Resources there are divided by grade level. Look for printables about friction, simple machines, and forces.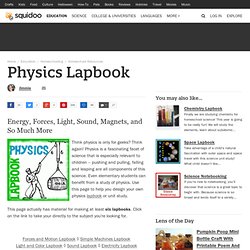 Mini Rube Goldberg Machine Makes Cool Travel Companion
Mini Rube Goldberg Machine Makes Cool Travel Companion Article by Steph , filed under Gadgets & Geekery in the Technology category. A man takes a seat on a park bench and opens a pair of suitcases, carefully adjusting a few things inside, placing a few small objects in just the right spot. Then an alarm clock sounds, a pencil comes down onto a trigger and the most entrancing sequence of events takes place, one after the other.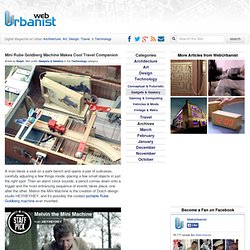 static.mov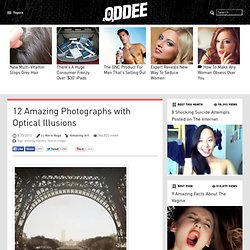 Art | Ads | Signs | Names | Places | People | Objects | Gifts | Science | Stories | Medicine | Tech | Home Design | Misc | Random 12 Amazing Photographs with Optical Illusions 8/25/2012 under Amazing Art - by Nora Vega - Share 745 Tweet 220 +1 37 1533 Share 1533
12 Amazing Photographs with Optical Illusions
I am not so lucky as my sweet friend Leeanne over at Kreative Resources who managed to find a free set of plexiglass discs to use on her light table. In fact, I don't even have a light table! But after reading several ideas from others, I have managed to make my own discs and light table. This post is about the discs and my next one will be a little tutorial on the light table so stay tuned… These colorful discs are a spin off of a "not so nutty" idea for making a rainbow suncatcher shared by "Life in the Nuthouse "!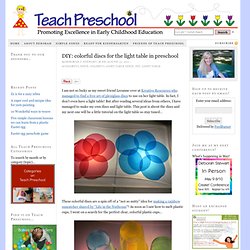 DIY: colorful discs for the light table in preschool
Spring has sprung, and it's time to start thinking about getting outside and planting green things! School gardens are a great way to teach kids hands-on science. Whether you have a full garden where the kids produce their own cafeteria food, or you're just getting started and egg-crate seedlings are more your pace, you can pull valuable lessons in ecology, sustainability, healthy food habits, and teamwork out of the dirt. Video Playlist: Great School Gardens Keep watching the player below to see the entire playlist, or view this playlist on YouTube (1) . Starting a School Garden (2) (06:38) A fun video with nuts and bolts details on how to lay the groundwork for a new school garden.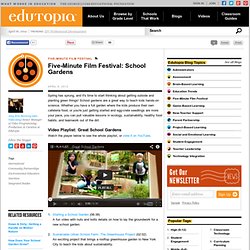 Five-Minute Film Festival: School Gardens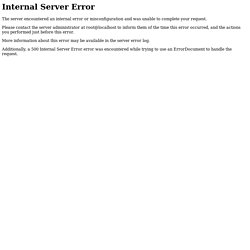 Earth Day Canada: -
Act for the Planet! / Agir pour la Planète Kid-friendly actions for a healthier planet. Une planète plus saine avec des actions pour enfants. Take Action! » / Agir maintenant!
Welcome | GreenLearning Canada
Shout invites educators and students to take an active role in global environmental issues.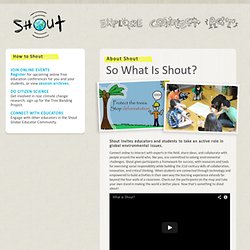 Shout: About the Project
Please download and sample the following energy efficiency, water conservation, and waste reduction lesson plans and activities. The files available here are either HTML or Adobe Acrobat (PDF). While HTML versions of all lessons and activities will be made added soon, most PDF files are under 100kb and will download in under a minute at typical connection speeds.
Energy conservation teaching resources, elementary and high schools - EarthCARE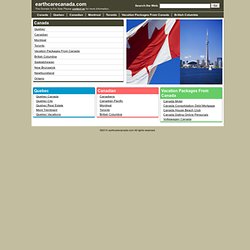 COOL 2.0
How fast does the wind blow?
A.D.A.M., Inc. is accredited by URAC, also known as the American Accreditation HealthCare Commission (www.urac.org). URAC's accreditation program is the first of its kind, requiring compliance with 53 standards of quality and accountability, verified by independent audit. A.D.A.M. is among the first to achieve this important distinction for online health information and services.
How the Earth Changed History
Human Planet Iain explores the most recently established force on Earth, humans. It's easy to think of the human impact on the planet as a negative one, but as Iain discovers, this isn't always the case. Humans have unprecedented control over many of the planet's geological cycles. How will the human race use this power? Fire Iain explores the human relationship with fire, a powerful force of nature and a crucial source of energy.
Posted by Miss Muse on Apr 2, 2012 in 6-8 , Environmental Science | 0 comments Loading ... With students going on Spring Break in the next few weeks, it's hard to keep their attention on schoolwork when they can already smell the ocean air and suntan lotion waiting for them. Channel their excitement with this activity about sand dunes.
Sand Dune Erosion Activity for Elementary and Middle School | The Science Muse
rocks erosion
Seed Dispersal
Epigeal germination climbing bean time lapse