IEP
Www.edu.gov.on.ca/eng/policyfunding/ocup/documents/speced2002.pdf. Www.edu.gov.on.ca/eng/document/reports/speced/panel/speced.pdf. Www.graniteschools.org/depart/teachinglearning/collegecareer/Curriculum Resource Library/Interventions for Cognative and Academic Deficits.pdf. A profile of disability in Canada, 2001: Profile of disability among children. Type of disabilities among children Some types of disabilities are not identified before age 5 Among children aged 0 to 14, the most widespread disability is that related to a chronic health condition such as asthma Developmental delay is the most common disability in children aged 0 to 4 Among school-age children (aged 5 to 14), learning disabilities are one of the two most often-reported disabilities Speech difficulties affect a significant number of school-age children The transition from home to school is a key factor in identifying certain types of disability in children Some children have several disabilities Among children aged 0 to 14 in Canada, 1.4% have a severe or very severe disability Severity of disability Type of disabilities among children The PALS survey questions allow the identification of the following types of disabilities among children under 15: Hearing (applicable to all children under 15): Difficulty hearing.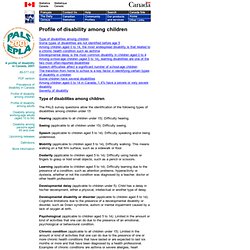 LD@school | Learning Disabilities Association of Ontario. Www.peopleforeducation.ca/wp-content/uploads/2014/04/special-education-2014-WEB.pdf. Read&Write for Google. Make Read&Write for GoogleTMGoogle DocsWebPDFs, ePubs Supports include: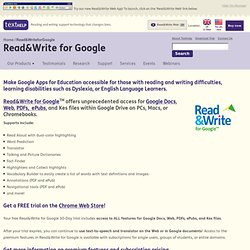 Www.edu.gov.on.ca/eng/document/reports/SupportingMinds. Edmodo Motivates Special Education Students to CommunicateElectronic Brains. At times, some of our Special Education students feel isolated as a result of their disabilities or exceptionalities.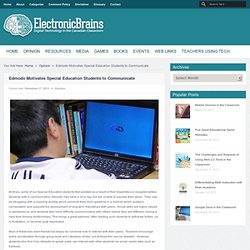 Students with a communication disorder may have a lot to say, but are unable to express their ideas. They may be struggling with a crippling anxiety which prevents them from speaking in a manner which sustains conversation and supports the development of long-term friendships with peers. The Case Against Assistive Technology. Schools learn to outsmart ADHD. When students are diagnosed with attention-deficit/hyperactivity disorder (ADHD), approaches that were once excluded from the classroom are now considered a valid option for helping them focus and learn.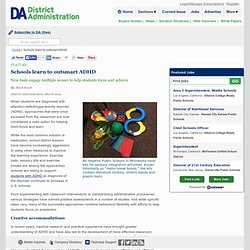 While the most common solution is medication, school district leaders have become increasingly aggressive in using other measures to improve the learning experience. Exercise balls, sensory kits and exercise breaks are among the approaches schools are taking to support students with ADHD as diagnosis of the disorder continues to increase in U.S. schools.
From experimenting with classroom interventions to standardizing administrative procedures, various strategies have earned positive assessments in a number of studies. And while specific steps vary, many of the successful approaches combine behavioral flexibility with efforts to help students focus on academics. Interesting Graphic on Individualized Learning. Students learn best when their learning is individualized.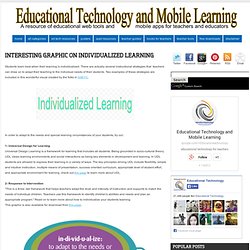 There are actually several instructional strategies that teachers can draw on to adapt their teaching to the individual needs of their students. Two examples of these strategies are included in this wonderful visual created by the folks in NAEYC. In order to adapt to the needs and special learning circumstances of your students, try out : Misunderstood Minds. The Myth of Average: Todd Rose at TEDxSonomaCounty. 50 Useful Apps For Students With Reading Disabilities.
Whether you're the parent of a child with a reading disability or an educator that works with learning disabled students on a daily basis, you're undoubtedly always looking for new tools to help these bright young kids meet their potential and work through their disability.
While there are numerous technologies out there that can help, perhaps one of the richest is the iPad, which offers dozens of applications designed to meet the needs of learning disabled kids and beginning readers alike. Here, we highlight just a few of the amazing apps out there that can help students with a reading disability improve their skills not only in reading, writing, and spelling, but also get a boost in confidence and learn to see school as a fun, engaging activity, not a struggle. This Free Font May Actually Help Dyslexic Students Read Better. This is one of those developments that make you love technology and how it can truly benefit education.
There's a free open font now available that may actually help dyslexic people read better. Whether it's true or not, this idea is incredible. The font, available for download here , was made by Aberlardo Gonzalez and has a license that lets you use it for free without any restriction. In other words, it might be time to start trying this out with any of your students (or you, perhaps) who have dyslexia. 1 in 10 people have dyslexia so this font may make a big difference in comprehension. Using Digital Tools for Differentiation. Direct Address to this Page: Anyone who has worked in education for any length of time knows just how important it is for teachers to create differentiated classrooms.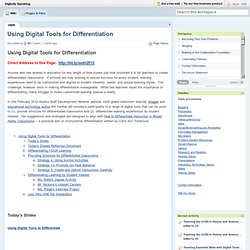 If schools are truly working to ensure success for every student, learning experiences need to be customized and aligned to student interests, needs, and unique learning styles. Digital Differentiation. Technology is a tool that can be used to help teachers facilitate learning experiences that address the diverse learning needs of all students and help them develop 21st Century Skills.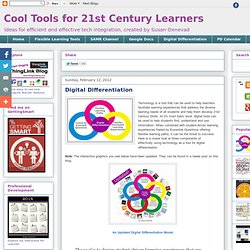 At it's most basic level, digital tools can be used to help students find, understand and use information. When combined with student-driven learning experiences fueled by Essential Questions offering flexible learning paths, it can be the ticket to success. Here is a closer look at three components of effectively using technology as a tool for digital differentiation. Elementary Computer Activities & Games - Grade Level kindergarten.
ABC & 123 Magnets Alphabet BINGO Alphabet Bubble Alphabet Matching Alphabet Slider Puzzle Alphabetical Order Alphabetical Order Connect the Dots ABC Order Henry and the Sugarbugs - Storybook Keyboarding Zoo Letter Match Lilly, the Wild Cat - Storybook Make a Word Search Jr Marvin & Sweetie - Storybook Marvin Makes Music - Storybook Oli Finds His Place in the Dirt - Storybook Sight Word BINGO Spelling Practice The Annual Fiddlers Picnic Uppercase and Lowercase Letter Matching Weird & Watery Alphabet.

Free resources for WriteOnline, Clicker, ClozePro and Jigworks.
---