Moda
19 abr 2012 Posteado en: Muebles, Reciclaje Autor: Miriam En otras ocasiones os hemos hablado del uso que se puede dar a un palets en la decoración del hogar. Lo cierto es que a pesar de lo que podamos pensar, su utilidad no se limita exclusivamente en hacer una mesa, no. Este objeto puede ofrecernos un sinfín de alternativas a la hora de decorar nuestro hogar.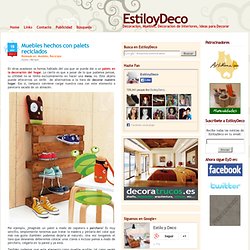 Muebles hechos con palets reciclados - Decoracion - EstiloyDeco
Spool Bookcase DIY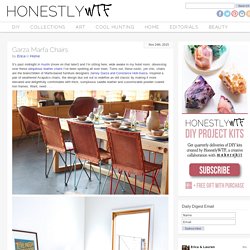 Are you ready for cuteness overload? Meet Zoey and Jasper. I am so inspired by animal photographer Grace Chon, who has documented the budding friendship between her 10 month old baby boy and their rescue pup. I only hope that my rescued buddy Gordos will be around to play dress up with my future baby one day! One of the two pairs of shoes I practically lived in, before, throughout and after my pregnancy, was FRĒDA SALVADOR's black, patent leather d'Orsay loafers.
search home knitting + crochet sewing + patchwork crafts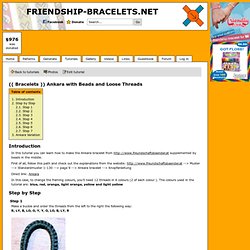 Tutorial
In this tutorial you can learn how to make the Ankara-bracelet from http://www.freundschaftsbaender.at supplemented by beads in the middle. First of all, follow this path and check out the explanations from the website: http://www.freundschaftsbaender.at --> Muster --> Standardmuster 1-130 --> page 9 --> Ankara bracelet --> Knopfanleitung Direct link: Ankara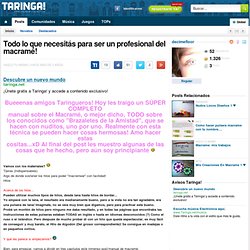 Todo lo que necesitás para ser un profesional del macramé!
Bueeenas amigos Taringueros! Hoy les traigo un SÚPER COMPLETO manual sobre el Macramé, o mejor dicho, TODO sobre los conocidos como "Brazaletes de la Amistad", que se hacen con nuditos, uno por uno. Realmente con esta técnica se pueden hacer cosas hermosas! Amo hacer estas cositas...xD Al final del post les muestro algunas de las cosas que he hecho, pero aún soy principiante
Trucos caseros para acabar con el acné en la adolescencia - Adolescentes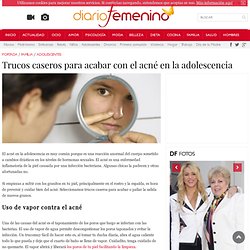 El acné en la adolescencia es muy común porque es una reacción anormal del cuerpo sometido a cambios drásticos en los niveles de hormonas sexuales. El acné es una enfermedad inflamatoria de la piel causada por una infección bacteriana. Algunas chicas la padecen y otras afortunadas no. Si empiezas a sufrir con los granitos en tu piel, principalmente en el rostro y la espalda, es hora de prevenir y cuidar bien del acné. Seleccionamos trucos caseros para acabar o paliar la salida de nuevos granos.
:::::Alejandra Quesada:::::