.NET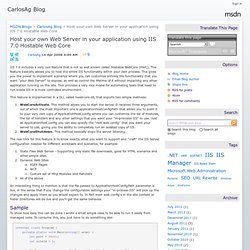 IIS 7.0 includes a very cool feature that is not so well known called Hostable WebCore (HWC). This feature basically allows you to host the entire IIS functionality within your own process. This gives you the power to implement scenarios where you can customize entirely the functionality that you want "your Web Server" to expose, as well as control the lifetime of it without impacting any other application running on the site. This provides a very nice model for automating tests that need to run inside IIS in a more controlled environment. This feature is implemented in a DLL called hwebcore.dll, that exports two simple methods: WebCoreActivate.
Host your own Web Server in your application using IIS 7.0 Hostable Web Core - CarlosAg Blog
Drools.Net - Home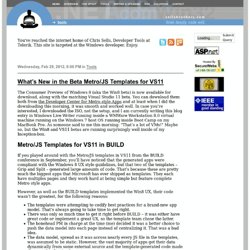 You've reached the internet home of Chris Sells, who has a long history as a contributing member of the Windows developer community. He enjoys long walks on the beach and various computer technologies. Wednesday, Feb 29, 2012, 6:06 PM in Tools What's New in the Beta Metro/JS Templates for VS11 The Consumer Preview of Windows 8 (aka the Win8 beta) is now available for download, along with the matching Visual Studio 11 beta. You can download them both from the Developer Center for Metro style Apps and at least when I did the downloading this morning, it was smooth and worked well.
Marquee de Sells: Chris's insight outlet
Using Git with Visual Studio