Hacker
We Were Hacked! 8 Tips From A Hacking Victim For Minimizing Your Risk :... - StumbleUpon. Think you're safe from a cyberattack just because you're a small biz?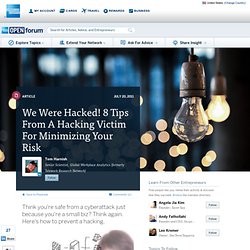 Think again. Here's how to prevent a hacking. July 20, 2011 Computer hacking has become front-page news lately, but many small business owners assume that because they're small potatoes, have a firewall, and use anti-virus software they're immune to a cyber attack. How to easily delete your online accounts | accountkiller.com - StumbleUpon. 10 Search Engines to Explore the Invisible Web - StumbleUpon. The Invisible Web refers to the part of the WWW that's not indexed by the search engines.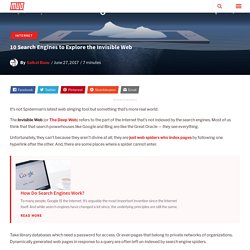 Most of us think that that search powerhouses like Google and Bing are like the Great Oracle"¦they see everything. Unfortunately, they can't because they aren't divine at all; they are just web spiders who index pages by following one hyperlink after the other. But there are some places where a spider cannot enter. Primary CSS - StumbleUpon. Chat with Your Friends through ms dos Command Prompt - StumbleUpon. -: Chat with Friends through ms dos Command Prompt :- 1) All you need is your friend's IP Address and your Command Prompt. 2) Open Notepad and write this code as it is.....!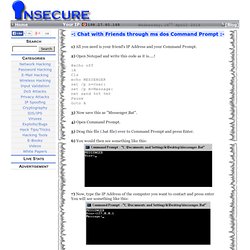 PASSWORD HACKING | Go Hacking - StumbleUpon. Need to hack someone's Facebook password?
Well, you're at the right place! In this post I'll show you some of the possible ways to hack Facebook password. Also, at the end of this post, I will be discussing. 70 Things Every Computer Geek Should Know. | Arrow Webzine - StumbleUpon. The term 'geek', once used to label a circus freak, has morphed in meaning over the years.
What was once an unusual profession transferred into a word indicating social awkwardness. As time has gone on, the word has yet again morphed to indicate a new type of individual: someone who is obsessive over one (or more) particular subjects, whether it be science, photography, electronics, computers, media, or any other field. A geek is one who isn't satisfied knowing only the surface facts, but instead has a visceral desire to learn everything possible about a particular subject.
Hack This Site! - StumbleUpon. Hacking with command prompt - StumbleUpon. How to gain access to system account the most powerful account in Windows.... - StumbleUpon. There is an account in Microsoft Windows that is more powerful than the Administrator account in Windows Operating Systems.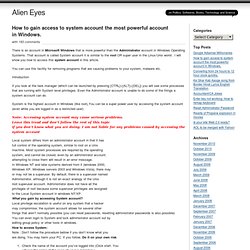 That account is called System account it is similar to the root OR super user in the Linux/Unix world . I will show you how to access this system account in this article. Virtual-Browser&153; - Browse and surf safely & anonymously - StumbleUpon.
---