Teknologi
Drivers Update Software by RadarSync. Geeky Gadgets - Gadgets, Geek Gadgets, Cool Gadgets, Technology News, Gadget Geeks. TechCrunch. Computerworld - IT news, features, blogs, tech reviews, career advice. BGR: The Three Biggest Letters In Tech. Technology Product Reviews, News, Prices & Downloads | PCMag.com | PC Magazine. Epson Stylus Photo PX710W.
Norske
VideoHelp.com - Forum, Guides, Tools and hardware lists. Wired.com. Trusted Reviews - The Latest Technology News and Reviews. The Independent IT-Security Institute: Home. Free Computer Security - Personal Software Inspector (PSI) Stay secure by updating insecure programs onyour computer with the Secunia PSI The Secunia Personal Software Inspector (PSI) is a free computer security solution that identifies vulnerabilities in non-Microsoft (third-party) programs which can leave your PC open to attacks.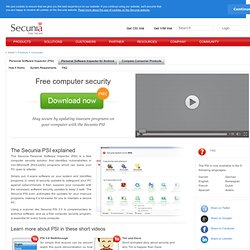 Simply put, it scans software on your system and identifies programs in need of security updates to safeguard your PC against cybercriminals. It then supplies your computer with the necessary software security updates to keep it safe. T3 | Latest Tech News, Gadget reviews and Technology videos. Gizmodo, the Gadget Guide. Akihabara News. CNET UK | Technology Reviews, Product News and Prices. The Register: Sci/Tech News for the World. TechRadar | Technology News And Reviews. Engadget.
---