Private Prisons
New Ruling On Prisoners' Addresses Could Shake Republican Majority In State Senate. NY1.com Skip to stories Your City, Your News.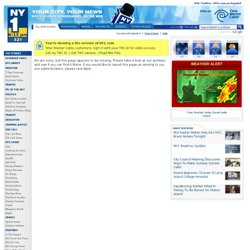 NYC's 24-hour newschannel on the web.
The Corrupt Corporate Incarceration Complex. Seventeen-year-old Hillary Transue did what lots of 17-year-olds do: Got into mischief.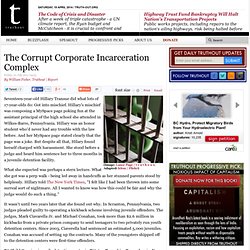 Hillary's mischief was composing a MySpace page poking fun at the assistant principal of the high school she attended in Wilkes-Barre, Pennsylvania. Hillary was an honor student who'd never had any trouble with the law before. And her MySpace page stated clearly that the page was a joke. Vidéo Justice?: More Fallout in Judicial Corruption Slavery Case, Court Employees Investigated - Pennsylvania - February 23, 2011 de mirrorthis2010 (Actualité - mirrorthis2010. U.S. Private Prison Population Grew 37 Percent Between 2002-2009 As Industry Lobbying Dollars Grew 165 Percent. By Zaid Jilani on September 26, 2011 at 1:40 pm "U.S.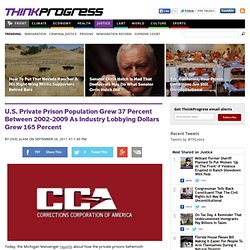 Private Prison Population Grew 37 Percent Between 2002-2009 As Industry Lobbying Dollars Grew 165 Percent" Today, the Michigan Messenger reports about how the private prisons behemoth Corrections Corporations of America grew over the last decade, expanding both its prisoner population and its political clout. The Messenger cites data from the U.S. CORRECTIONS: Prison Privatization and the Prison Boom. Outlawed at the beginning of the 20th Century, private corporations are once again owning and operating prisons for profit.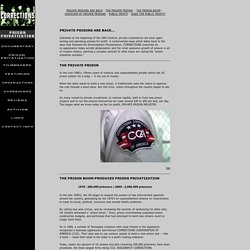 A controversial issue which dates back to the days that followed the Emancipation Proclamation, CORRECTIONS examines its re-appearance today amidst globalization and the most awesome growth of prisons in all of modern history, painting a complex portrait of what many are calling the "prison industrial complex. " In the mid-1980's, fifteen years of massive and unprecedented growth within the US prison system hit a snag -- it ran out of money.
Private Prison Companies Want You Locked Up — Justice Policy Institute. Press Release Published: June 22, 2011 FOR IMMEDIATE RELEASEJune 22, 2011Contacts:Zerline Hughes – 202.558.7974 x308 / zhughes@justicepolicy.orgJason Fenster – 202.558.7974 x306 / jfenster@justicepolicy.org Private Prison Companies Want You Locked UpNew report highlights political strategies of companies working to make money through harsh policies and longer sentences WASHINGTON, D.C. — Over the past 15 years, the number of people held in all prisons in the United States has increased by 49.6 percent, while private prison populations have increased by 353.7 percent, according to recent federal statistics.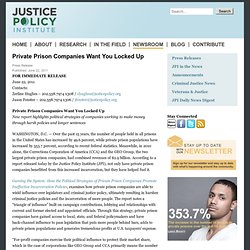 Meanwhile, in 2010 alone, the Corrections Corporation of America (CCA) and the GEO Group, the two largest private prison companies, had combined revenues of $2.9 billion. According to a report released today by the Justice Policy Institute (JPI), not only have private prison companies benefitted from this increased incarceration, but they have helped fuel it. How the Recession Hurts Private Prisons. Priv-report.pdf (application/pdf Object) The prison industry in the United States: big business or a new form of slavery?
Human rights organizations, as well as political and social ones, are condemning what they are calling a new form of inhumane exploitation in the United States, where they say a prison population of up to 2 million – mostly Black and Hispanic – are working for various industries for a pittance.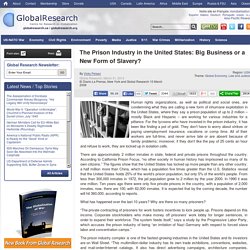 For the tycoons who have invested in the prison industry, it has been like finding a pot of gold. They don't have to worry about strikes or paying unemployment insurance, vacations or comp time. Incarceration in the United States. Sentenced USA prisoners under jurisdiction of State and Federal correctional authorities, as a Percent of Population. 1925–2003.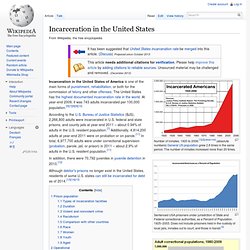 Does not include prisoners held in the custody of local jails, inmates out to court, and those in transit.[3] 6,977,700 adults were under correctional supervision (probation, parole, jail, or prison) in 2009.[4][5] A graph showing the incarceration rate under state and federal jurisdiction per 100,000 population 1925–2008. Private prison. A private prison or for-profit prison, jail, or detention center is a place in which individuals are physically confined or interned by a third party that is contracted by a government agency.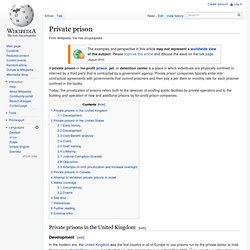 Private prison companies typically enter into contractual agreements with governments that commit prisoners and then pay a per diem or monthly rate for each prisoner confined in the facility. Today, the privatization of prisons refers both to the takeover of existing public facilities by private operators and to the building and operation of new and additional prisons by for-profit prison companies. Private prisons in the United Kingdom[edit] Development[edit] Privately run prisons are run under contracts which set out the standards that must be met. CCA. Corrections Corporation of America.
Corrections Corporation of America (CCA) is a company that owns and manages private prisons and detention centers and operates others on a concession basis.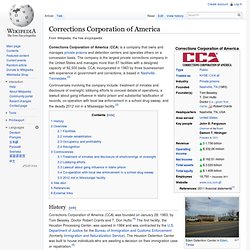 The company is the largest private corrections company in the United States and manages more than 67 facilities with a designed capacity of 92,500 beds. CCA, incorporated in 1983 by three businessmen with experience in government and corrections, is based in Nashville, Tennessee.[2] Controversies involving the company include: treatment of inmates and disclosure of oversight, lobbying efforts to conceal details of operations, a lawsuit about gang influence in Idaho prison and substantial falsification of records, co-operation with local law enforcement in a school drug sweep, and the deadly 2012 riot in a Mississippi facility.[3]
---