Tools/Frameworks
Create a Facebook Page | Custom Fan Page Design - Pagemodo. HTML5 With 'Zero Knowledge Of Coding': DIY Flash Site Builder Wix Launches HTML5 Version. Wix.com made its name with a platform that business owners and regular Joes could use to build Flash-enabled websites.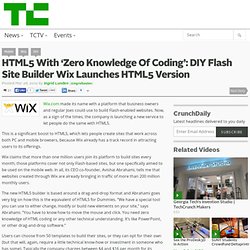 Now, as a sign of the times, the company is launching a new service to let people do the same with HTML5. This is a significant boost to HTML5, which lets people create sites that work across both PC and mobile browsers, because Wix already has a track record in attracting users to its offerings. Wix claims that more than one million users join its platform to build sites every month; those platforms cover not only Flash-based sites, but one specifically aimed to be used on the mobile web.
In all, its CEO co-founder, Avishai Abrahami, tells me that websites created through Wix are already bringing in traffic of more than 200 million monthly users. The new HTML5 builder is based around a drag-and-drop format and Abrahami goes very big on how this is the equivalent of HTML5 for Dummies.
Web Based Apps
All Languages. Mobile. Games. MLS Search Real Estate Cloud.
---