Mar 18 a Mar 24
Semana passada estive no Congresso E-commerce Brasil Search & Vendas, evento cheio de gente boa de algumas das empresas mais bacanas desse mercado abrangente. Logo na chegada tive uma conversa muito interessante com um empreendedor pra lá de paciente.
Neoassist: atendimento ao cliente de verdade chega nas mídias sociais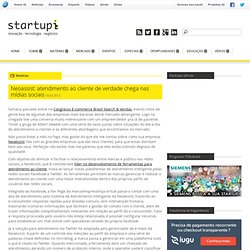 Para estabelecer uma estratégia de ações de comunicação dirigida junto ao público alvo, a grife de roupas femininas Farm, por meio da agência i9Brasil, agência de database marketing, investiu na adoção da Virtual Target, plataforma de envio e gestão de e-mail marketing da VIRID, empresa do grupo Experian. Responsável pelo disparo das campanhas de e-mail marketing do programa de relacionamento "Eu Quero Farm!"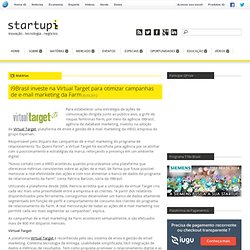 I9Brasil investe na Virtual Target para otimizar campanhas de e-mail marketing da Farm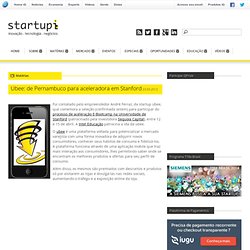 Ubee: de Pernambuco para aceleradora em Stanford
Fui contatado pelo empreendedor André Ferraz, da startup ubee, que comemora a seleção (confirmada ontem) para participar do processo de aceleração E-Bootcamp na Universidade de Stanford (patrocinado pela investidora Sequoia Capital), entre 12 e 15 de abril. A Intel Educação patrocina a ida da ubee. O ubee é uma plataforma voltada para potencializar o mercado varejista com uma forma inovadora de adquirir novos consumidores, conhecer seus hábitos de consumo e fidelizá-los.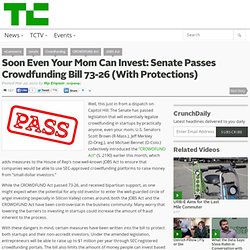 Well, this just in from a dispatch on Capitol Hill: The Senate has passed legislation that will essentially legalize crowdfunding in startups by practically anyone, even your mom. U.S. Senators Scott Brown (R-Mass.), Jeff Merkley (D-Oreg.), and Michael Bennet (D-Colo.) collectively introduced the "CROWDFUND Act" (S. 2190) earlier this month, which adds measures to the House of Rep's now well-known JOBS Act to ensure that companies would be able to use SEC-approved crowdfunding platforms to raise money from "small-dollar investors."
Soon Even Your Mom Can Invest: Senate Passes Crowdfunding Bill (With Protections)
FeeFighters, a three-year old comparison shopping site for credit card processors, is announcing today it has been acquired by Groupon. The Chicago-based startup, which provides businesses with a way to find the best merchant account provider for their needs, has also been offering businesses other tools such as its new payment gateway called Samurai. FeeFighters says that the acquisition will not impact any major changes to its product line, and that most of the team will be transitioned to Groupon.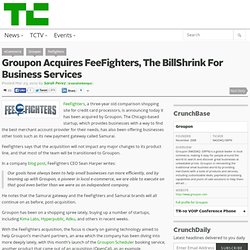 Groupon Acquires FeeFighters, The BillShrink For Business Services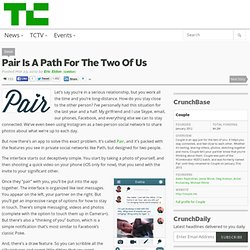 Pair Is A Path For The Two Of Us
Let's say you're in a serious relationship, but you work all the time and you're long-distance. How do you stay close to the other person?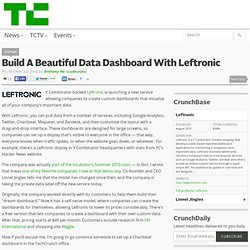 Y Combinator-backed Leftronic is launching a new service allowing companies to create custom dashboards that visualize all of your company's important data. With Leftronic, you can pull data from a number of services, including Google Analytics, Twitter, Chartbeat, Mixpanel, and Zendesk, and then customize the layout with a drag-and-drop interface.
Build A Beautiful Data Dashboard With Leftronic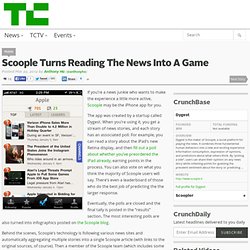 Scoople Turns Reading The News Into A Game
If you're a news junkie who wants to make the experience a little more active, Scoople may be the iPhone app for you.
In the age of endless sharing, super cookies, social search results, and that ever-present social graph, it's comforting to know that there are some who are still prioritizing privacy. (And a few of them are former Googlers no less!)
Disconnect: Ex-Googlers Raise Funding To Stop Google, Twitter & More From Tracking Your Data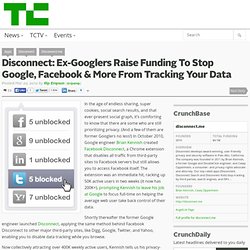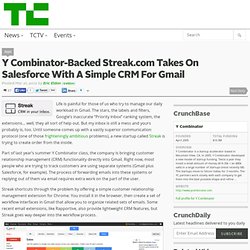 Y Combinator-Backed Streak.com Takes On Salesforce With A Simple CRM For Gmail
Life is painful for those of us who try to manage our daily workload in Gmail. The stars, the labels and filters, Google's inaccurate "Priority Inbox" ranking system, the extensions… well, they all sort of help out.
Ad Tech Startup Integrate Raises $11M, With Backing From Comcast
Integrate, a startup that helps advertisers integrate (yes, I said it) their different ad channels and products, has raised an $11 million Series B round of funding. Co-founder Jeremy Bloom says the current ad landscape is "incredibly fragmented," with "a ton of point solutions."
Online Work Platform oDesk Raises $15M From T. Rowe Price, Benchmark
Online work platform oDesk has raised $15 million in Series D funding from T.
Just over a year ago, video chat startup TokBox shuttered its consumer application and began focusing exclusively on its platform strategy — using its technology to enable video chat on other websites.
TokBox SDK Brings Video Chat To iOS Apps
As an avid shopper, I tend to buy clothes, jewelry, and accessories from both big-name stores as well as smaller boutiques.
Andreessen Horowitz, Greylock Back Marketplace For Local Fashion Boutiques, Shoptiques
FindTheBest, the startup led by DoubleClick co-founder Kevin O'Connor and backed by Kleiner Perkins' sFund, has been trying to help consumers make the right decisions by giving them more, and better-structured, data.
FindTheBest Launches A Data-Driven Approach To The Classifieds
FreedomPop's New iPhone Case Promises Users Free Wireless Data
Skimlinks Releases Full API For Web Publishers
As Developers Seek More Interactivity, PubNub Raises $4.5M For Its In-App Messaging Solution
Cisco, Benchmark And Venrock Back Cloud Storage Company CTERA Networks
Semantic Recipe Search Engine Yummly Raises $6M From Unilever And Others
42Floors Takes Commercial Real Estate Online (Because Searching For Office Space Sucks)
Slated Raises $2M To Bring The AngelList Approach To the Film Industry
Google Ventures, Andreessen Horowitz And Khosla Back Big Data Startup ClearStory
Trying To Be Mint.com For Student Loans, Binksty Raises, Redesigns, Hits $10M In Debt-Under-View
Amazon Acquires Online Fulfillment Company Kiva Systems For $775 Million In Cash
Averail Raises $6M To Help Enterprises Share Documents On Mobile Devices
Orange Publicis Fund's First Investment: $15M For Ad Personalization Provider myThings
FutureAdvisor Raises Funding From Sequoia To Bring Financial And Investment Advice To The Masses