Fev 20 a 26
Wanda to Bring Mobile Payments to Latin America. Telefónica's and MasterCard's latest joint venture now has a name: Wanda.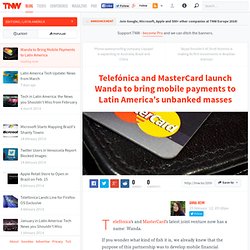 If you wonder what kind of fish it is, we already knew that the purpose of this partnership was to develop mobile financial solutions in Latin America. What we have now learned is that Wanda will be the consumer brand that will operate in the 12 Latin American countries in which Telefónica's Movistar is present – and where it has 87 million clients. Mobile payments may be an emerging global trend thanks to their convenience, but it is even more interesting in Latin America, where a large portion of the population is still unbanked. This means that mobile wallets could have a huge appeal, even beyond people who have a bank account. Crossfy, a Bridge Between Print and Digital. If you have attended Campus Party Brazil this week, you may have noticed a new name among the event sponsors: Crossfy.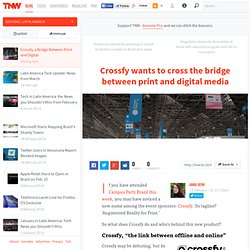 Its tagline? 'Augmented Reality for Print.' Flybridge Expands in Brazil with New Hire. 23 February '12, 04:27pm Follow Flybridge Capital Partners has hired Sao Paulo-based American entrepreneur Daniel Hatkoff as an advisor, the early stage VC firm announced today.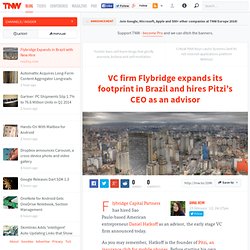 Restorando Seals $3.2M in Series A. (peHUB) February 22, 2012 – Restorando, the leading online reservation platform for restaurants in Latin America, announced that it has secured $3.2 million in Series A funding.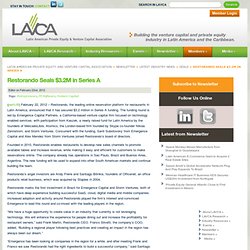 The funding round is led by Emergence Capital Partners, a California-based venture capital firm focused on technology enabled services, with participation from Kaszek, a newly raised fund for Latin America by the founders of MercadoLibre, Atomico, the London-based firm founded by Skype co-founder Niklas Zennstrom, and Storm Ventures. Concurrent with the funding, Santi Subotovsky from Emergence Capital and Alex Mendez from Storm Ventures joined Restorando's board of directors. Founded in 2010, Restorando enables restaurants to develop new sales channels to promote available tables and increase revenue, while making it easy and efficient for customers to make reservations online.
The company already has operations in Sao Paulo, Brazil and Buenos Aires, Argentina. Doce Beleza cresce consolida-se no e-commerce de cosméticos. Desde o lançamento, em 2007, a empresa cresceu 36 vezes, expandiu sua atuação para todo o Brasil e passou a comercializar 27 marcas.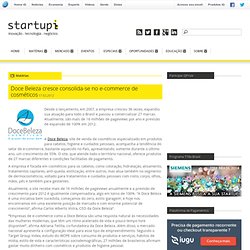 Atualmente, são mais de 16 milhões de pageviews por ano e previsão de expansão de 100% em 2012. A Doce Beleza, site de venda de cosméticos especializado em produtos para cabelos, higiene e cuidados pessoais, acompanha a tendência do setor de e-commerce, bastante aquecido no País, apresentando, somente durante o último ano, um crescimento de 55%. Restorando recebe US$ 3,2 milhões de vários fundos e foca no Brasil. O Restorando, site de reservas de restaurantes líder na América Latina, fundado na Argentina, anuncia que fechou uma nova rodada de investimentos no valor de US$ 3,2 milhões liderada por um grupo de investidores de peso que vêm realizando aportes em startups inovadoras nos Estados Unidos e Europa.
O site já oferece reservas em mais de 800 restaurantes e bares e tem parceria no Brasil com o Restaurante Week e o atual aporte veio dos fundos Emcap (Emergence Capital), Atomico (fundo de Niklas Zennström, co-fundador do Skype), Storm, Kaszek (de executivos que atuaram no Mercado Livre), e Peter Kellner (Fundador da Endeavor Global), que apoiam o projeto de expansão da startup no Brasil e na América Latina. Fundado por Franco Silvetti e Frank Martin como mais uma empresa web de garagem, o negócio já havia recebido um investimento inicial dos fundadores do Mercado Livre e do Atomico, fundo focado em empresas B2C criado pelo co-fundador do Skype, Niklas Zennström. Flybridge Capital Partners anuncia conselheiro para atuar no Brasil. Flybridge Capital Partners, um fundo de venture capital com foco em companhias de tecnologia early-stage e que gerencia US$ 560 milhões, anunciou hoje que Daniel Hatkoff, empreendedor no Brasil, virou conselheiro do fundo na região.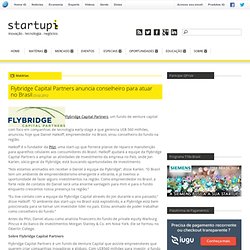 Hatkoff é o fundador da Pitzi, uma start-up que fornece planos de reparo e manutenção para aparelhos celulares aos consumidores do Brasil. Hatkoff ajudará a equipe da Flybridge Capital Partners a ampliar as atividades de investimento da empresa no País, onde Jon Karlen, sócio-geral da Flybridge, está buscando oportunidades de investimento. "Nós estamos animados em receber o Daniel à equipe da Flybridge", disse Karlen.
"O Brasil tem um ambiente de empreendedorismo emergente e vibrante, e já tivemos a oportunidade de fazer alguns investimentos na região. Como empreendedor no Brasil, a forte rede de contatos do Daniel será uma enorme vantagem para mim e para o fundo enquanto crescemos nossa presença na região." Fundo CRP Empreendedor investirá milhões em empresas inovadoras no Sul e no Sudeste. A CRP Companhia de Participações está lançando o Fundo CRP Empreendedor, que terá até R$ 100 milhões para investimento em participações minoritárias de empreendimentos localizados nas regiões Sul e Sudeste.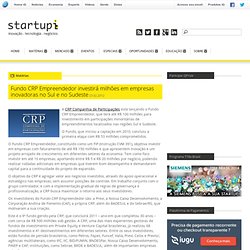 O Fundo, que iniciou a captação em 2010, concluiu a primeira etapa com R$ 53 milhões comprometidos. O Fundo CRP Empreendedor, constituído como um FIP (Instrução CVM 391), objetiva investir em empresas com faturamento de até R$ 150 milhões e que apresentem inovação e um projeto arrojado de crescimento, em diferentes setores da economia. Tem como foco investir em até 10 empresas, aportando entre R$ 5 e R$ 20 milhões por negócio, podendo realizar rodadas adicionais em empresas que tiverem bom desempenho e demandarem capital para a continuidade do projeto de expansão.
O objetivo da CRP é agregar valor aos negócios investidos, através do apoio operacional e estratégico nas empresas, sem assumir posições de controle. Snackr For iPhone Is A "Pandora For News" Snackr (no, not that Snackr!)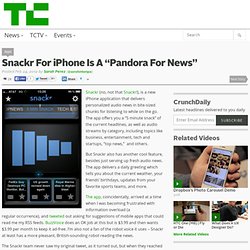 , is a new iPhone application that delivers personalized audio news in bite-sized chunks for listening to while on the go. The app offers you a "5 minute snack" of the current headlines, as well as audio streams by category, including topics like business, entertainment, tech and startups, "top news," and others. But Snackr also has another cool feature, besides just serving up fresh audio news. The app delivers a daily greeting which tells you about the current weather, your friends' birthdays, updates from your favorite sports teams, and more. The app, coincidentally, arrived at a time when I was becoming frustrated with information overload (a regular occurrence), and tweeted out asking for suggestions of mobile apps that could read me my RSS feeds.
Accel-Backed Freshdesk Wants To Take On Zendesk With Customer Support Platform. Freshdesk, which has raised $1 million in funding from Accel Partners, is debuting a new version of its cloud-based customer support platform today.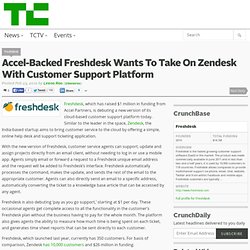 Similar to the leader in the space, Zendesk, the India-based startup aims to bring customer service to the cloud by offering a simple, online help desk and support ticketing application. With the new version of Freshdesk, customer service agents can support, update and assign projects directly from an email client, without needing to log in or use a mobile app. Agents simply email or forward a request to a Freshdesk unique email address and the request will be added to Freshdesk's interface.
Freshdesk automatically processes the command, makes the update, and sends the rest of the email to the appropriate customer. Walkie-Talkie App Voxer Popular With Investors, Too, Raising $15M to $20M At Up To $300M Valuation. There have been a few walkie-talkie mobile apps that have come out on iOS and Android over the last year or two, but it wasn't until last fall that one of them had a breakout moment. Voxer suddenly hit it big with the young black community in Cleveland and a few other big cities last November.
Since then, it has spread to the rest of the world, topping the app store and gaining a wide range of users – including venture capitalists on Sand Hill Road here in Silicon Valley. By which I mean, lots of VCs are both using it, and looking at investing in it. Voxer has spent the last couple months working on closing an angel round that it had left open, according to industry sources, while also working on its first venture funding. It's raising $15-20 million at a pre-money valuation of $150 million, says one person. Apple Acquires Chomp; App Store Search And Discovery To Be Completely Revamped. With the countdown underway to 25 billion total app downloads, there's no disputing the success of Apple's App Store.
We live in a world of hyperbole, but Apple's entry into this space really has changed the entire mobile world. But the App Store is far from perfect. And with its immense scale, a few problems have been revealed. The biggest one is app discovery. There are now over 500,000 apps — how do you find anything? Twilio Client iOS SDK Puts VoIP In Any App, Turning iPads Into Call Centers. Cheap international calls, mobile gaming with simultaneous voice chat, distributed call centers. Developers can create these and more with Twilio's voice client iOS SDK that launches publicly today. The software development kit allows any iOS app to send and receive voice calls over 3G or Wi-Fi for a fraction of the price of traditional calling. Scan Gets $1.7M From Google Ventures And Shervin Pishevar To Make QR Codes Actually Useful. The most impressive thing about Scan is that it, as a humble QR code app, has raised over $1.7 million in seed funding from, wait for it, Shervin Pishevar via Menlo Ventures (leading), Google Ventures, Charles River Ventures, Yuri Milner's Start Fund, Social + Capital Partnership, Transmedia Capital, Ludlow Ventures and angels Ariel Poler, Naval Ravikant of AngelPool, Jim Pallotta of Raptor Group and Gaga manager Troy Carter.
Provo, Utah-based Scan co-founder Garrett Gee finds QR codes as distasteful as the next person, but he believes in exceptions. He thinks Scan can go beyond its modest ambitions as a QR code and 1D barcode scanner and make those awkward squares that now serve as hopeful addendums to things like movie posters and conference badges ubiquitous and user-friendly. To this end, the Scan web interface allows normals to generate QR codes with no prior development experience. Nokia, Google Ventures And Others Put $10.7M In 'AdSense For Images,' Luminate. Luminate, a photo tagging service that has been called an "AdSense for Images," has raised $10.7 million in Series C funding led by Nokia Growth Partners with participation from existing investors August Capital, CMEA Capital, Google Ventures and Shasta Ventures.
With this new round of financing, Nokia Growth Partners, Managing Partner Paul Asel will join Luminate's Board of Directors. Luminate, which rebranded from Pixazza last year, allows publishers to identify, tag and match products found within online images on their sites and then link them back to the inventories of Luminate's network of advertisers. The service, which can be integrated in a site by adding a single line of code, allows consumers to browse the photos featured on a site and mouse over it to reveal information and pricing about similar products, and if desired, click to purchase. Last year, Luminate debuted in-image applications, which allowed publishers to make images even more interactive and engaging. Tugg Lets Audiences Choose What's Playing In Theaters. WinZip iOS App Tops 500K Downloads In 8 Days. New From The Makers Of Nosh: NoshList, A Free Waitlisting App For Restaurants.
InVision Raises $1.5M For Beautiful, Interactive Prototypes. BloomReach Crunches Big Data To Deliver The Future Of SEO and SEM. Strategic Sharing: Zipcar Leads $13.7M Investment In Campus Car-Sharing Startup Wheelz. 140 Proof Introduces Video To Its Social Ad Network. Backed By Lerer And SV Angel, Newsle Launches To Let You Track News About Your Friends. Awesome Inventory Management Startup Stitch Labs Nabs $1M From True Ventures. YC-Funded ScreenLeap: Because Screen-Sharing Doesn't Need To Make You Crazy. 6Scan's Auto-Updating Website Protection Service Is Launching Today, Starting With WordPress. Attachments.me Goes Automatic, Adds Box To Its Cloud Storage Partners. FindTheBest Wants To Personalize Comparison Shopping With AssistMe. To Lock Down Mobile Apps, Cenzic Launches New App Testing Tools. Ammado raises €7m to solve global giving problem.
---