Fev 13 a 19
SambaTech Anuncia Joint Venture com Adstream e promete revolucionar o mercado publicitário da América Latina. A startup mineira Samba Tech anunciou recentemente um joint venture com a australiana Adstream, líder mundial em serviços de tecnologia de publicidade on-line.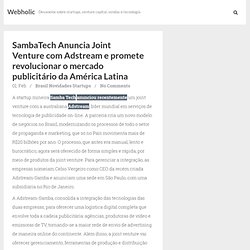 A parceria cria um novo modelo de negócios no Brasil, modernizando os processos de todo o setor de propaganda e marketing, que só no País movimenta mais de R$20 bilhões por ano. O processo, que antes era manual, lento e burocrático, agora será oferecido de forma simples e rápida, por meio de produtos da joint venture. Para gerenciar a integração, as empresas nomeiam Celso Vergeiro como CEO da recém criada Adstream-Samba e anunciam uma sede em São Paulo, com uma subsidiária no Rio de Janeiro. A Adstream-Samba, consolida a integração das tecnologias das duas empresas, para oferecer uma logística digital completa que envolve toda a cadeia publicitária: agências, produtoras de vídeo e emissoras de TV, tornando-se a maior rede de envio de advertising de maneira online do continente. Intel invests in two Brazilian fashion e-commerce sites.
(VentureBeat) February 17, 2012 – Intel Capital, the investment arm of the world's biggest chip maker, said today it has invested in two Brazilian fashion e-commerce sites Coquelux and Fashion.me.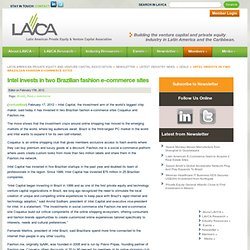 The move shows that the investment craze around online shopping has moved to the emerging markets of the world, where big audiences await. Brazil is the third-largest PC market in the world and Intel wants to expand it for its own self-interest. Coquelux is an online shopping club that gives members exclusive access to flash events where they can buy premium and luxury goods at a discount. Rede social esportiva Spleeps: sports, play, people. Durante um dos painéis que moderei na Campus Party, perguntei se havia algum empreendedor afim de subir no palco e fazer um pitch.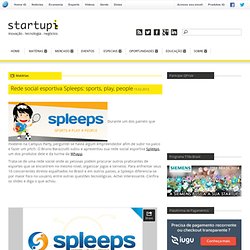 O Bruno Barazzutti subiu e apresentou sua rede social esportiva Spleeps, um dos produtos dele e da turma da Whapp. Trata-se de uma rede social onde as pessoas podem procurar outros praticantes de esportes que se encontrem no mesmo nível, organizar jogos e torneios. Para enfrentar seus 10 concorrentes diretos espalhados no Brasil e em outros países, a Spleeps diferencia-se por maior foco no usuário, entre outras questões tecnológicas.
Achei interessante. Confira os slides e diga o que achou. Investmania: enxergando possibilidades por meio do relacionamento entre investidores, relatórios e análises. Mais um empreendimento online dedicado ao mercado financeiro.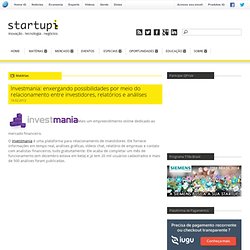 O Investmania é uma plataforma para relacionamento de investidores. Ele fornece informações em tempo real, análises gráficas, vídeos chat, relatório de empresas e contato com analistas financeiros, tudo gratuitamente. Ele acaba de completar um mês de funcionamento (em dezembro estava em beta) e já tem 20 mil usuários cadastrados e mais de 500 análises foram publicadas. Acompanhar o sobe e desce dos indicadores econômicos em tempo real, consultar diretamente especialistas de mercado e descobrir oportunidades de investimento, tudo de graça. Peixe Urbano compra Zuppa, site de reserva de mesas em restaurantes. O Peixe Urbano, site que revolucionou o Local Commerce na América Latina ao introduzir o conceito de compras coletivas na região em março de 2010, dando início ao boom das startups no Brasil, anuncia hoje a aquisição do Zuppa, site pioneiro e líder no segmento de reservas online do país.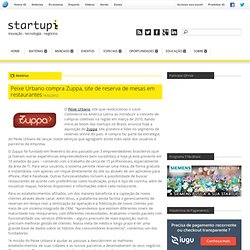 A compra faz parte da estratégia do Peixe Urbano de lançar novos serviços que agreguem ainda mais valor aos usuários e parceiros da empresa. O Zuppa foi fundado em fevereiro do ano passado por 3 empreendedores brasileiros (que já tiveram outras experiências empreendedores bem sucedidas), e hoje já está presente em 10 estados do país – contando com o trabalho de cerca de 15 profissionais, especialmente da área de TI. Doce Beleza cresce consolida-se no e-commerce de cosméticos. Desde o lançamento, em 2007, a empresa cresceu 36 vezes, expandiu sua atuação para todo o Brasil e passou a comercializar 27 marcas.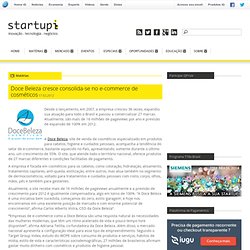 Atualmente, são mais de 16 milhões de pageviews por ano e previsão de expansão de 100% em 2012. A Doce Beleza, site de venda de cosméticos especializado em produtos para cabelos, higiene e cuidados pessoais, acompanha a tendência do setor de e-commerce, bastante aquecido no País, apresentando, somente durante o último ano, um crescimento de 55%. Intel Capital investe na Fashion.me e na Coquelux. Espero que venture capital tenha realmente entrado na moda – com o perdão do duplo sentido!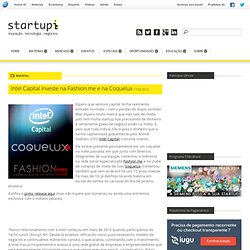 Mas espero muito mais é que não saia de moda, pois tem muita startup boa precisando de dinheiro e certamente geeks de negócio estão na moda. E, pelo que tudo indica, não é pouco dinheiro que a turma capitaneada globalmente pelo Arvind Sodhani (CEO Intel Capital) costuma investir. Ele esteve presente pessoalmente em um coquetel na noite passada, em que junto com diversos integrantes de sua equipe, comentou o interesse na rede social especializada Fashion.me e no clube de compras de moda de luxo Coquelux. Comentou também que vem ao Brasil há uns 15 anos, investe há mais de 10, já desfilou tocando bateria em escola de samba no carnaval do Rio de Janeiro, etcetera. GoodRx Grabs $1M+ From SV Angel, Founders Fund & More To Help You Find Cheap Prescription Drugs. Like many other services, goods, and commodities, prescription drug prices can vary widely depending on location and what particular vendor is offering them.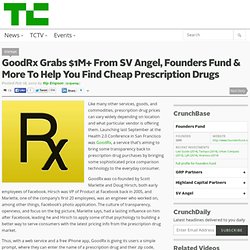 Launching last September at the Health 2.0 Conference in San Francisco was GoodRx, a service that's aiming to bring some transparency back to prescription drug purchases by bringing some sophisticated price comparison technology to the everyday consumer. GoodRx was co-founded by Scott Marlette and Doug Hirsch, both early employees of Facebook. Hirsch was VP of Product at Facebook back in 2005, and Marlette, one of the company's first 20 employees, was an engineer who worked on, among other things, Facebook's photo application. The culture of transparency, openness, and focus on the big picture, Marlette says, had a lasting influence on him after Facebook, leading he and Hirsch to apply some of that psychology to building a better way to serve consumers with the latest pricing info from the prescription drug market. Real Estate Site VivaReal Raises Cash To Be The Zillow For Brazil. VivaReal.com.br, a real estate marketplace in Brazil, has raised an undisclosed amount of funding from a number of angels and investors, including Greg Waldorf, Simon Baker, Shaun Di Gregorio, Wences Casares, Micky Malka, Ariel Poler, Gordon Rubenstein, 500 Startups, Jeff Fluhr, Errol Damelin, Florian Otto, Monashees Capital and Kaszek Ventures.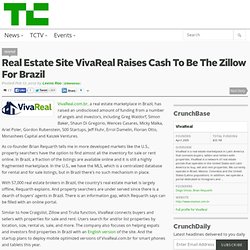 As co-founder Brian Requarth tells me in more developed markets like the U.S., property searchers have the option to find almost all the inventory for sale or rent online. In Brazil, a fraction of the listings are available online and it is still a highly fragmented marketplace. Social Media Advertising Startup Compass Labs Raises $6M From NEA And Presidio. BuiltWith Reveals The Tech Used By The 130 Million Web Sites That Matter Most. Search engines like Google scour the web to figure out how to rank content.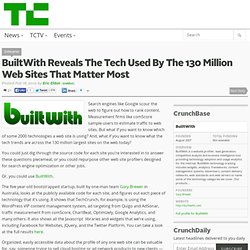 Measurement firms like comScore sample users to estimate traffic to web sites. But what if you want to know which of some 2000 technologies a web site is using? And, what if you want to know what the tech trends are across the 130 million largest sites on the web today? You could just dig through the source code for each site you're interested in to answer these questions piecemeal, or you could repurpose other web site profilers designed for search engine optimization or other jobs. Or, you could use BuiltWith. Crowd-Sourced Learning Platform Memrise Nabs $1.05M From Matt Mullenweg, Lerer Ventures And More! Memrise, an online community that attempts to teach people languages through crowdsourcing, is announcing its $1.1 million in seed financing today, from Matt Mullenweg's Audrey Capital, Avalon Ventures, Balderton Capital, Lerer Ventures, Zynga Boston head Nabeel Hyatt, former Facebook data head Jeff Hammerbacher, Bill Warner, Scott Heller, Walt Winshall and Ken Baumann.
Memrise incorporates a unique way of teaching and teaching foreign words; It crowdsources Mems, or Mneumonic devices from its community and then imparts them to users through online lessons involving animated gifs (below). The startup uses a gardening metaphor to represent a student's journey — each Mem you learn is a plant, your total sum knowledge is a garden, etc. With Clik, Your Smartphone Can Control Screens Everywhere. You've probably heard of Kik Messenger, a phone messaging app with the backing of Union Sqaure Ventures and RRE. It turns out Kik was just the beginning of the company's plans — today it's launching Clik, which is even more impressive. Put simply, Clik can turn your phone into a remote control for any screen with a browser. Lady Gaga-Backed Backplane Raises Over $4M From Sequoia & More; Acquires Sharing Platform Cortex. You may have heard the buzz by now about a young startup that's being fueled by some pretty impressive star power, including the likes of the one and only Lady Gaga.
The project, called Backplane, was co-founded by Lady Gaga's manager, Troy Carter, and raised an early (then hush hush) seed round from an impressive set of investors, including Google Ventures, Founders Fund Angel, Menlo Ventures, SV Angel, i/o Ventures, and Tomorrow Ventures. The startup is also being led by a group of former Facebook and Google employees, as well as other tech-heavy companies, including co-founders Joey Primiani, an ex-Googler and creator of Cortex, Alex Moore, former Director of Operations (and the first employee) at Palantir Technologies, along with Panantir cofounder, Joe Lonsdale, who has become the Chairman of Backplane's Board of Directors.
TipList Wants To Replace That Ubiquitous Travel Tips Email. From the one man team that brought you Photopile and Onesheet comes another drop dead simple app, TipList. Deciding to take a trip around the world with his wife Elle last summer, creator Brenden Mulligan received a deluge of "City Tips" emails, or those emails full of must see sights, places, restaurants, bars that your friends think you'd like and that constantly get recycled when people you know come into town/travel.
Mulligan thought that there must be a better, more centralized solution than email, and built TipList — a service that "makes it easy to build a quick list of recommendations about a place you've been and loved." (Sample list here.) To use TipList, connect to the app via Facebook and Twitter and/or import your checkins from Foursquare. Opera Snaps Up Mobile Theory, 4th Screen For $26M In Mobile Ad Push. Frank & Oak Helps Twentysomething Men Dress Themselves. Filetrek Raises $10 Million For Cloud-Based File Sharing Platform. Writing Marketplace Scripted.com Gains An Extra $150K, Two New Advisors. UPS Partners With And Backs Online Merchant Lender Kabbage; Will Provide Data For Underwriting. Shoutlet Fires Off New Trigger-Based Social Marketing Platform. Jonathan Schwartz Launches CareZone, A Simple Caregiving Site With Big Plans. Clear: Why This Simple To Do List App Has Everyone Talking. No Name, No Email, No Problem: nFluence Media Raises $3M For Anonymous Deal-Targeting Tech.
Lover.ly Raises $500K To Be An Online, Visual Inspiration Engine For Weddings. 500 Startups Alum LaunchBit Launches Its Email Ad Network. Pearltrees Raises $6.7M, Boasts Of "Collaborative Interest Graph" Pops Raises $1.5M From Mangrove To Sexify Mobile Notifications. Finam Puts $10M In Mobile Messaging Application IM+ CruiseWise Launches A Dedicated Travel Site For Booking Cruises. Behind New Funding, Matchbook Wants To Turn Bookmarking Into Action With Intent-Based Deals. Marin Software Raises $30M, Aims (Eventually) For IPO. Page 2.
---