Apr 8 a apr 14
AOL Sells 800 Patents For $1 Billion To Microsoft [Memo To Staff] This just in: one chapter of AOL's patent journey is coming to an end.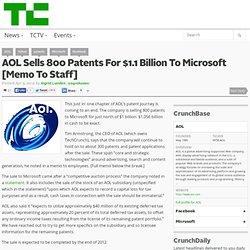 The company is selling 800 patents to Microsoft for just north of $1 billion: $1.056 billion in cash to be exact. Tim Armstrong, the CEO of AOL (which owns TechCrunch), says that the company will continue to hold on to about 300 patents and patent applications after the sale. Facestagram: Five New Features Facebook + Instagram Could Launch. Picture being able to filter your Facebook photos, or use your Instagrams as Facebook Checkins.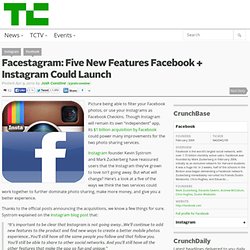 Though Instagram will remain its own "independent" app, its $1 billion acquisition by Facebook could power many improvements for the two photo sharing services. Instagram founder Kevin Systrom and Mark Zuckerberg have reassured users that the Instagram they've grown to love isn't going away. But what will change? Here's a look at a five of the ways we think the two services could work together to further dominate photo sharing, make more money, and give you a better experience. Thanks to the official posts announcing the acquisitions, we know a few things for sure. Amazon's Takes In-App Purchases Out Of Beta: Here's How Revenue Share Works. Amazon is taking the wraps off a new in-app purchasing service today in an effort to make its app store competitive with what Apple and Google offer developers.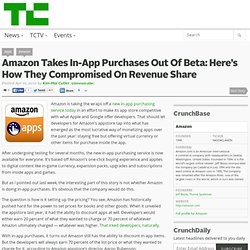 That should let developers for Amazon's appstore tap into what has emerged as the most lucrative way of monetizing apps over the past year: staying free but offering virtual currency or other items for purchase inside the app. After undergoing testing for several months, the new in-app purchasing service is now available for everyone. Crashlytics, A Startup For Crash Reporting on Mobile Apps, Raises $5M From Flybridge, Baseline. Crashlytics, a Cambridge-based startup that helps developers understand how and why their mobile apps crashed, is taking another slug of funding with a $5 million round led by Flybridge and Baseline Ventures.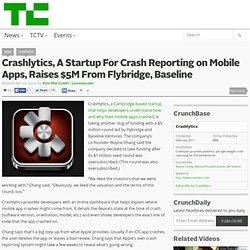 The company's co-founder Wayne Chang said the company decided to take funding after its $1 million seed round was oversubscribed. (This round was also oversubscribed.) "We liked the investors that we were working with," Chang said. "Obviously, we liked the valuation and the terms of this round, too." Crashlytics provides developers with an online dashboard that helps explain where mobile app crashes might come from. Interview Street Helps Sequoia-Backed Startups Recruit With Its Latest CodeSprint. Interview Street, the startup that helps companies recruit by holding programming contests called CodeSprints, is doing something a little different this week — it's holding a CodeSprint for 13 different startups, all backed by Sequoia Capital.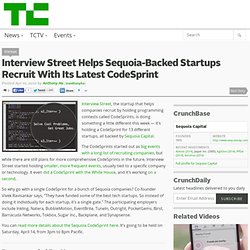 The CodeSprints started out as big events with a long list of recruiting companies, but while there are still plans for more comprehensive CodeSprints in the future, Interview Street started holding smaller, more frequent events, usually tied to a specific company or technology. It even did a CodeSprint with the White House, and it's working on a second. So why go with a single CodeSprint for a bunch of Sequoia companies? Wavii Launches In Public Beta, Aiming To Be Your Big Data News Aggregator Of Choice.
After years, yes years, in various states of stealth mode, Seattle-based personalized news aggregation startup Wavii is finally launching to wide scale public consumption.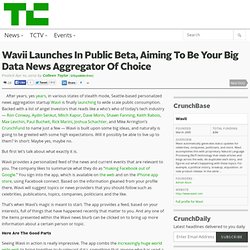 Backed with a list of angel investors that reads like a who's who of today's tech industry — Ron Conway, Aydin Senkut, Mitch Kapor, Dave Morin, Shawn Fanning, Keith Rabois, Max Levchin, Paul Bucheit, Rick Marini, Joshua Schachter, and Mike Arrington's CrunchFund to name just a few — Wavii is built upon some big ideas, and naturally is going to be greeted with some high expectations. Will it possibly be able to live up to them? In short: Maybe yes, maybe no. Cloud Server Security Software Startup CloudPassage Raises $14M From Benchmark And Others. CloudPassage, the developer of cloud server security software, has raised $14 million in Series B financing led by Tenaya Capital with Benchmark Capital and Musea Ventures participating in the round.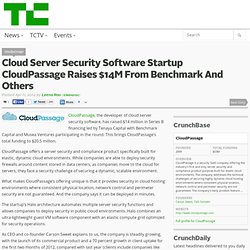 This brings CloudPassage's total funding to $20.5 million. CloudPassage offers a server security and compliance product specifically built for elastic, dynamic cloud environments. While companies are able to deploy security firewalls around content stored in data centers, as companies move to the cloud for servers, they face a security challenge of securing a dynamic, scalable environment. What makes CloudPassage's offering unique is that it provides security in cloud hosting environments where consistent physical location, network control and perimeter security are not guaranteed.
OneID Grabs $7M From Khosla & North Bridge To Replace Usernames And Passwords. Fragmentation isn't just a problem reserved for mobile operating systems, it's inherent to our online identities as well.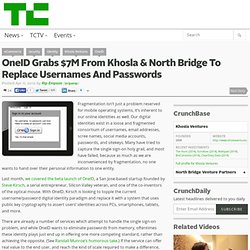 Our digital identities exist in a loose and fragmented consortium of usernames, email addresses, scree names, social media accounts, passwords, and sitekeys. Many have tried to capture the single sign-on holy grail, and most have failed, because as much as we are inconvenienced by fragmentation, no one wants to hand over their personal information to one entity. Meteor: Etherpad Founder & Other Rockstars Team Up To Make Web App Development A Breeze.
Web apps look a lot different today than they did a decade ago.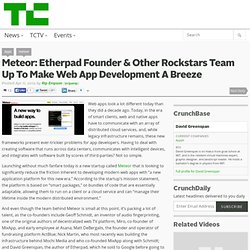 Today, in the era of smart clients, web and native apps have to communicate with an array of distributed cloud services, and, while legacy infrastructure remains, these new frameworks present ever-trickier problems for app developers. Having to deal with creating software that runs across data centers, communicates with intelligent devices, and integrates with software built by scores of third-parties? Mobile Payments Startup Beamit Raises $2.4M From Founder's Co-op, Jeff Bezos & Others. Mobile payments platform Beamit, which focuses on international money transfers between the U.S. and developing markets, has just closed a $2.4 million seed round led by Founder's Co-op, with participation from Bezos Expeditions (the personal investment company of Jeff Bezos), TomorrowVentures (the investment vehicle for Eric Schmidt) and a small group of angel investors.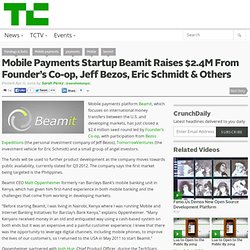 The funds will be used to further product development as the company moves towards public availability, currently slated for Q3 2012. The company says the first market being targeted is the Philippines. Beamit CEO Matt Oppenheimer formerly ran Barclays Bank's mobile banking unit in Kenya, which has given him first-hand experience in both mobile banking and the challenges that come from working in developing markets. "Before starting Beamit, I was living in Nairobi, Kenya where I was running Mobile and Internet Banking Initiatives for Barclay's Bank Kenya," explains Oppenheimer. BBC Bets On HTML5 Games; Invests Millions In Mobile Game Creation Platform Spaceport.io. Spaceport.io, an HTML5, mobile game creation platform, has raised a strategic round of funding from a number of investors including BBC Worldwide and YouWeb, a previous investor. While financial terms of the funding were not not disclosed, we hear the round was in the millions.
Spaceport allows game developers to build a game once, using Javascript, and have it play across all smartphone operating systems, with a native app-like experience and fast performance. Taming Email Overload With SaneBox. Calling email overload "a crisis in communication", TechCrunch Founder Michael Arrington issued a challenge back in 2008: "Someone needs to create a new technology that allows us to enjoy our life but not miss important messages." The entrepreneurs at SaneBox read this and other articles by Fred Wilson and Bijan Sabet, and set out to build a better inbox. After a month of testing, SaneBox has really helped control my inbox and risen to Mike's challenge.
Many solutions to email overload have been proposed with limited success. OneReceipt Launches iOS App For Scanning And Storing Those Pesky Paper Receipts. Can't hold on to your receipts? Neither can I. I've come to realize that my problem is one of absentmindedness — I'll grab my receipt off the table or from a cashier as I walk out the door, but after that, I usually have no earthly idea where they end up. That's where the the purchase tracking buffs at OneReceipt come in (again). Farewell, App Store? Netizine Turns Magazines Into Social Networks, Runs On HTML5. As e-book publishers and Apple face an antitrust lawsuit over pricing, magazine publishers are now looking into an alternative solution to the digital pricing dilemma: being able to extricate themselves from Apple's grip entirely.
A startup called Netizine, makers of a new, tablet-ready social magazine platform for publishers is currently in talks with seven of the ten top global publishers, we're told, including three of the top five in the U.S. And what is Netizine offering? Only a fully functional, HTML5-based tablet application that turns digital magazines into social networks…networks that run outside the App Store, that is. Magazine publishers' efforts, to date, have been a mixed bag. Some are OK, while others have been pretty awful, basically turning their content into slow and heavy apps that take up more than their fair share of the iPad's disk space. Flower Subscription Service H.Bloom Raises $10 Million.
Subscription flower delivery Service H.Bloom, which once described itself as the 'Netflix of Flowers,' raised a $10 million Series B funding round today. The investment was lead by Shasta Ventures with the participation of a number of existing VC funds and angel investors, including Battery Ventures, Thomas Lehrman of Gerson Lerhman Group, and ShoeDazzle's Brian Lee. Shasta's Sean Flynn is also joining the H.Bloom board. In total, including this round, H.Bloom has now raised $18 million. Viadeo Raises $32M To Expand Its Professional Social Network In China, Russia And Beyond. Custom Fit Mens' Clothing Brand Bonobos Raises $16.4M From Accel; Lands Nordstrom Investment And Retail Deal. Online Fraud Detection Startup 41st Parameter Raises $13M From Kleiner Perkins And Others.
LogMeIn Prepares To Take On Dropbox & Box With Launch Of Cloud Storage Service Cubby. Mobile Social Startup CrowdOptic Raises Another $500K, Plans Consumer Launch. BiteHunter 2.0 Makes Finding A Deal On Good Eats Faster and Easier. Screw University, Course Hero Curates YouTube Into Free Business and Coding Classes. 'Stock Market For Music Hipsters' TastemakerX Hits Beta In Time For Coachella. Despite $889M In Revenue This Year, No IPO On Spotify's Cards, But Ek Wouldn't Say No To More Funding. Intel Capital and Catalyst Invest in Minha Vida, largest health and wellness portal in Brazil. Ideiasnet announces the sale of Softcorp. DropGifts: distribua no Facebook vouchers de lojas virtuais renomadas.
Startup cearense propõe leilão reverso atrelado ao Facebook, onde vence quem oferecer o menor lance único. Ideiasnet vende Softcorp por R$ 15 milhões para a Techresult. Empreendemia recebe aporte da Inova Ventures Participações. Portal Minha Vida recebe aporte de Intel Capital e Endeavor Catalyst. Naspers anuncia compra de 27,7% da VTEX.
---