Museum
Övergivna platser
Startsida - Riksantikvarieämbetet
Swedish National Heritage Board's Photostream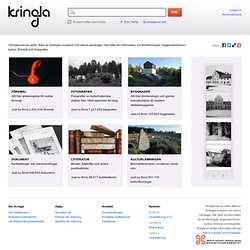 Kringla
I Kringla kan du söka i flera av Sveriges museers och arkivs samlingar. Här hittar du information om fornlämningar, byggnadsminnen, kyrkor, föremål och fotografier. FöremålAllt från arkeologiska till nutida föremål. Just nu finns 2,522,434 föremål. FotografierFotografier av kulturhistoriska miljöer från 1860-talet fram till idag.
Platsr
K-blogg – Riksantikvarieämbetets blogg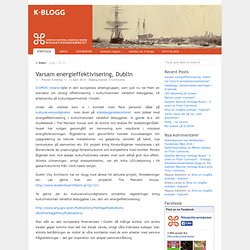 Vänermuseet är ett kombinerat kultur- och naturhistoriskt museum i Lidköping, med ambitionen att skildra livet vid och i Sveriges största sjö Vänern. Vi vill visa vad sjön har betytt för människor under historiens lopp, hur människor levt vid och av sjön och hur människan har påverkat sjön. När det gäller våra samlingar är det kulturhistoriska föremål från stadens olika hantverksyrken och sjöfarten som dominerar, eftersom det var denna inriktning museet hade vid starten 1918 och de efterföljande decennierna.
Kulturvårdsforum
Last week's New York Times special section on museums featured a lead article by David Gelles on Wooing a New Generation of Museum Patrons. In the article, David discussed ways that several large art museums are working to attract major donors and board members in their 30s and 40s. The article both energized and frustrated me. I was excited to see coverage of an important issue of generational shift, but I was frustrated that it appeared to perpetuate traditional, clubbish standards of donor cultivation.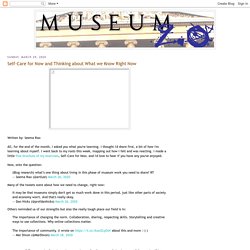 Välkommen till Kulturen i Lund - startsida
Exhibitionisten - DN.se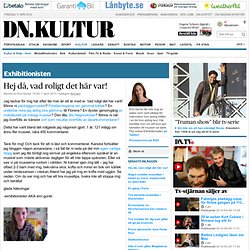 Hej då, vad roligt det här var! Jag tackar för mig här efter lite mer än ett år med er. Vad roligt det har varit! Minns ni påskäggsmuséet? Föreläsningarna om gammal kärlek?