Luder
Dead Flies Art (15 pics) » AcidCow.com - videos, pictures, celeb. BienBienBien. Shorpy Historic Photo Archive | Best Pix on the Net. The Arty Bit: Ah Bliss, Egon Schiele « The Hashmark. As many of you may have noticed, my past few articles have mainly been concerned with the Young British Artist's movement.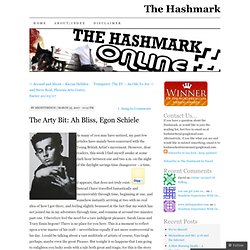 However, dear readers, this week I find myself awake at some dark hour between one and two a.m. on the night of the daylight savings time changeover – a time, it appears, that does not truly exist. digg Instead I have travelled fantastically and inconceivably through time, beginning at one, and somehow instantly arriving at two with no real idea of how I got there, and feeling slightly bemused at the fact that my watch has not joined me in my adventure through time, and remains at around two minutes past one.
I therefore feel the need for a rare indulgent pleasure. Sarah Lucas and Tracy Emin begone! Blog de Perséphone. Tongue depressors: Archive. Et pour te dire ça, j'en ai déjà bu. Cours de soutien-gorge par Owdrie, étape 3 : prendre soin de ses. [NdMaïa : c'est toujours Owdrie qui parle.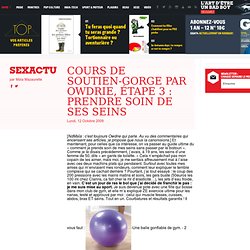 Au vu des commentaires qui encensent ses articles, je propose que nous la canonisions.] Et maintenant, pour celles que ca intéresse, on va passer au guide ultime du « comment je prends soin de mes seins sans passer par le bistouri ». Comme je le disais précédemment, j'avais, à 19 ans, les seins d'une femme de 50, dits « en gants de toilette. » Cela n'empêchait pas mon copain de les aimer, mais moi, je me sentais affreusement mal à l'aise avec ces deux machins plats qui pendaient. Surtout avec toutes mes amies qui m'enviaient mes rondeurs, comment leur expliquer le terrible complexe qui se cachait derrière ? Pourtant, j'ai tout essayé : le coup des 200 pressions avec les mains matins et soirs, les gels buste (50euros les 100 ml chez Clarins, ca fait cher le ml d'élasticité…), les jets d'eau froide, en vain. On devrait se mettre toutes nues maintenant - Sexactu – Maïa Maz. Ce serait bien si certaines femmes arrêtaient de culpabiliser sur leur vulve.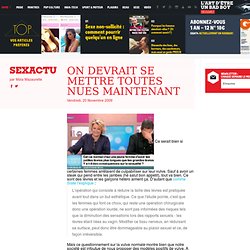 Sauf à avoir un steak qui pend entre les jambes (hé salut bon appétit), tout va bien. Ce sont des lèvres et les garçons hétéro aiment ça. D'autant que comme Slate l'explique : L'opération qui consiste à réduire la taille des lèvres est pratiquée avant tout dans un but esthétique. Kanojo Toys Shop | Tenga Egg 6 Pack - Discreet Masturbators. Just out on the market, the new Tenga Eggs are the latest masturbation innovation from the geniuses at Tenga, here in Tokyo.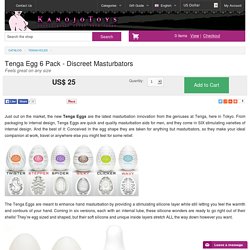 From packaging to internal design, Tenga Eggs are quick and quality masturbation aids for men, and they come in SIX stimulating varieties of internal design. And the best of it: Conceived in the egg shape they are taken for anything but masturbators, so they make your ideal companion at work, travel or anywhere else you might feel for some relief. The Tenga Eggs are meant to enhance hand masturbation by providing a stimulating silicone layer while still letting you feel the warmth and contours of your hand. Alp Taxi Rochaix. Superfamily - It's a lie. Grauzone - Wütendes Glas. IF THIS AIN'T LOVE (DON'T KNOW WHAT IS)
HE HO LAPIN GRIS. The Shins - "Australia" Sub Pop Records. Business Time - Flight Of The Conchords (Lyrics) JEAN-LUC LE TENIA DIARY. Ignatub. Muzzle of Bees | Music Blog: MP3 Downloads, Videos, News, Tour D. Ecouter gratuitement toute la musique en streaming mp3 HD, sans. Indie Music. The most important aspect of the indie music culture is discovering bands that nobody else likes.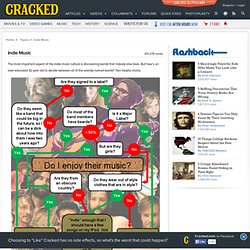 But how's an over-educated 32 year-old to decide between all of the weirdly named bands? Two helpful charts: Just The Facts "Indie music" is a term most commonly associated with unsigned or minor label bands that have a folk/alt/rock/electronic sound. In addition to liking music that nobody else does, the one thing that unites the indie scene is a willingness to wear clothes nobody else would be caught dead in. Hikikomori. Un article de Wikipédia, l'encyclopédie libre. un Hikikomori Hikikomori (引き篭り, Hikikomori?)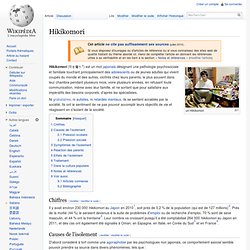 Est un mot japonais désignant une pathologie psychosociale et familiale touchant principalement des adolescents ou de jeunes adultes qui vivent coupés du monde et des autres, cloîtrés chez leurs parents, le plus souvent dans leur chambre pendant plusieurs mois, voire plusieurs années, en refusant toute communication, même avec leur famille, et ne sortant que pour satisfaire aux impératifs des besoins corporels, d'après les spécialistes. Ni grabataires, ni autistes, ni retardés mentaux, ils se sentent accablés par la société. Ils ont le sentiment de ne pas pouvoir accomplir leurs objectifs de vie et réagissent en s'isolant de la société.
---