Artistes
The Mars Volta
SPOON // TRANSFERENCE
TV ON THE RADIO
Koop - Koop Islands
Kingdom of Fitzrovia Jah Wobble & Bill Sharpe Released May 2013 on Discovery Records Ltd Tracklisting: 1.
30 Hertz Records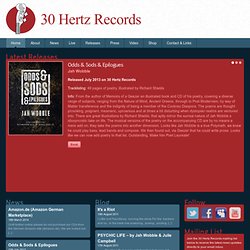 Grizzly Bear
DEPARTMENT OF EAGLES
Shannon Wright Lyrics, Photos, Pictures, Paroles, Letras, Text f
the beach house
Permalink What kind of a pronator are you? The first step in buying your Best Running Shoes is to find out what kind of a pronator you are. Pronation refers to how your foot makes contact with the ground as you run. Although you might think it's pretty straight forward, but actually everyone has their unique pronation. For example, if your foot rolls more than 15 percent as you put it on the floor, you are an overpronator.
WILCO
The Coral : Home
Blog de pollyjeanharvey - Tout sur PJ Harvey - Skyrock.com
Sparklehorse - It's A Wonderful Life (Guy Maddin video) - WFMU's