Sweden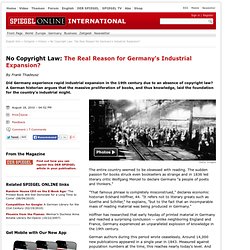 No Copyright Law: The Real Reason for Germany's Industrial Expansion? - SPIEGEL ONLINE - News - International
The entire country seemed to be obsessed with reading. The sudden passion for books struck even booksellers as strange and in 1836 led literary critic Wolfgang Menzel to declare Germans "a people of poets and thinkers." "That famous phrase is completely misconstrued," declares economic historian Eckhard Höffner, 44. "It refers not to literary greats such as Goethe and Schiller," he explains, "but to the fact that an incomparable mass of reading material was being produced in Germany." Höffner has researched that early heyday of printed material in Germany and reached a surprising conclusion -- unlike neighboring England and France, Germany experienced an unparalleled explosion of knowledge in the 19th century. German authors during this period wrote ceaselessly.
No Safe Harbors in Argentina - Bits Blog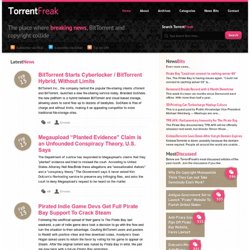 News Bits Even more news... KickassTorrents Down Locally Due to DNS Issues KickassTorrents has been unreachable over the past hours due to DNS issues. The problem appears to... Prenda Copyright Trolls Plead the Fifth The ongoing saga of 'Prendageddon' had its latest episode today. After the March 11 case, many...
The Most Popular MEP is a Pirate | FreakBits
electionsinsweden_webb.pdf (objeto application/pdf)