Side Dish
Roasted Pumpkin-Apple Soup -EW. Tips: Make it easier to cut a pumpkin, acorn squash or other winter squash: pierce in several places with a fork; microwave on High for 45 to 60 seconds.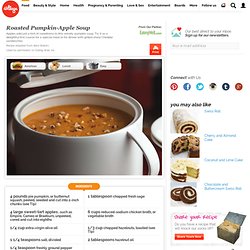 Use a large sharp knife to cut in half. Remove the seeds and stringy fibers with a spoon. To toast chopped nuts, small nuts and seeds, place in a small dry skillet and cook over medium-low heat, stirring constantly, until fragrant and lightly browned, 2 to 4 minutes. Spicy Macaroni and Cheese with Chorizo Sausage Recipe : Patrick and Gina Neely. Perfect Pandas ? Blog Archive ? Panda Bread. Ok, so I've seen a lot of amazingly cute panda things, but this literally made me giddy when I saw it.
I've never seen anything like it and I really want to try out the recipe. The original recipe is from an Asian website called Taro Taro (which features a photo gallery of user submitted panda bread!) , luckily for those of us who can't read the site, wlteef.blogspot.com was kind enough to post a translation. Macaroni & Cheese. There's nothing that can be said.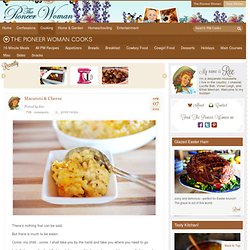 But there is much to be eaten. Come, my child…come. I shall take you by the hand and take you where you need to go. I shall show you the food that is solely responsible for my bones and tissues multiplying and growing at a young age. BrokeAss Gourmet ? Cheddar-Thyme Potato Knishes. If ever there were a group that had BrokeAss cooking down pat, it was the bubbes of Eastern European shtetls.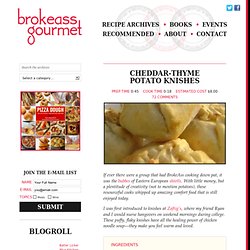 With little money, but a plentitude of creativity (not to mention potatoes), these resourceful cooks whipped up amazing comfort food that is still enjoyed today. I was first introduced to knishes at Zaftig's, where my friend Ryan and I would nurse hangovers on weekend mornings during college. These puffy, flaky knishes have all the healing power of chicken noodle soup—they make you feel warm and loved. Cheese Pinwheel Rolls. Sooner or later, all my conversations inevitably turn to food.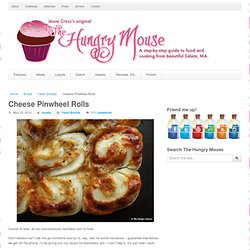 Don't believe me? Call me up sometime and try to, say, sell me some insurance. I guarantee that before we get off the phone, I'll be giving you my recipe for blackberry jam. I can't help it. Naan Recipe. Cheese straws. Meet my new favorite party trick.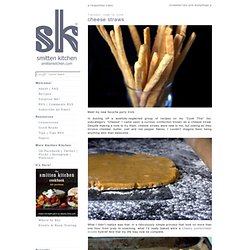 In dusting off a woefully-neglected group of recipes on my "Cook This" list, subcategory "Cheese" I came upon a curious confection known as a cheese straw. Despite making a note to try them, cheese straws were new to me, but seeing as they involve cheddar, butter, salt and red pepper flakes, I couldn't imagine them being anything less than awesome. 50 Easy Soups (1 - 10) : Recipes and Cooking.
1.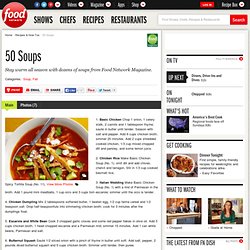 Basic Chicken Chop 1 onion, 1 celery stalk, 2 carrots and 1 tablespoon thyme; sauté in butter until tender. Season with salt and pepper. Add 6 cups chicken broth; simmer 20 minutes. Add 2 cups shredded cooked chicken, 1/3 cup mixed chopped dill and parsley, and some lemon juice. Thai Recipe: Son In Law Eggs | Dianasaur Dishes. This Thai recipe for Son In Law Eggs is one of my favorite ways to use boiled eggs.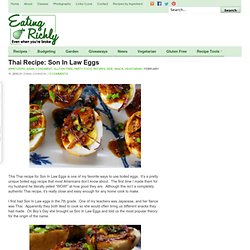 It's a pretty unique boiled egg recipe that most Americans don't know about. The first time I made them for my husband he literally yelled "WOW!" At how good they are. Although this isn't a completely authentic Thai recipe, it's really close and easy enough for any home cook to make. Stove-top Macaroni and Cheese | Evil Shenanigans - Baking & Cooking Blog. Forget the boxes, the mixes, and don't even think of waiting an hour for macaroni and cheese on a week night.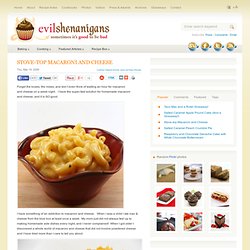 I have the super-fast solution for homemade macaroni and cheese, and it is SO good. I have something of an addiction to macaroni and cheese. When I was a child I ate mac & cheese from the blue box at least once a week. My mom just did not always feel up to making homemade side dishes every night, and I never complained! Mini Pumpkin Sage Balls with Balsamic Creme Fraiche Recipe. Simple Sesame Noodles – Tasty Kitchen. The Barefoot Kitchen » Blog Archive » Quinoa Cakes with Spinach and Goat Cheese. Welcome to The Barefoot Kitchen!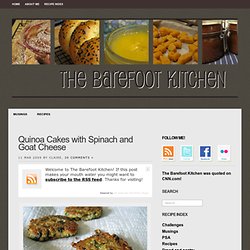 If this post makes your mouth water you might want to subscribe to the RSS feed. Thanks for visiting! A little leftovers magic today – I made a bunch of quinoa earlier in the week, and while it is tasty stuff all on its own, I was craving a change. So combining some of the quinoa with goat cheese and spinach, and frying it all up into little patties was just what I was craving for my lunch! Food Sunday - Marbled Vegetable Bread. Happy Sunday Bread Heads! This week we are going do a recipe that is a little more advanced than some of the others. That said, there are no baking techniques that will trip you up, what is challenging here is the organization. This bread is made by making three completely separate dough's, then rolling them together. Cheddar Beer Soup Recipe at Epicurious. Photo by Romulo Yanes yield Makes 4 to 6 servings active time 40 min total time 40 min Extra-sharp Cheddar and malty English ale balance perfectly in this hearty soup.
Garlic Potato Fries. I'm never going to make garlic potato fries any other way. These garlic fries, win hands down as the best garlic french fries I've ever made. Plus they are baked – so I won't feel too guilty if I make it every time I'm craving for some potato comfort. Chipotle style Cilantro Lime Rice Recipe | Mexican recipes. Have you ever been a situation when you wanted to throw out all things complicated - be it from serious life to career issues to as simple as clearing out a crumpled up wardrobe to your bookshelf? Ah! I know how it feels.
---