Software / Logiciels
Logiciel de création et maintenance de thésaurus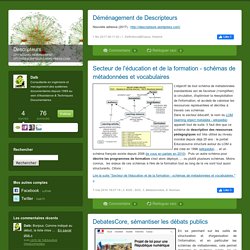 Création : le 5 janvier 2006
Thesaurus software - Term Tree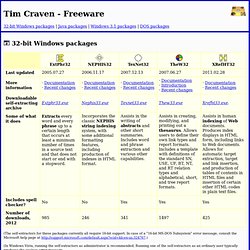 32-bit Windows packages
Tim Craven - Freeware
Thesaurus Builder - Full Multilingual Thesaurus Management Software
ThManager - KOS editor
TemaTres Vocabulary Server | The way to manage formal representations of knowledge
Taxonomy software from innovation leader Synaptica
PoolParty - Thesaurus SKOS Server | punkt. netServices - die webExperten - Konzepte und Software für Intranet und Internet
Bienvenue sur le site de MyThesaurus
multites.com - Home
Lexaurus Editor is a desktop application for the management of concept schemes, ontologies, data definitions, taxonomies and thesauri.Multiple vocabularies can be managed at the same time, also facilitating term and concept reuse and mapping. It is format independent with plugins currently for SKOS, VDEX (token and nested), Zthes, i2b2 (Concept and Ontology), Snomed and ESD toolkit. Stylesheets can also be applied to exports to provide customisation.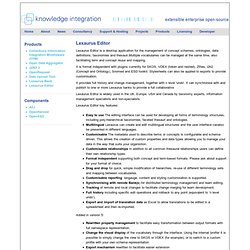 Lexaurus Editor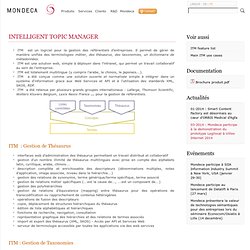 Mondeca ITM T3 : gestion thésaurus, taxonomie, terminologie, SKOS, listes contrôlées, dictionnaire de métadonnées - Mondeca
ITM est un logiciel pour la gestion des référentiels d'entreprises. Il permet de gérer de manière unifiée des terminologies métier, des thésaurus, des taxonomies, un dictionnaire de métadonnées.
Umweltbundesamt - Federal Environment Agency - Wortgutredaktion des UDK-Thesaurus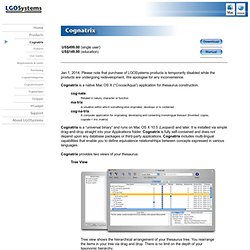 Jan 1, 2014: Please note that purchase of LGOSystems products is temporarily disabled while the products are undergoing redevelopment. We apologise for any inconvenience. Cognatrix is a native Mac OS X ("Cocoa/Aqua") application for thesaurus construction.
tems Product: Cognatrix
Amicus learning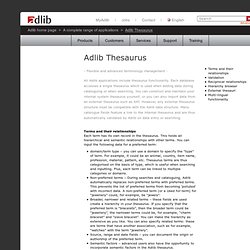 Adlib Thesaurus - Adlib - Flexible Software for Archives, Museums and Libraries
- Flexible and advanced terminology management -All Adlib applications include thesaurus functionality.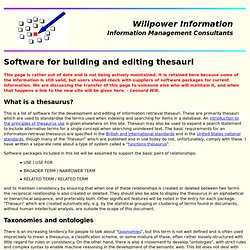 This page is rather out of date and is not being actively maintained.
Software for building and editing thesauri
a.k.a - Records Management software, Thesaurus Software, Thesauri Construction, Records Retention & Disposal software aka by Synercon Management Consulting