Software / Logiciels
Logiciel de création et maintenance de thésaurus. Création : le 5 janvier 2006 Mise à jour : 03/03/2008 , 11/2009, 15/09/2010 ; Janv.2011; Avril 2011 La construction et la maintenance dans le temps, d'un thésaurus ou plus globalement d'un vocabulaire contrôlé nécessitent l'adoption d'éléments de données et de fonctions applicatives spécialisées.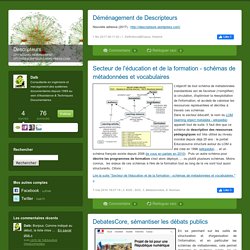 Ce secteur de l'édition de progiciel peut être scindés en trois catégories principales selon le degré d'autonomie ou l'orientation (gestion, utilisation) du module applicatif : les "modules Thésaurus" de logiciels de gestion et recherche documentaires ; aujourd'hui, les modules dits "Taxonomie" de CMS (avec pour ces derniers des fonctions moins riches toutefois) ; Thesaurus software - Term Tree. Tim Craven - Freeware. 32-bit Windows packages (The self-extractors for these packages currently all require 16-bit support.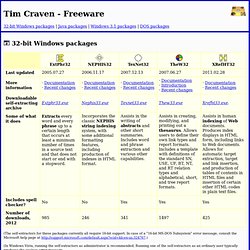 In case of a "16-bit MS-DOS Subsystem" error message, consult the Microsoft help page at (In Windows Vista, running the self-extractors as administrator is recommended. Thesaurus Builder - Full Multilingual Thesaurus Management Software. ThManager - KOS editor. TemaTres Vocabulary Server | The way to manage formal representations of knowledge. Taxonomy software from innovation leader Synaptica. PoolParty - Thesaurus SKOS Server | punkt. netServices - die webExperten - Konzepte und Software für Intranet und Internet. Bienvenue sur le site de MyThesaurus. Multites.com - Home. Lexaurus Editor. Lexaurus Editor is a desktop application for the management of concept schemes, ontologies, data definitions, taxonomies and thesauri.Multiple vocabularies can be managed at the same time, also facilitating term and concept reuse and mapping.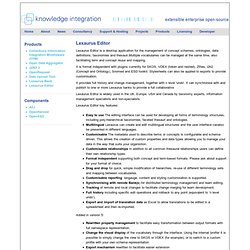 It is format independent with plugins currently for SKOS, VDEX (token and nested), Zthes, i2b2 (Concept and Ontology), Snomed and ESD toolkit. Stylesheets can also be applied to exports to provide customisation. Mondeca ITM T3 : gestion thésaurus, taxonomie, terminologie, SKOS, listes contrôlées, dictionnaire de métadonnées - Mondeca. ITM est un logiciel pour la gestion des référentiels d'entreprises.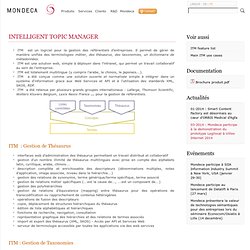 Il permet de gérer de manière unifiée des terminologies métier, des thésaurus, des taxonomies, un dictionnaire de métadonnées. ITM est une solution web, simple à déployer dans l'intranet, qui permet un travail collaboratif au sein de l'entreprise. ITM est totalement multilingue (y compris l'arabe, le chinois, le japonais...). ITM a été conçue comme une solution ouverte et normalisée simple à intégrer dans un système d'information grace aux Web Services et API et à l'utilisation des standards XML, SKOS, RDF. ITM a été retenue par plusieurs grands groupes internationaux : Lafarge, Thomson Scientific, Wolters Kluvers Belgium, Lexis Nexis France ... pour la gestion de référentiels. Umweltbundesamt - Federal Environment Agency - Wortgutredaktion des UDK-Thesaurus. Tems Product: Cognatrix.
Jan 1, 2014: Please note that purchase of LGOSystems products is temporarily disabled while the products are undergoing redevelopment.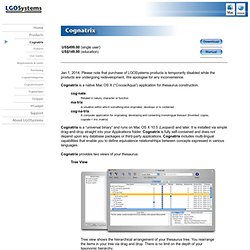 We apologise for any inconvenience. Cognatrix is a native Mac OS X ("Cocoa/Aqua") application for thesaurus construction. Amicus learning. Adlib Thesaurus - Adlib - Flexible Software for Archives, Museums and Libraries. - Flexible and advanced terminology management -All Adlib applications include thesaurus functionality.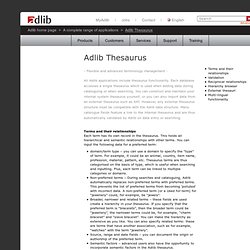 Each database accesses a single thesaurus which is used when adding data during cataloguing or when searching. You can construct and maintain your internal system thesaurus yourself, or you can also import data from an external thesaurus such as AAT. However, any external thesaurus structure must be compatible with the Adlib data structure. Software for building and editing thesauri. This page is rather out of date and is not being actively maintained.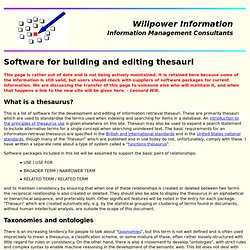 It is retained here because some of the information is still valid, but users should check with suppliers of software packages for current information. We are discussing the transfer of this page to someone else who will maintain it, and when that happens a link to the new site will be given here. - Leonard Will. What is a thesaurus? A.k.a - Records Management software, Thesaurus Software, Thesauri Construction, Records Retention & Disposal software aka by Synercon Management Consulting.
---