Convocatorias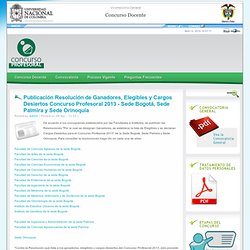 De acuerdo con lo establecido en el cronograma de la Resolución 317 del 17 Junio de 2013 se publica la Resolución 096 de 18 de Marzo de 2014 "Por la cual se designan Ganadores, se establece la lista de Elegibles y se declaran Cargos Desiertos para el Concurso Profesoral 2013 de la Facultad Ciencias Exactas y Naturales, Sede Manizales". Para consultar la resolución haga clic AQUÍ. "Contra la Resolución que lista a los ganadores, elegibles y cargos desiertos del Concurso Profesoral 2013, sólo procede el recurso de reposición, el cual deberá ser interpuesto ante el Decano de la Facultad de Ciencias Exactas y Naturales, a través del correo electrónico concurso_fcman@unal.edu.co, dentro de los diez (10) días hábiles siguientes a la publicación de la Resolución de trámite de Ganadores, Elegibles y Cargos Desiertos.
Concurso Docente: News
Winners announced (view all dates) The Apps for Healthy Kids competition is a part of First Lady Michelle Obama's Let's Move! campaign to end childhood obesity within a generation. Apps for Healthy Kids challenges software developers, game designers, students, and other innovators to develop fun and engaging software tools and games that drive children, especially "tweens" (ages 9-12) – directly or through their parents – to eat better and be more physically active.
Apps for Healthy Kids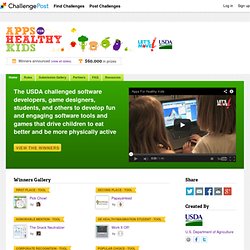 Par son initiative Données en libre accès, lancée le 20 avril 2010, la Banque mondiale offre un accès en ligne gratuit à plusieurs ensembles de données clés, parmi lesquels les Indicateurs du développement dans le monde, les Indicateurs du développement en Afrique, les Indicateurs du financement dans le monde et les Indicateurs Doing Business. L'objectif du concours « Développeurs au service du développement » est de faire fusionner les idées issues du monde des développeurs et de la communauté du développement pour donner naissance, à partir des données en libre accès de la Banque mondiale, à des outils, programmes et autres applications composites innovantes. En mettant nos données entre les mains de ceux qui peuvent faire changer les choses dans les pays en développement, ce concours vient appuyer la mission de la Banque mondiale de réduire la pauvreté dans le monde. Quel est le calendrier du concours ?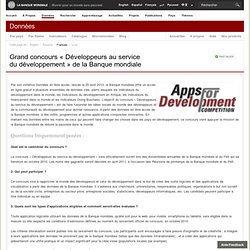 Grand concours « Développeurs au service du développement » de la Banque mondiale
Portal Medellín Digital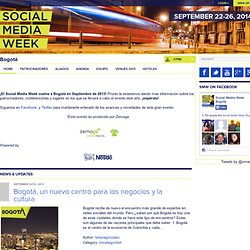 Bogotá ‹ Social Media Week
¡El Social Media Week vuelve a Bogotá en Septiembre de 2013! Pronto te estaremos dando más información sobre los patrocinadores, conferencistas y lugares en los que se llevará a cabo el evento este año, ¡espéralo! Síguenos en Facebook, y Twitter para mantenerte enterado de los avances y novedades de este gran evento. *Este evento es producido por Zemoga Powered by Bogotá recibe de nuevo el encuentro más grande de expertos en redes sociales del mundo.
Premio FRIDA/eLAC2010 : Bienvenido
MeasurementCamp - an open source movement to make sense of social media measurement - Measurementcamp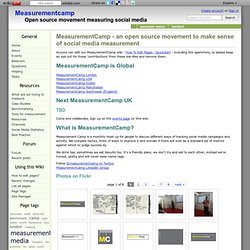 Click here to edit contents of this page. Click here to toggle editing of individual sections of the page (if possible). Watch headings for an "edit" link when available. Append content without editing the whole page source. Check out how this page has evolved in the past. If you want to discuss contents of this page - this is the easiest way to do it.