E-books
Con la salida de numerosos dispositivos para libros electrónicos así como los tablets el libro electrónico goza de una total aceptación. Un gran paso para la industria digital del libro fue el lanzamiento de Kindle. Recientemente Amazon anunció que las ventas de libros electrónicos habían superado las de los libros en papel. Las cifras que Amazon hizo públicas es que por cada 143 libros electrónicos se vendían 100 libros en tapa dura. El debate entre los libros de papel y los libros electrónicos continúa, hay lectores que no cambian las páginas, el olor y la sensación de un libro físico por un libro electrónico.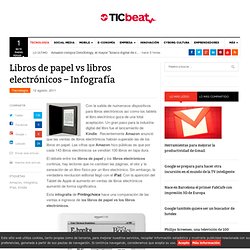 Libros de papel vs libros electrónicos – Infografía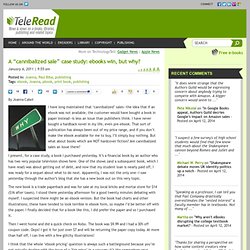 A "cannibalized sale" case study: ebooks win, but why?
By Joanna Cabot I have long maintained that 'cannibalized' sales—the idea that if an ebook was not available, the customer would have bought a book in paper instead—is less an issue than publishers think. I have never bought a hardback novel in my life, even pre-ebook.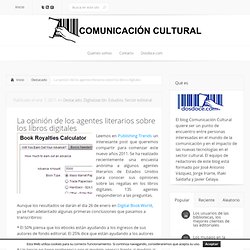 Leemos en Publishing Trends un interesante post que queremos compartir para comenzar este nuevo años 2011. Se ha realizado recientemente una encuesta anónima a algunos agentes literarios de Estados Unidos para conocer sus opiniones sobre las regalías en los libros digitales. 135 agentes respondieron a las preguntas. Aunque los resultados se darán el día 26 de enero en Digital Book World, ya se han adelantado algunas primeras conclusiones que pasamos a transcribiros: * El 50% piensa que los ebooks están ayudando a los ingresos de sus autores de fondo editorial. El 25% dice que están ayudando a los autores nuevos.
La opinión de los agentes literarios sobre los libros digitales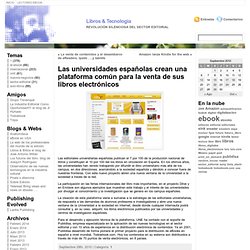 Las universidades españolas crean una plataforma común para la venta de sus libros electrónicos « Libros & Tecnologia
Las editoriales universitarias españolas publican el 7 por 100 de la producción nacional de libros y constituyen el 10 por 100 del los libros en circulación en España. En los últimos años, las universidades han venido trabajando por difundir el libro universitario más allá de los campus, en dos direcciones: acercándolo a la sociedad española y dándolo a conocer fuera de nuestras fronteras. Con este nuevo proyecto abren una nueva ventana de la Universidad a la sociedad a través de la red.
Por Arantxa Mellado el 13.09.2010 El pasado 8 de septiembre, durante un período extraordinario de sesiones, se presentó en la Asamblea Nacional de Francia una propuesta de Ley de Precio único para los libros digitales. Según los senadores autores de la propuesta, ésta "tiene por objeto establecer un marco flexible para la regulación del precio de los libros digitales, un término medio entre la regulación del mercado mediante el contrato y las orientaciones demasiado estrictas para un mercado incipiente". Dichos senadores plantean el debate a través de una comparación entre el mundo del libro y la música, donde la ausencia de legislación ha provocado que el mercado fuera dominado por "operadores ajenos a la economía de la creación y cuyo objetivo era la comercialización de otros productos o servicios".
Blog de Ediciona » Blog Archive » Francia: primera Propuesta de Ley de Precio único del libro digital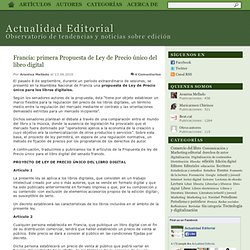 Darden Shares Results of Kindle Experiment: News: Media: Darden School of Business: UVA - UVA Darden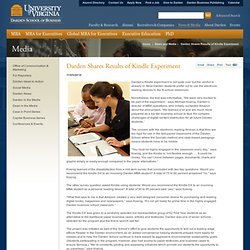 Darden's Kindle experiment is not quite over but the verdict is already in: Most Darden students prefer not to use the electronic reading devices in the B-school classroom. Nonetheless, the trial was informative. "We were very excited to be part of the experiment,'' says Michael Koenig, Darden's director of MBA operations, who initially contacted Amazon about the pilot project. "We learned a lot and are much more prepared as a top tier business school to face the complex challenges of digital content distribution for all future Darden students.'' The concern with the electronic reading devices is that they are too rigid for use in the fast-paced classrooms of the Darden School where the Socratic method and case-based pedagogy means students have to be nimble.
Open Book Alliance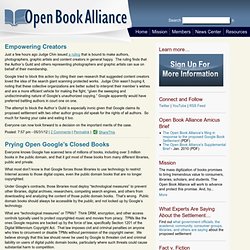 Just a few hours ago Judge Chin issued a ruling that is bound to make authors, photographers, graphic artists and content creators in general happy. The ruling finds that the Author's Guild and others representing photographers and graphic artists can sue on behalf of their membership. Google tried to block this action by citing their own research that suggested content creators loved the idea of the search giant scanning protected works. Judge Chin wasn't buying it, noting that these collective organizations are better suited to interpret their member's wishes and are a more efficient vehicle for making the fight, "given the sweeping and undiscriminating nature of Google's unauthorized copying." Google apparently would have preferred battling authors in court one on one.