Biblio + TIC
À quoi sert une bibliothèque ? À quoi sert une bibliothèque ?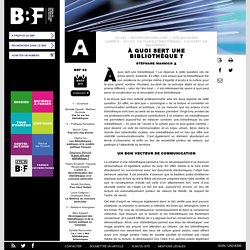 La réponse à cette question est, de prime abord, évidente. En effet, il est acquis que la bibliothèque tire son existence du principe même d'égalité d'accès à la culture pour le plus grand nombre. Pourtant, au-delà de ce principe établi et sous un prisme différent – celui de l'élu local –, il est intéressant de savoir à quoi peut servir la construction ou la rénovation d'une bibliothèque.
Il se trouve que mon activité professionnelle allie les deux aspects de cette question. E-books.
Blog» Archivo del blog » Crónica de un intenso día, la "II Jornada profesional de fondos Invisibles. Archivos sonoros, sonidos ausentes", 27 de septiembre de 2010. El auditorio del Ministerio de Cultura nunca estuvo antes con menos sonidos ausentes.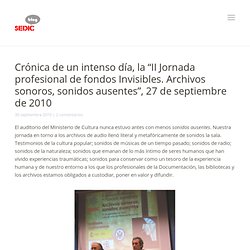 Nuestra jornada en torno a los archivos de audio llenó literal y metafóricamente de sonidos la sala. Testimonios de la cultura popular; sonidos de músicas de un tiempo pasado; sonidos de radio; sonidos de la naturaleza; sonidos que emanan de lo más íntimo de seres humanos que han vivido experiencias traumáticas; sonidos para conservar como un tesoro de la experiencia humana y de nuestro entorno a los que los profesionales de la Documentación, las bibliotecas y los archivos estamos obligados a custodiar, poner en valor y difundir.
Tras la inauguración oficial a cargo del director general del Libro, Archivos y Bibliotecas del Ministerio de Cultura, Rogelio Blanco, y la bienvenida de Eugenio López de Quintana, presidente de SEDIC, empezó la jornada de una forma poco habitual en nuestros encuentros profesionales, como es la música en directo. Welcome to TechSoup for Libraries | TechSoup for Libraries, a project of TechSoup. Viewtitle.aspx (application/pdf Objeto) Abstract Digital Libraries have achieved a fundamental role in our knowledge society.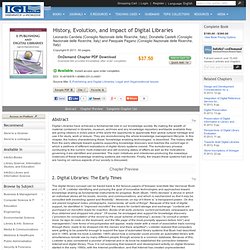 By making the wealth of material contained in libraries, museum, archives and any knowledge repository worldwide available they are giving citizens in every place of the world the opportunity to appreciate their global cultural heritage and use it for study, work or leisure. They are revolutionising the whole knowledge management lifecycle. In this chapter, the history characterizing these "knowledge enabling technologies" is described. The history starts from the early attempts toward systems supporting knowledge discovery and reaches the current age in which a plethora of different realizations of digital library systems coexist.
ERIAL Project. News: What Students Don't Know. CHICAGO -- For a stranger, the main library at the University of Illinois at Chicago can be hard to find.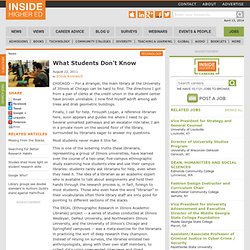 The directions I got from a pair of clerks at the credit union in the student center have proven unreliable. I now find myself adrift among ash trees and drab geometric buildings. Finally, I call for help. Firouzeh Logan, a reference librarian here, soon appears and guides me where I need to go. Muskizko Udal Liburutegia / Biblioteca Municipal de Muskiz. Acceso abierto BLAA. Proyecto De Ley Para Bibliotecas Públicas. Hashtag #biblioteca in Twitter. Twittea por tu Bibiloteca. Bibliotecas 2.0 en España. Biblioteca-Centre de Documentació del Museu Valencià d'Etnologia C/ Corona, 36 - 46003 Valencia.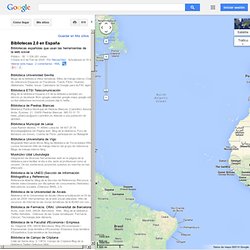 Tlf. 963883628 Poco a poco tenemos más recursos 2.0, los compartimos con vosotros: Nuestro etnobloc: Mes a mes, llibres i demés - Delici... C/ Corona, 36 - 46003 Valencia. Joaquín Rodríguez: "La biblioteca también debe asumir la alfabetización digital de sus usuarios" Es mediodía y la biblioteca Jaume Fuster, la joya de la corona de la plaça Lesseps de Barcelona, está hasta arriba de gente.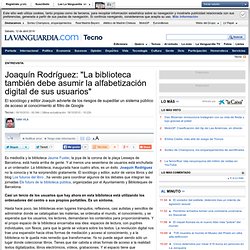 Y al menos una sesentena de usuarios está enchufada a un ordenador. La biblioteca, inaugurada hace cuatro años, es un éxito. Joaquín Rodríguez no la conocía y le ha sorprendido gratamente. El sociólogo y editor, autor de varios libros y del blog Los futuros del libro , ha venido para coordinar algunos de los debates que integran las jornadas Els futurs de la biblioteca pública, organizadas por el Ayuntamiento y Biblioteques de Barcelona. Estimating the Economic Impact of Mass Digitization Projects on Copyright Holders: Evidence from the Google Book Search Litigation by Hannibal Travis. Google Book Search (GBS) has captured the attention of many commentators and government officials, but even as they vigorously debate its legality, few of them have marshaled new facts to estimate its likely effects on publishing and other information markets.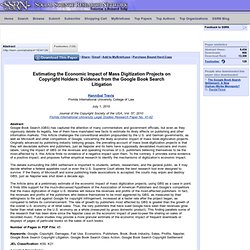 This Article challenges the conventional wisdom propounded by the U.S. and German governments, as well as Microsoft and other competitors of Google, concerning the likely economic impact of mass book-digitization projects. Originally advanced by publishing industry lobbying groups, the prevailing account of mass book-digitization projects is that they will devastate authors and publishers, just as Napster and its heirs have supposedly devastated musicians and music labels. Using the impact of GBS on the revenues and operating incomes of U.S. publishers believing themselves to be the most-affected by it, this Article finds no evidence of a negative impact upon them. S 2010 Hype Cycle Special Report Evaluates Maturity of 1,800 Technologies. STAMFORD, Conn., October 7, 2010 View All Press Releases Hype Cycle Research Provides a Cross-Industry Perspective on Potentially Transformative Technologies Media tablets, private cloud computing, and 3D flat-panel TVs and displays are some of the technologies that have moved into the Peak of Inflated Expectations, according to the 2010 Emerging Technologies Hype Cycle by Gartner, Inc.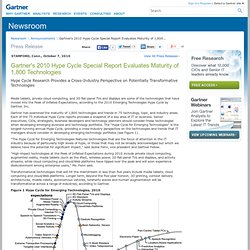 In the Digital World, What is the Future of the Institutional Library? X Workshop REBIUN Valencia 2010.
Fomento + lectura
Redes sociales. Bibliotecas indígenas. Bibliotecas virtuales. Estrategias. Archivos virtuales.
---