Biblio + TIC
Stéphane Wahnich ( biographie )
À quoi sert une bibliothèque ?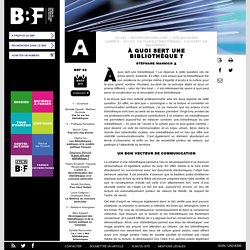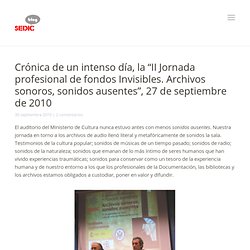 El auditorio del Ministerio de Cultura nunca estuvo antes con menos sonidos ausentes .
Blog» Archivo del blog » Crónica de un intenso día, la "II Jornada profesional de fondos Invisibles. Archivos sonoros, sonidos ausentes", 27 de septiembre de 2010
Welcome to TechSoup for Libraries | TechSoup for Libraries, a project of TechSoup
viewtitle.aspx (application/pdf Objeto)
IGI Global uses IP Address Authentication to provide access to content in this database. You may continue using our platform with your user id and password.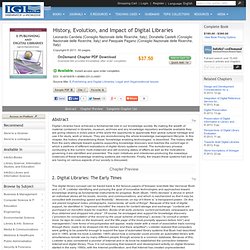 ERIAL Project
News: What Students Don't Know - Inside Higher Ed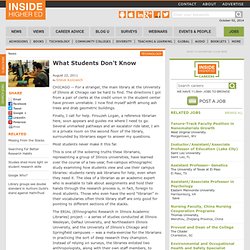 CHICAGO -- For a stranger, the main library at the University of Illinois at Chicago can be hard to find.
Calculador del coste de los servicios
Muskizko Udal Liburutegia / Biblioteca Municipal de Muskiz
Acceso abierto BLAA
Proyecto De Ley Para Bibliotecas Públicas
Liblogs | Día del Blog
Hashtag #biblioteca in Twitter
Twittea por tu Bibiloteca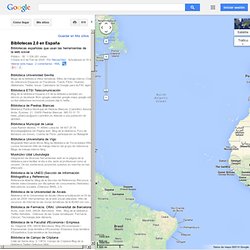 Biblioteca-Centre de Documentació del Museu Valencià d'Etnologia
Bibliotecas 2.0 en España
Es mediodía y la biblioteca Jaume Fuster , la joya de la corona de la plaça Lesseps de Barcelona, está hasta arriba de gente.
Joaquín Rodríguez: "La biblioteca también debe asumir la alfabetización digital de sus usuarios"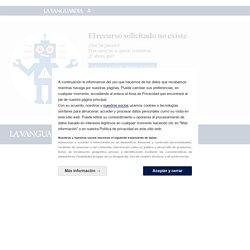 Google Book Search (GBS) has captured the attention of many commentators and government officials, but even as they vigorously debate its legality, few of them have marshaled new facts to estimate its likely effects on publishing and other information markets. This Article challenges the conventional wisdom propounded by the U.S. and German governments, as well as Microsoft and other competitors of Google, concerning the likely economic impact of mass book-digitization projects.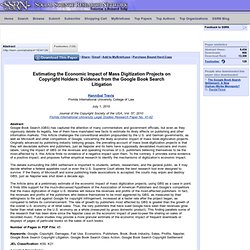 Estimating the Economic Impact of Mass Digitization Projects on Copyright Holders: Evidence from the Google Book Search Litigation by Hannibal Travis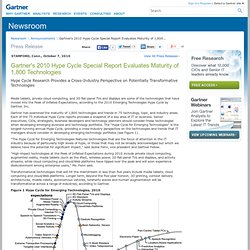 STAMFORD, Conn., October 7, 2010 View All Press Releases Hype Cycle Research Provides a Cross-Industry Perspective on Potentially Transformative Technologies Media tablets, private cloud computing, and 3D flat-panel TVs and displays are some of the technologies that have moved into the Peak of Inflated Expectations, according to the 2010 Emerging Technologies Hype Cycle by Gartner, Inc.
s 2010 Hype Cycle Special Report Evaluates Maturity of 1,800 Technologies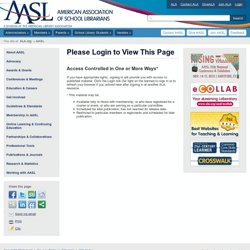 If you have appropriate rights, signing in will provide you with access to published material. Click the Login link (far right on the banner) to sign in or to refresh your browser if you arrived here after signing in at another ALA resource. * This material may be: Available only to those with membership, or who have registered for a course or event, or who are serving on a particular committee. Scheduled for later publication; has not reached its release date. Restricted to particular members or registrants and scheduled for later publication.
SLC! 2010: Digital Content and Resources
In the Digital World, What is the Future of the Institutional Library?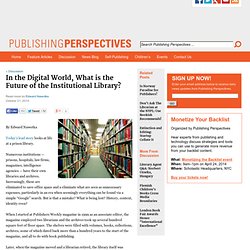 By Edward Nawotka Today's lead story looks at life at a prison library. Numerous institutions — prisons, hospitals, law firms, magazines, intelligence agencies — have their own libraries and archives.
X Workshop REBIUN Valencia 2010
De congreso en congreso
[ Biblioblog ] Llevo unas semanas de congreso en congreso; además de otros tantos meses implicado en varias jornadas que se celebrarán en breve.